Flower-Inspired Jewellery Edit
Like precious gems, flowers have always been steeped in symbolism and meaning (think of the Victorians and their Language of Flowers), so it's no surprise that some of the most beautiful, timeless and sentiment-charged pieces of jewellery combine both elements.
Throughout history, floral motifs have been captured and transformed into precious metals and vibrant jewels to create rings, pendants, brooches and earrings, and their appeal endures today. Nothing expresses romance like saying it with flowers and what better bloom than one that stands the test of time and can be treasured for years to come? Jewellers have long aspired to emulate the beauty of flowers in their designs, inspired not only by their elegant shapes, but also by their radiant hues and natural patterns. Patterns like the Fibonacci Sequence (a mathematical formula whereby each number in the chain is created by adding the previous two together), which commonly occurs in structures of the natural world, from seashells to flowers. Known as the 'golden spiral', the arrangement allows for the most compact containment of a flower's petals, as in a rosebud, and also refers to their number: for example, three on a lily or iris, five on buttercup or columbine, and eight on a delphinium. Columbines have been of particular inspiration in the selection of Diamond Rocks pieces you'll see below.
In May this year, Sotheby's New York hosted a special exhibition highlighting the timelessness of floral motifs in jewellery design, with pieces ranging from elegant, 19th-century Art Nouveau brooches and ear clips to bold, retro jewels from the 1940s and the 1960s. The subsequent sale saw many pieces fetch hundreds of thousands of dollars, proving that floral jewellery, quite clearly, is still very much in fashion. Whether you're looking for a design that's firmly planted in the botanical or something with a more subtle nod to the natural world, you're sure to find the perfect piece in our collection of floral jewellery. Here are our favourites: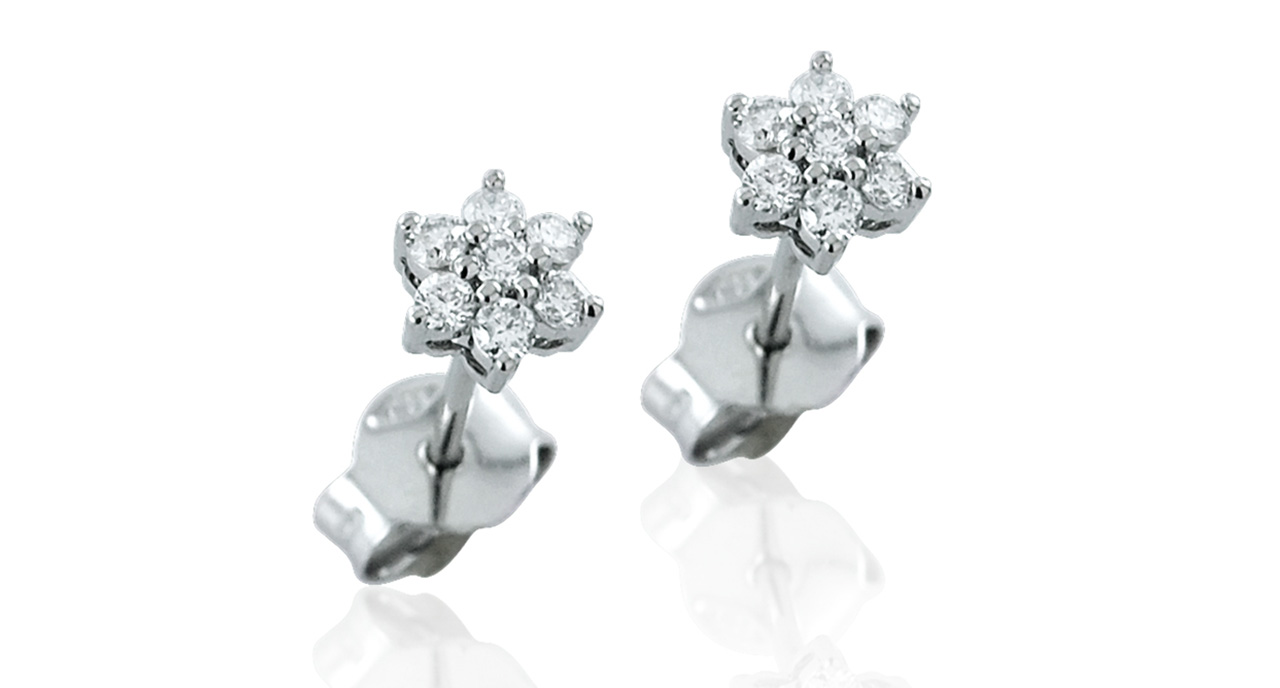 Diamond Flower Earstuds in Platinum.  These dainty, six-petal diamond studs will add a touch of floral elegance and sophisticated sparkle to any outfit. Made of 0.25 carats of brilliant diamond, with the option of being set in platinum, white gold or yellow gold, these can be worn day-to-day for an understated twinkle, or paired with matching pieces for a more deliberate, yet still delicate, look.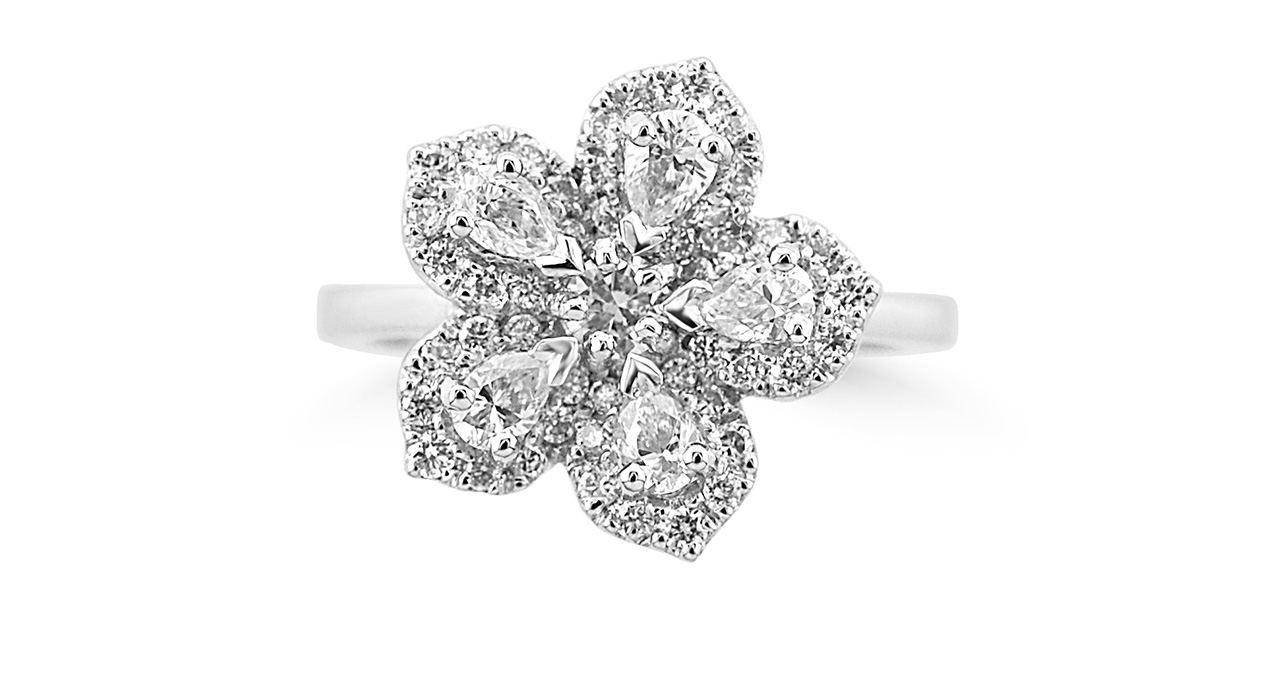 Diamond Flower Cluster Ring in Platinum. Comprising five pear-shaped diamonds, inspired by the Fibonacci Sequence, encircling a central stone, this stunning 1.01-carat floral ring would look beautiful worn with a pair of its matching earrings. While also available in white gold or yellow gold, this combination of platinum and diamonds is the perfect pairing, especially for an engagement ring, as both materials are strong, durable, naturally radiant and luxurious.  
Fancy Yellow Diamond Flower Cluster Ring in White Gold. Why have just one diamond when you can wear three different cuts on one finger? A fancy pink diamond takes centre stage as the focal stone in a setting of 18k white gold, surrounded by five yellow marquise diamonds. Each petal is then framed by a dazzling array of dainty round brilliant diamonds. The result is a mesmerising 1.89 carat piece reminiscent of a yellow daisy or daffodil. Whatever the occasion, you're sure to stand out from the crowd in this stunning piece of floral jewellery. Our guide to fancy coloured diamonds can tell you more about these gorgeous gems.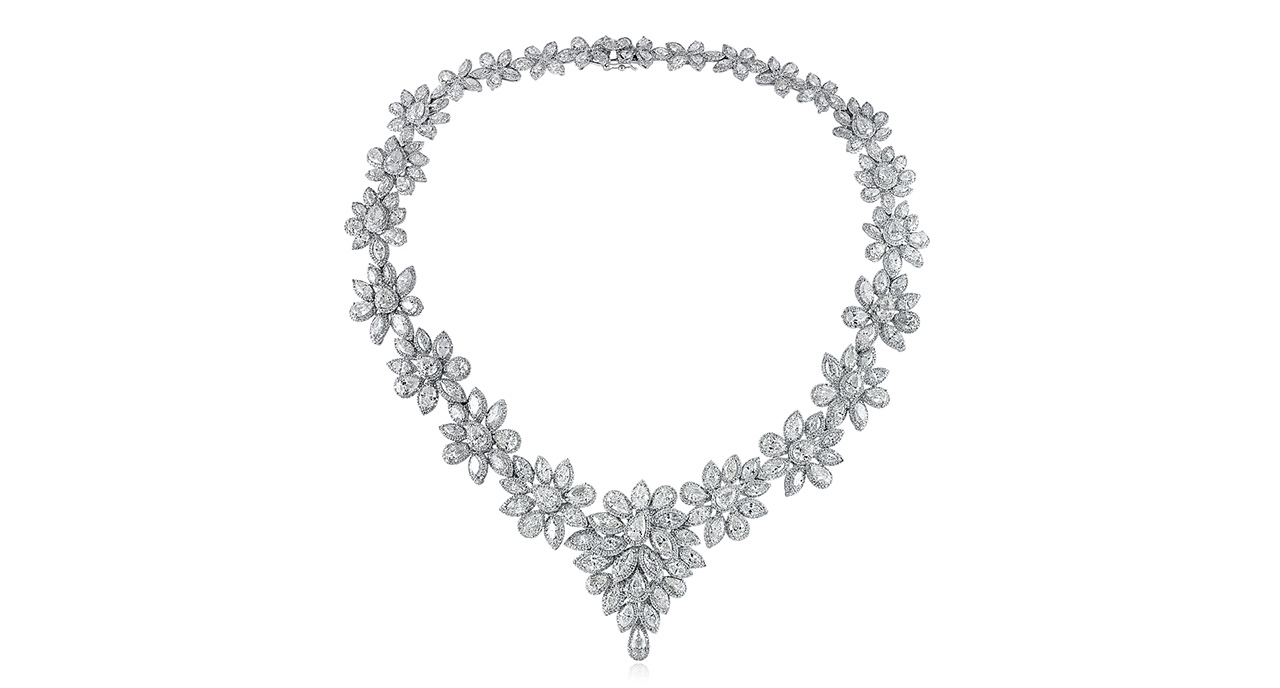 Diamond Floral Necklace. Take floral elegance to the next level with this incredible showstopper, featuring an array of pear, marquise and brilliant-cut diamonds. Adorn your neck and décolletage with this impressive collection of sparkling floral clusters, which meet at the front to form a stunning, layered focal point. Boasting a total of 69.75 carats across the necklace and its matching drop earrings, this floral diamond masterpiece is perfect for your wedding or any fancy occasion. We hope these gorgeous jewels, inspired by nature, have, in turn, inspired you. Whether you're looking for jewellery for yourself, a loved one, for a special occasion, or to wear day-to-day, floral motifs are timeless and will never go out of style.
At Diamond Rocks, we have a stunning collection of flower-inspired jewellery for you to browse. Or, get in touch for help and advice on selecting the perfect piece.