Bespoke Wedding Rings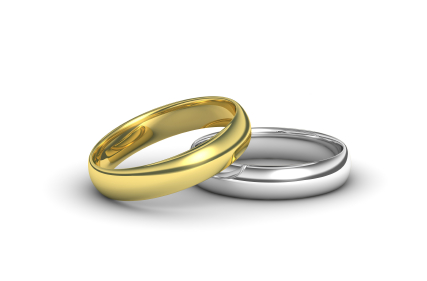 The ritual of exchanging engagement and wedding rings is a centuries-old practice, observed to symbolise the physical and spiritual connection between a couple for the rest of their lives.
Made of precious metals, set with gemstones, engagement and wedding rings are more than just material objects, as they are one of the most prominent symbols of your love and commitment to each other.
Whether you believe all the myths about the history of the wedding ring, marriage is one of the few ceremonies that unites all the religions and cultures around the world. The exchange of pieces of symbolic jewellery is an essential part of the whole ceremony.
Carrying so deep a message, wedding rings need to be perfect for their wearers in every single aspect, including design and longevity, as these pieces will have to stand the test of wear over time.
Very often couples who go ring shopping to high-street jewellers, face the frustration of failing to find the rings that would be ideal for either of them. It is true, despite an extensive range of both engagement rings and diamond rings available in the market, many are still unsatisfied with the choice at hand, or they just want to have one-of-a-kind signature pieces to emphasise the uniqueness of their bond. This is when they choose to commission an experienced jeweller to create bespoke wedding rings.
Why bespoke wedding rings?
When it comes to love, commitment, honesty, sacrifice, some people won't go with a plain gold or platinum band, although it's a perfectly normal option. They will want something more special and unique. Custom-designed wedding rings are gaining popularity because the designer is able to turn the couple's vision into an actual design, producing bespoke wedding rings that are as unique as the couple themselves.
Bespoke jewellery designers are experts in the creative conceptualisation and production of highly-customised jewellery, knowing how to create a top-quality ring which captures exactly what the customer wishes for within their budget. This may include personal messages or dates of wedding engraved on the band.
Furthermore, very often people need a wedding ring especially tailored to fit around existing engagement rings for a comfortable wear. Even the most sophisticated engagement ring is no problem for a skilful jeweller to craft a perfect wedding ring to be worn alongside on the ring finger.
If you are one of those opting for something truly unique, Diamond Rocks offers you a free service to help you create a custom-made wedding or engagement ring. Clicking on "Design Your Own Ring" will take you to a flash-based menu where you can select the stone shape and colour as well as the mount to be used for your bespoke ring! Moreover, whilst choosing between the options you can preview your bespoke wedding ring in 3D to make sure it's exactly what you need.