Best Celebrity Engagement Rings: From Bieber to Gaga
Singer Katy Perry got a February 14th gift to remember this year, a stunning pink flower-shaped engagement ring from actor boyfriend Orlando Bloom. To date, the ring in question has only been seen in one Instagram post, shared by Perry with the words full bloom underneath.
As a result, no one is exactly sure what that gorgeous stone, leaving us all guessing furiously about its value. It looks to be a four-carat fancy vivid pink oval stone surrounded by eight white diamonds and set on a yellow gold band. From the image, we'd take a guess that the stone is a ruby, although others have suggested it is a pink diamond, and we'd estimate its worth between $3-4 million. Whatever that stone is, there's no denying that this engagement ring rocks, as does Bloom, who may have spent as much as 11% of his net worth ($35 million, versus Perry's cool $83 million).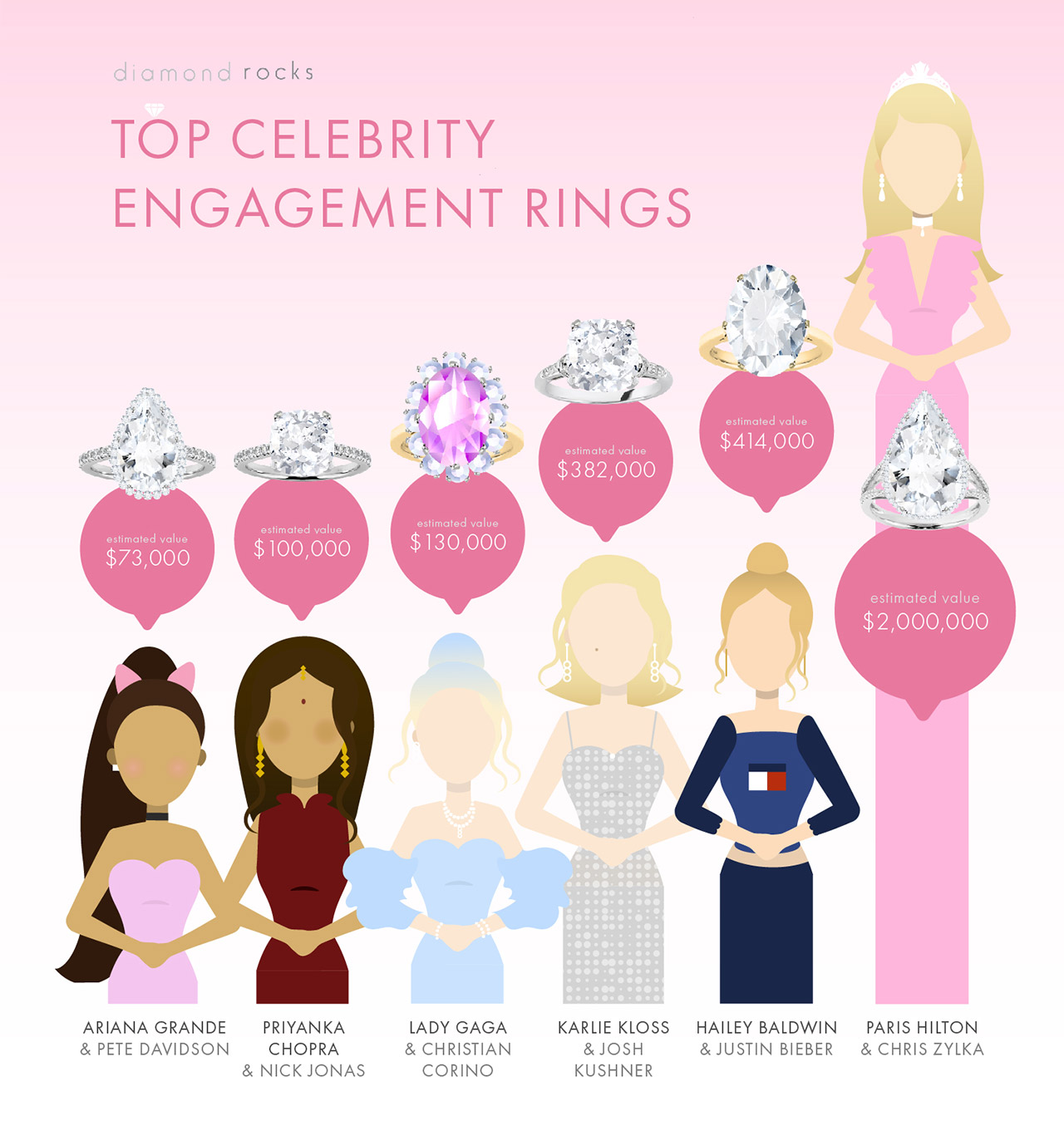 All this talk of engagement rings got us thinking about some of the other big celebrity engagements of the past 12 months and how they compare in the value stakes. Here are six of our favourites.
Paris Hilton & Chris Zylka
This ring definitely takes the prize for priciest engagement dazzler in our hall of fame, but what Paris once described as "the most beautiful ring that I have ever seen!" did not lead to the fairy-tale wedding. We reckon this pear-shaped diamond rock is worth a whopping £1.6 million ($2 million). Small wonder, then that Paris described herself as 'shaking' when she put it on. Sadly the engagement was reportedly called off after just 10 months.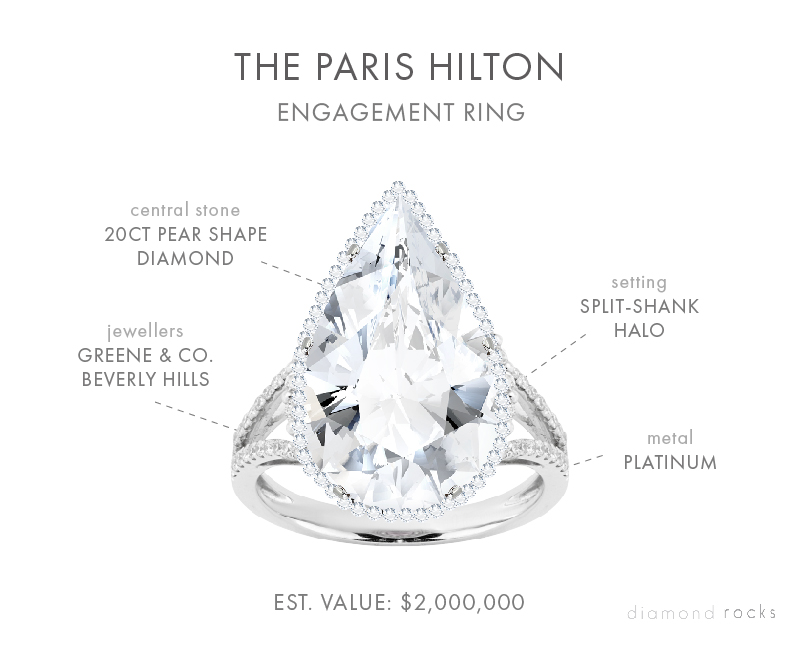 What she's worth: $300 million
What he's worth: $4 million
What the ring's worth: $2 million
What he spent: His net worth is second-to-last in our fiancé hall of fame, but Chris spent a eye-wateringly generous 51% of his net worth on this stunner of a rock for Paris – making him our definitive winner in the engagement generosity stakes. Take that Orlando.
The ring low down: There's no doubt that Paris Hilton's ring is a showstopper. Set on a platinum, split shank halo band, this pear-shaped diamond is thought to be around the 20 carat mark. The larger (and therefore rarer) a diamond is, the harder it becomes to source and value – so prices can vary dramatically. For example, a 15 carat I-colour pear diamond with a VS1 clarity rating can cost you £700,000. But just because a stone is large doesn't mean its colour and clarity ratings are necessarily good – two key indications of diamond quality that will affect its price.
Ariana Grande and Pete Davidson
Another pear-shaped stunner – another pear-shaped romance. Announced after just a whirlwind four week romance, the engagement is said to have ended as a result of Ariane's grief following the death of her ex, Mac Miller, whom she dated for two years.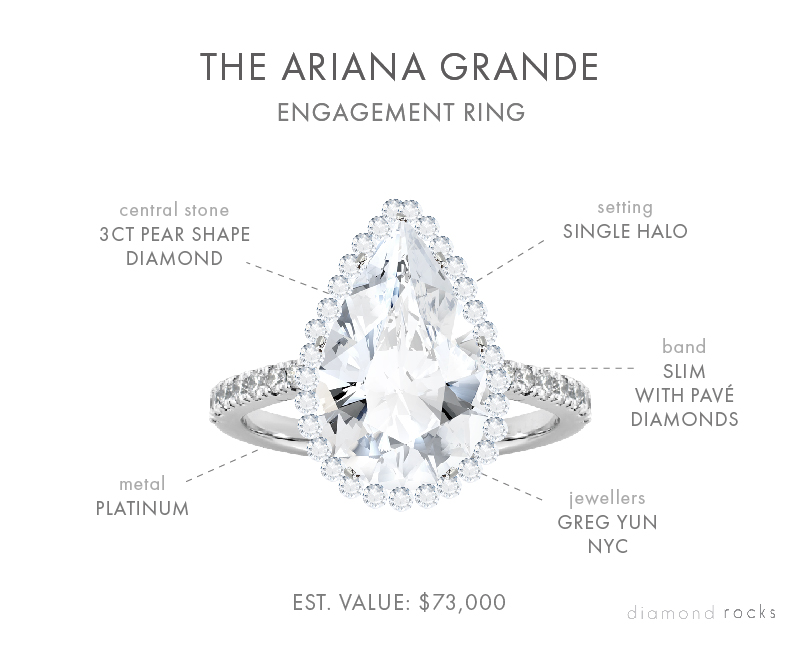 What she's worth: $50 million
What he's worth: $2 million
What the ring's worth: $73,000
What he spent: A reported net worth of $2 million means that Pete spent just 3.63% of his net fortune on Ariane's bling – considerably less than Chris and Orlando, but still making him third-in-command in the engagement ring generosity stakes.
The ring low down: A high-carat centre diamond can look much larger in a halo setting, but this diamond looks to be around three carats, set on a thin, platinum pavé band.
Lady Gaga and Christian Carino
Her ring has been almost as high profile as the star herself recently, with Lady Gaga flaunting a sapphire that can only be described as "massive" months before she allowed confirmation of her engagement to slip out at Elle's 25th Women in Hollywood event in October 2018. Making headlines across the press, speculation on the valuation has been wild – but we reckon it's a fairly conservative $130,000.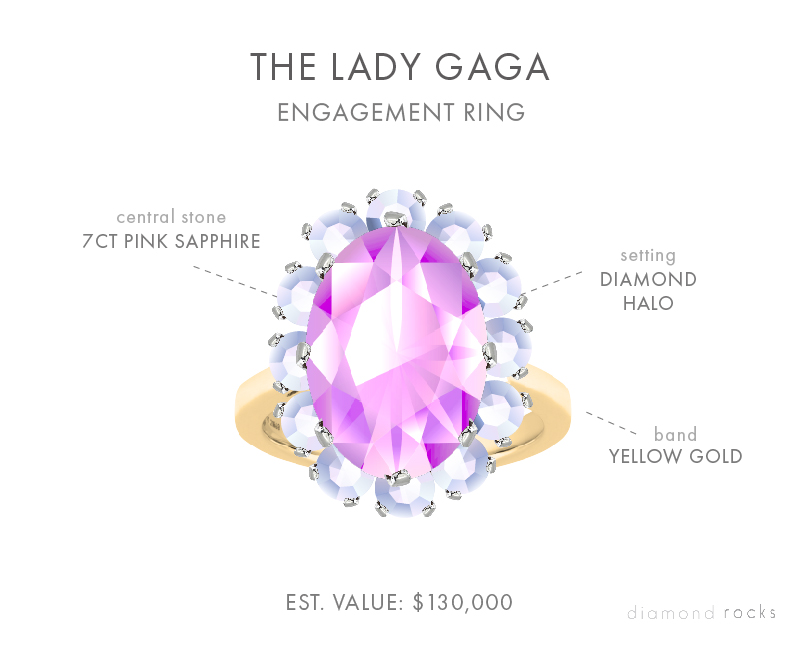 What she's worth: $275 million
What he's worth: $5 million
What the ring's worth: $130,000
What he spent: our valuation brings this ring in at just 2.6% of this groom's net worth. But, although he's no winner in the "most generous" stakes, Chris takes the "hopeless romantic" award hands-down, after reports that he not only asked Lady Gaga's father for her hand in marriage but has also had her face tattooed on his arm for good measure.
The ring low-down: we reckon Lady Gaga's distinctive ring is a six or seven carat high-quality pink sapphire surrounded by a twelve-stone diamond halo, probably totalling around three carats. Although they're almost as hard as diamonds, sapphires tend to command a slightly lower premium.
Priyanka Chopra and Nick Jonas
Conducting their engagement under a truly massive spotlight, Bollywood belle Priyanka and her now husband, Nick Jonas, embraced the traditional side of marriage, with their high-profile, three-day Hindu and Christian wedding ceremonies featuring traditional red and white gowns respectively – and, of course, that seven-tier wedding cake, matched in opulence by the bride's 75ft wedding train.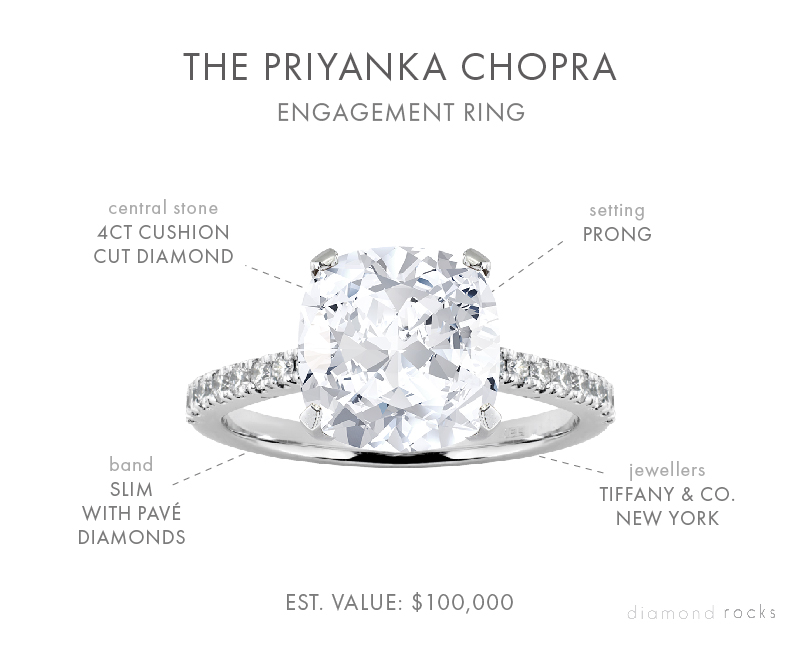 What she's worth: $28 million
What he's worth: $25 million
What the ring's worth: $100,000
What he spent: Here's one couple that seem to match up when it comes to their fortunes. Maybe the groom didn't feel the need to flex his financial muscles here, preferring to focus on classic simplicity and literally shutting down Tiffany & Co to choose the ring in complete privacy. He may have only spent 0.41% of his net worth on the ring, but this is an engagement that smacks of classy romance and equal partnership, rather than showy gestures.
The ring low down: Priyanka's elegant ring features a cushion-cut diamond of roughly four carats, set in platinum. Though it's difficult to see the exact diamonds featured on the band, it looks like an intricate setting, possibly with pavé diamonds either side of the central stone.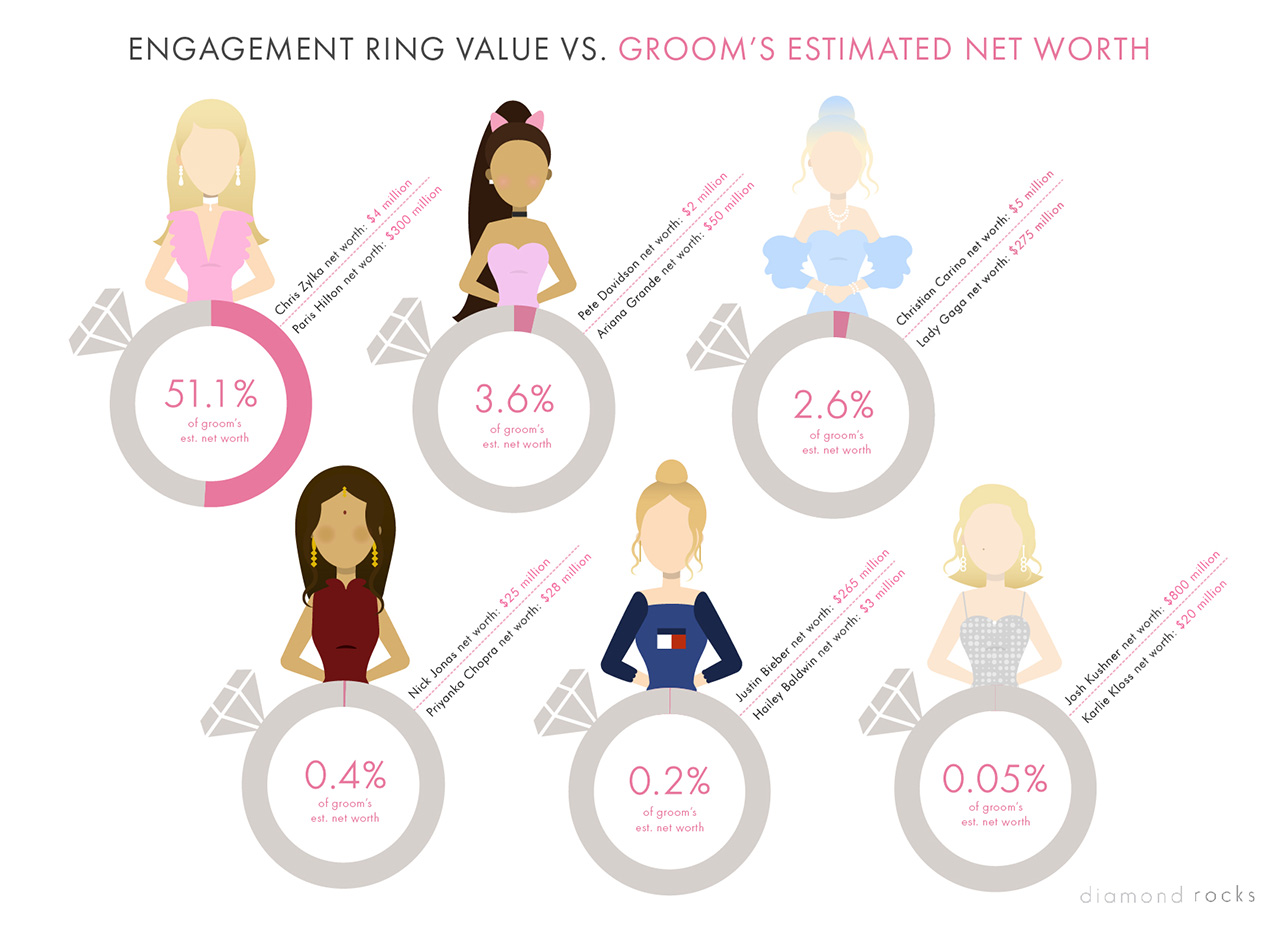 Chris Zylka spent the highest proportion of his estimated net worth on Paris Hilton, whereas Josh Kushner spent the smallest proportion on supermodel fiancée Karlie Kloss.
Hailey Baldwin and Justin Bieber
The winners of the 2018 definitive "Are they? Aren't they?" romance award, Hailey and Justin's nine-year romance has been rife with rumour – including speculation over another relationship with Selena Gomez, apparently confirmed by the singer himself in 2011. The rumour mill kicked into serious action in 2014, with various sightings bringing yet more denials from the couple that they were together. By summer 2018, though, things were publicly hotting up again, before the twosome finally put fans out of their misery with Justin going 'Instaficial' on the engagement after popping the question on 7 July. Cue several months of "have they married in secret?" speculation, before she changed her handle to @HaileyBieber and he finally confirmed her as his "awesome wife" on 17 November.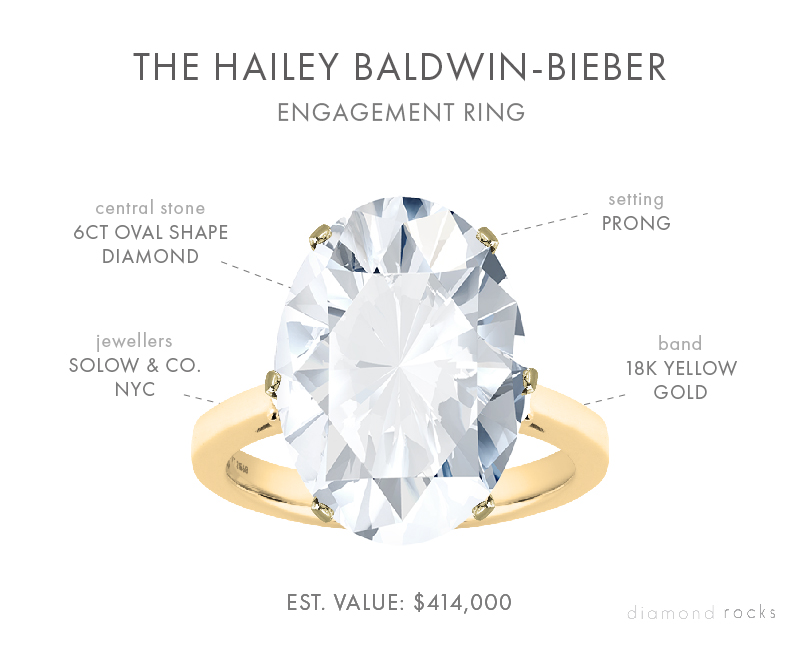 What she's worth: $3 million
What he's worth: $265 million
What the ring's worth: $414,000
What he spent: Just 0.16% of Justin's net fortune went towards wooing his fiancée. Perhaps the modest spend reflects the couple's apparent commitment to marriage as a serious – not showy - endeavour, with Justin claiming on Instagram that he's looking forward to setting his siblings the example of a "serious and stable marriage" and sources claiming Hailey wanted a City Hall wedding to prove that this is a genuine commitment and "not just some crazy fling".
The ring low down: Hailey's ring is an enormous, slightly elongated, oval-shaped diamond on a simple gold band. It looks to be around six carats for the central diamond. This was a custom-made piece by a private jeweller, so the value could be far greater with a store mark-up.
Karlie Kloss and Josh Kushner
"Massive" is the only real way to describe model Karlie's engagement rock, which she's been proudly displaying since she got engaged to Josh on 24 July 2018. After a six-year romance, Karlie has been publicly gushing about her happiness but – by her own confession – she's sometime "frustrated" to have her big news overshadowed by Josh's connections with the Trump dynasty (his brother, Jared, is married to Ivanka). "I don't think the same thing happens in conversations with men" she told Vogue in October.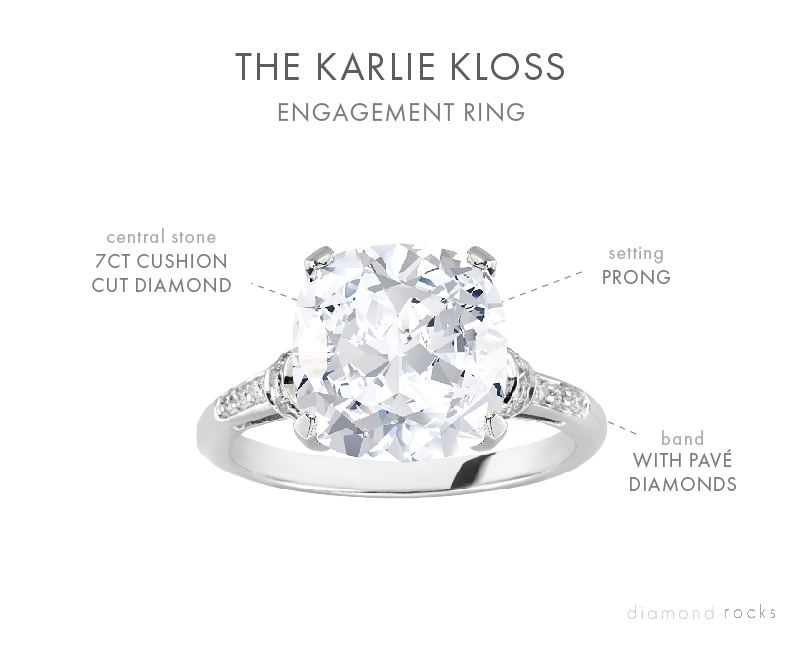 What she's worth: $20 million
What he's worth: $800 million
What the ring's worth: $382,000 
What he spent: Despite having a personal fortune worth considerably more than hers, and despite the ring being a real visual showstopper, Josh takes the crown as most frugal ring-buyer from this celebrity bunch, spending only 0.05% of his whopping wealth on the ring for his fiancée.
The ring low down: The central cushion-cut diamond on Karlie Kloss's ring is a considerable size and looks to be about seven carats, set on a slim, simple platinum pavé band.