Best On-Screen Oscars Movie Jewellery from Titanic to Moulin Rouge
The Academy Awards, better known as the Oscars is when the great and the good of Hollywood will make their way down the famous red carpet and into the Dolby Theatre to find out who has won the most coveted awards in the film industry.  And while all the speculation until now has been over the host – or lack thereof – there are some things you can always rely on come Oscars night: dodgy jokes, overrunning speeches and, of course, the jewels.
Who could forget 2017? That was the year Nicole Kidman invented the 'seal clap' because she didn't want to damage the stunning cluster diamond ring – just part of the 119 carats worth of Harry Winston diamonds she was loaned for the ceremony.
From the gorgeous emerald-cut gemstone pendant necklace and multi-stone bracelet Vivien Leigh wore in 1940 to collect her best actress Oscar for Gone With The Wind, to the gorgeous vintage Bulgari bib necklace that Kiera Knightley wore in 2006, thought to be the most expensive piece of jewellery ever worn to the Oscars, with a few stunners from Elizabeth Taylor thrown in along the way, Hollywood stars have wowed Oscars audiences with their bling for decades. But it's not just the red carpet that sparkles. Over the years, jewellery has played a key role in a host of Oscar-nominated movies.
So, to celebrate this most lavish of movie weekends, we thought we'd share our top five all-time favourites.
1. Moulin Rouge, 2001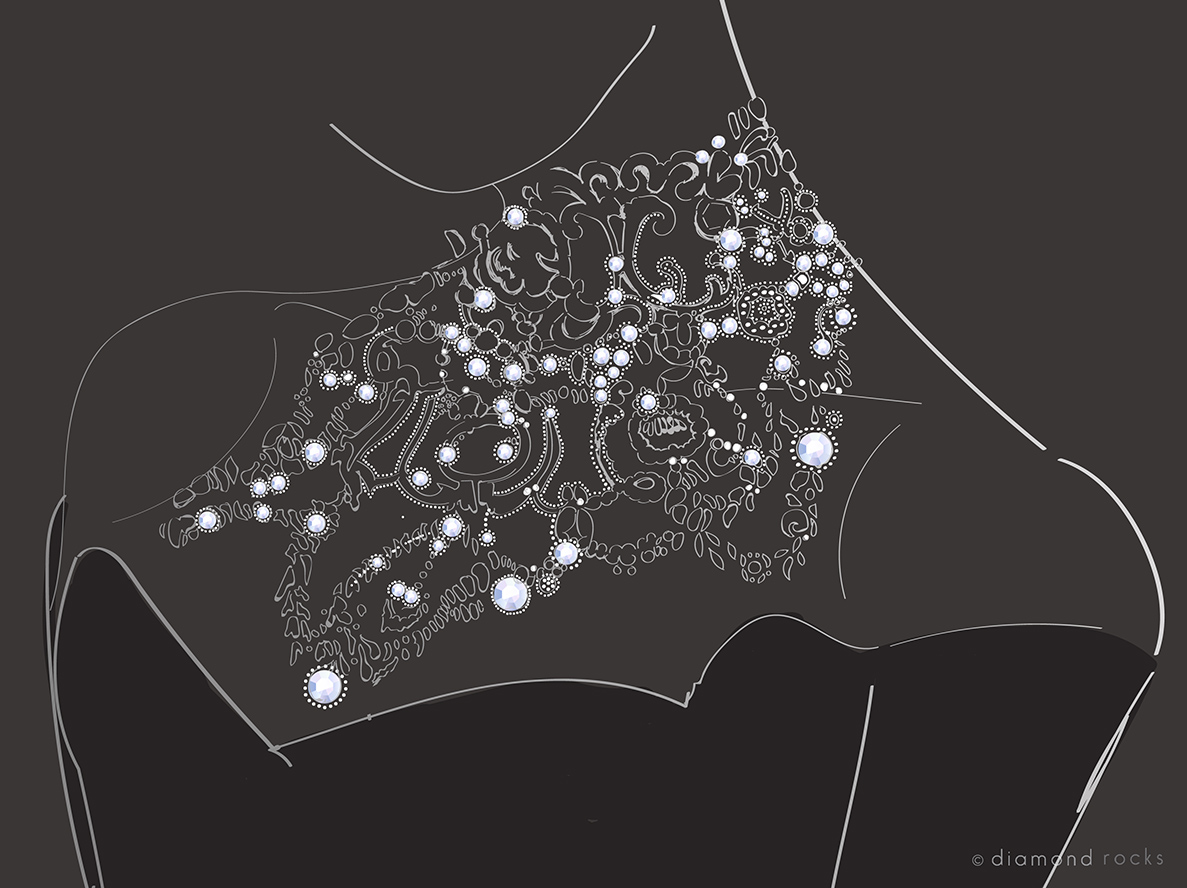 Oscar tally: 8 nominations, including first musical to be nominated for best picture in 10 years. It won two awards for best costume and production design. Created by Sydney jeweller Stafano Canturi, the 'Satine' diamond necklace worn by Nicole Kidman is worth a cool $3 million – making it the most valuable piece of film jewellery to date. And no wonder since it features 1,308 diamonds and a 2.5-carat clasp with abundant lace patterning and scrolls, reminiscent of the style worn in French King Louis XVI's court. It may also be the only piece of Hollywood jewellery to have ever had its own stunt double. Unsurprising given the big scene in which Richard Roxburgh rips the necklace from Kidman's neck. The stunt double was made of foil-backed crystals with a magnetic clasp so that it could come away without hurting Kidman's neck.
Get the look: don't fancy selling your soul to a devious duke in exchange for jewels? Then may we suggest these stunning Marquise & Pear Shape Diamond Earrings.
2. Titanic, 1997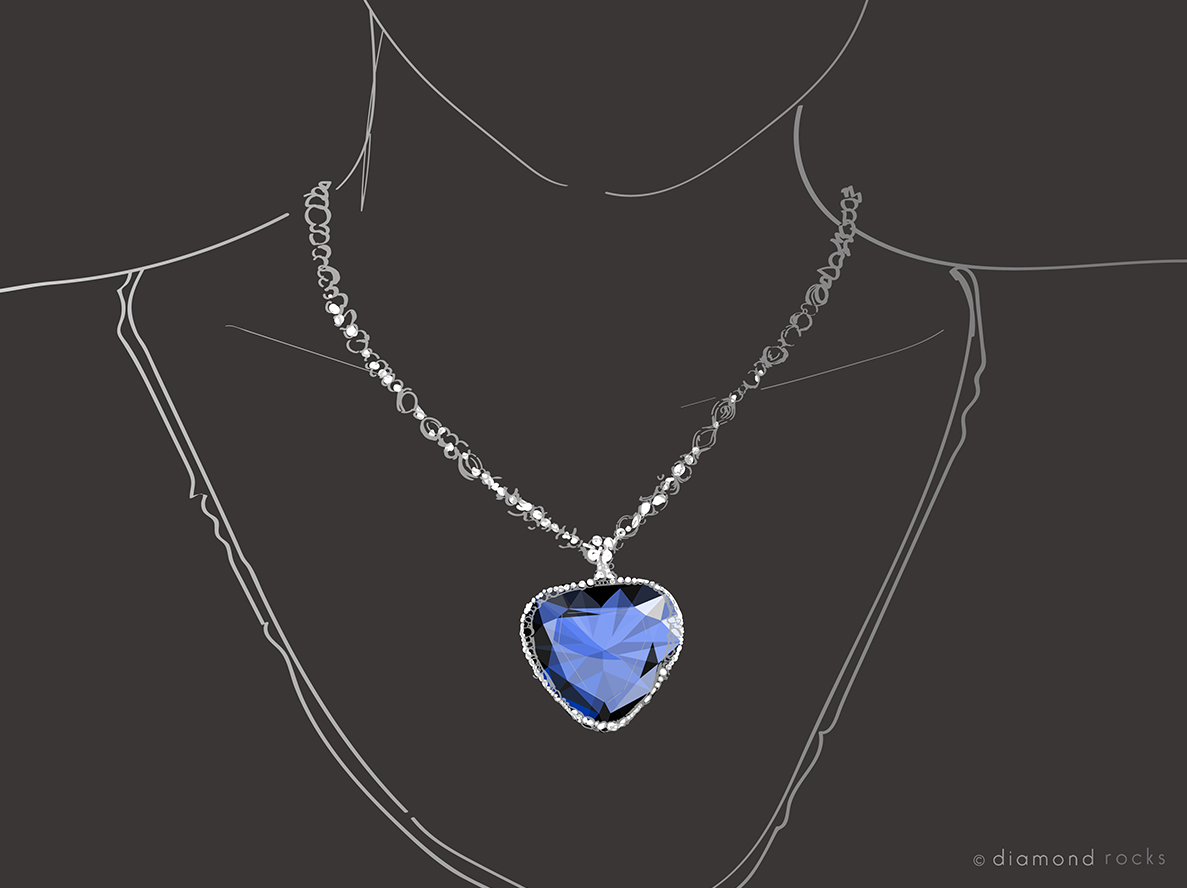 Oscar tally: 14 nominations and 11 wins, including Best Picture, Best Director and Best Costume Design. In the storyline, the fictional 'Heart of the Ocean' necklace is a heart-shaped sapphire surrounded by diamonds on a diamond chain, given to Kate Winslet by her on screen fiancé Billy Zane. She later wears it – and not much else – when she asks Leonardo di Caprio to draw her portrait. Eventually the necklace goes down with the ship. In reality, the piece – made exclusively by Asprey & Garrard for the film – is a London-blue Tanzanite stone surrounded by white round cut cubic zirconia set in white gold. The chain was made up of round, pear, and marquise cut white cubic zirconia. As a result, it's worth less than $10,000 – a lot less than its fictional value as a 56-carat diamond that once belonged to French King Louis XVI and the film's record-busting $200 million budget.
Get the look: you don't need a submarine, James Cameron or the titanic budget to recreate Winslet's iconic movie look. You just need our beautiful Sapphire Pear & Diamond Halo Drop Pendant Necklace.
3. Pretty Woman, 1990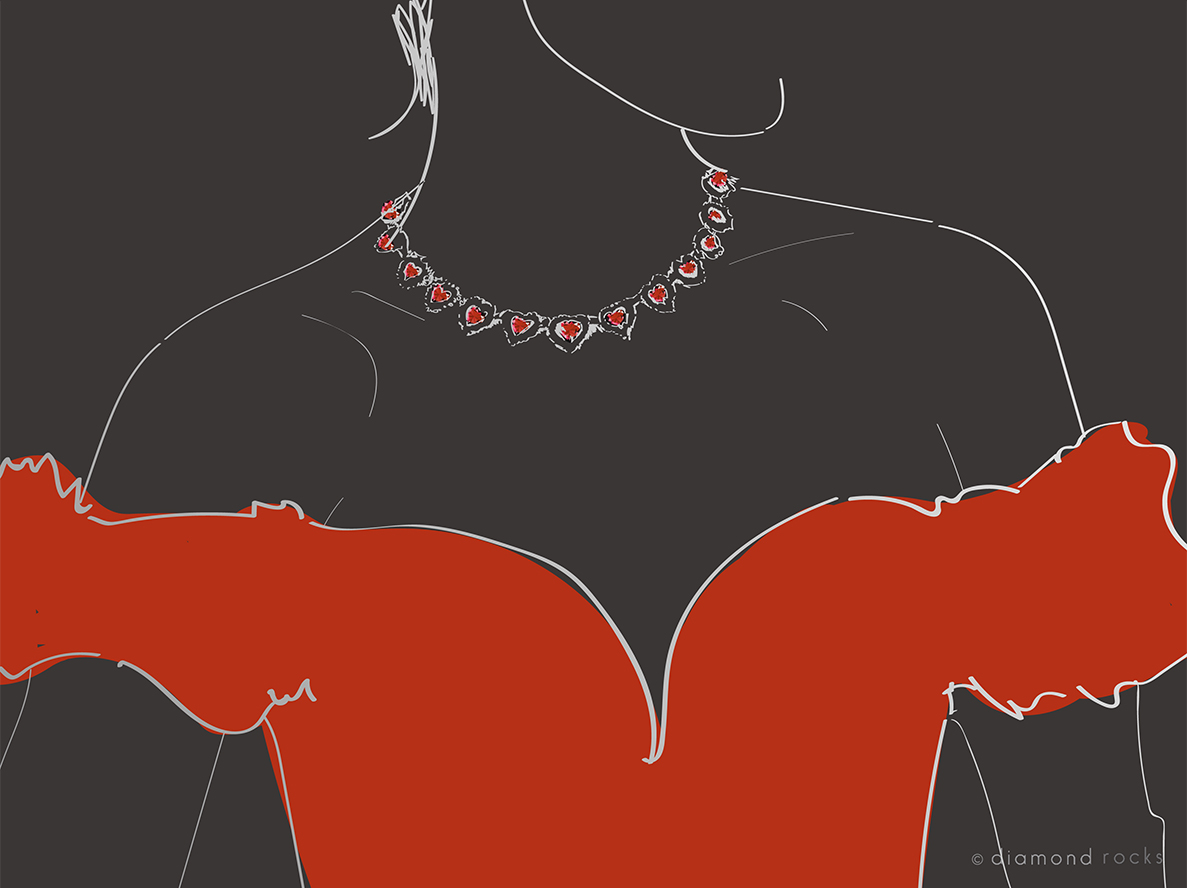 Oscars tally: one nomination for best actress. In a now famous scene in which Richard Gere takes Julia Roberts to the opera, the actress is seen wearing a gorgeous necklace made of 23 pear-cut rubies set in the centres of diamond-encrusted hearts, all contained within 18-carat white gold. The necklace was custom made by French jeweller Fred Joaillier. Estimates at the time placed the necklace's value at anything between $250,000 and $1 million. Either way, it was valuable enough that a security man from the jewellery store – armed with a gun – was on standby behind the director throughout filming. The moment when Gere snaps the jewellery box shut on Roberts' fingers was a prank between the actor and director Garry Marshall because as Marshall explained: 'When she laughs, the whole world lights up.'
Get the look: we can't offer you Richard Gere on opera night, but with this Ruby Oval & Diamond Round Three Row Bracelet.  Julia, who? 
4. Cleopatra, 1963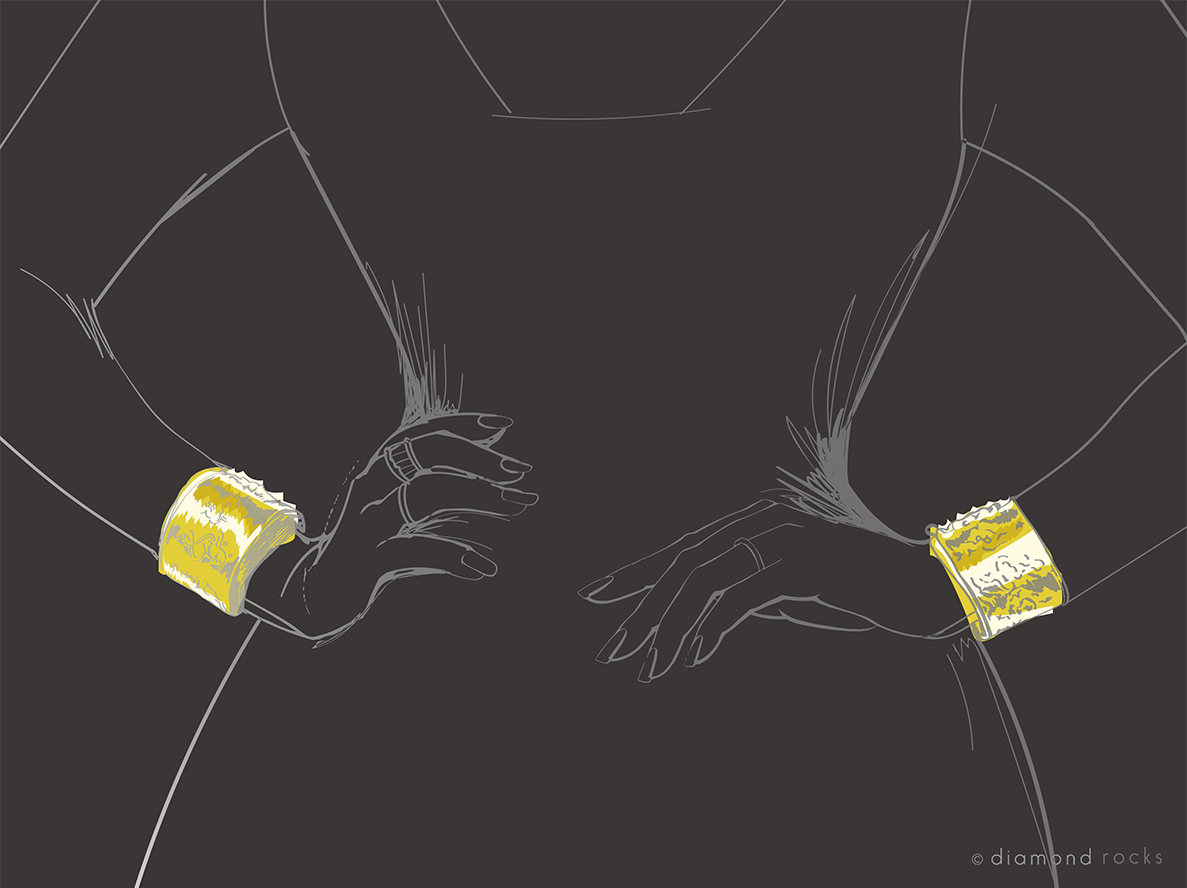 Oscars tally: 9 nominations and 4 wins, including best costume design. As the eponymous Egyptian ruler, Taylor is seen wearing several unforgettable pieces, including a gold-plated cuff bracelet, using famed Hollywood film jeweller Eugene Joseff's signature Russian plating technique, with hammered texture and six snake accents in relief. Taylor also wears a gold-plated rope belt with central coiled snake accented with simulated emerald – plus a twisted, gold-plated mesh rope belt suspending a Golden Fly of Valor pendant. While the film may have almost bankrupted 20th Century Fox its jewellery was not one of the reasons why, since it was just costume jewellery. However, at an auction in 2017, the cuff bracelet sold for $21,875, the mesh belt for $7,680 and the snake belt for $3,437.50. Taylor was well known for her love of jewellery off-screen and in 1970 she famously attended the Oscars wearing a stunning 68-carat diamond, bought for her by Richard Burton from Cartier for $1 million and became known as the Burton-Taylor diamond.
Get the look: fancy rocking the Egyptian queen look? Then we have just the piece for you: this stunning Emerald & Diamond Scatter Bangle. If it's the full Taylor bling look you're after though, take a look at this old cut centre baguette channel set surrounded with old cut vintage ring.
5. High Society, 1956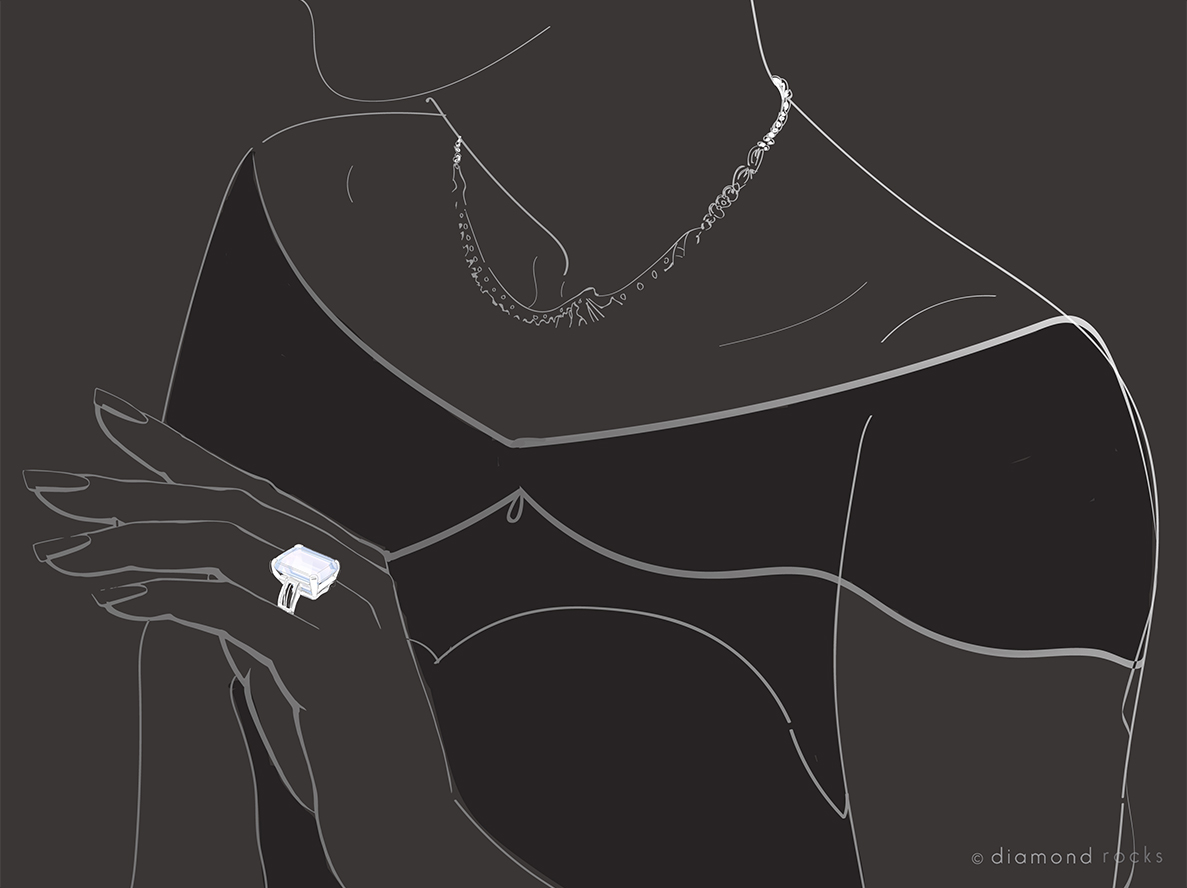 Oscars tally: 2 nominations, including best original song for True Love, by Cole Porter. In a film all about getting married, there was only ever one choice of sparkler for its heroine Grace Kelly – her own engagement ring, a stunning 10.48-emerald cut diamond flanked by two baguettes set in platinum worth $4.06 million – double the film's budget – given to her by Prince Rainer of Monaco after a year-long romance. Kelly wore the ring in MGM publicity shots as well as in what would become her final film. At one point in High Society Bing Crosby's character says to Kelly – playing his ex-wife – 'That's quite a rock, Sam.' He then turns to her fiancé George and says, 'Did you mine it yourself, George?' Kelly specifically wanted to wear her ring in the film, so these lines were added to the script.
Get the look: you may not have a prince's budget, but you can still recreate Grace Kelly's timeless look with this gorgeous 4.01ct Emerald Cut Diamond Trilogy Ring. Or, if you want to go for a more vintage style, then this beautiful large round Victorian cut diamond sits in the centre surrounded by smaller French cut and Victorian cut diamonds is the one for you.