Celtic Engagement Rings
Celtic engagement rings have a long history that can be traced back to those who primarily live in Ireland and Scotland. These beautiful rings use decorations and symbols that come from the Celtics of old.
When looking for characteristics of Celtic engagement rings you will find that the designs often include seemingly never ending knots, which are said to represent eternity.
Claddagh Design
There are many variations to the popular Celtic engagement rings because of their unique beauty, but the most common ones you will find available today are the Claddagh ring design. A Claddagh engagement ring has been a popular choice among couples for hundreds of years.
Claddaghs often have a band design with clasped hands carrying a heart. The heart is topped off with a crown in most cases. This is meant to be a symbol of sorts. It stands for love as it is first starting and as it continues to grow and flourish into a deep meaningful relationship.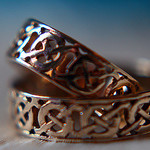 Celtic Design Variations
Many other engagement rings of the Celtics have different variations of decorative knots. The eternal knot is the most fundamental designs. This type of knot is one that intertwines and is without a visible starting or ending point. This makes it an excellent example of an engaged couples' unending love.
Another variation of the same decorative knot is the triquetra. It contains triple points and looks like a rounded triangle. Triquetra are often seen as a symbol of the unity of Christians although this is not what Celtics, who were pagan, intended.
The beauty of any engagement ring that is Celtic is that the symbolism can be made by the person who is wearing the ring. For many couples, they want to celebrate their past, present, and future when sharing the news of their engagement.
The beauty of the design of the Claddagh engagement ring has developed through the years with many young couples. There is a rich tradition of Irish culture found in many generations and the engagement ring of the Celtics is a part of the customs and culture of some families.
Finding the right engagement ring that is as unique and special as the love that is shared among the couple will not be difficult if you know what you are looking for. Celtic's engagement rings are culturally influenced rings that symbolise a new life with the one you love and are sure to become an instant family heirloom.
For a ring designed specifically for you why not try our bespoke design service?