How to Choose Jewellery to Flatter your Face Shape
There are many factors to consider when investing in pieces of jewellery, from your skin tone and hairstyle to your dress sense and lifestyle. Face shape is another important thing to bear in mind, as the right pieces can not only enhance your best features, but can also soften any harsher characteristics.
Each person has a different face shape, and knowing how different styles complement these shapes will ensure your jewellery always works for you. When a piece of jewellery complements your face shape, it can give you that little confidence boost and you'll be more likely to wear it time and time again. First things first, you need to work out your face shape.
How do I work out my face shape?
Each person's face falls roughly into one of six shapes: oval, round, heart, square, long or pear-shaped. You can work out which category your face falls into by following these simple steps:
Pull your hair back so that it is completely off your face.
Draw around the outline of your face in a mirror using an erasable pen, or ask someone to take a picture of you facing straight into the camera, with your hairline showing. We suggest taking one photo with a straight face and one smiling.
Compare your face shape to the images below and select the face shape that matches most closely. Ignore your features, you are purely looking at the shape of your face outline.

OVAL
An oval face is widest around the forehead and temples, and slightly longer than it is wide, with a curved chin. If you have an oval face you are lucky enough to be able to wear just about any kind of jewellery.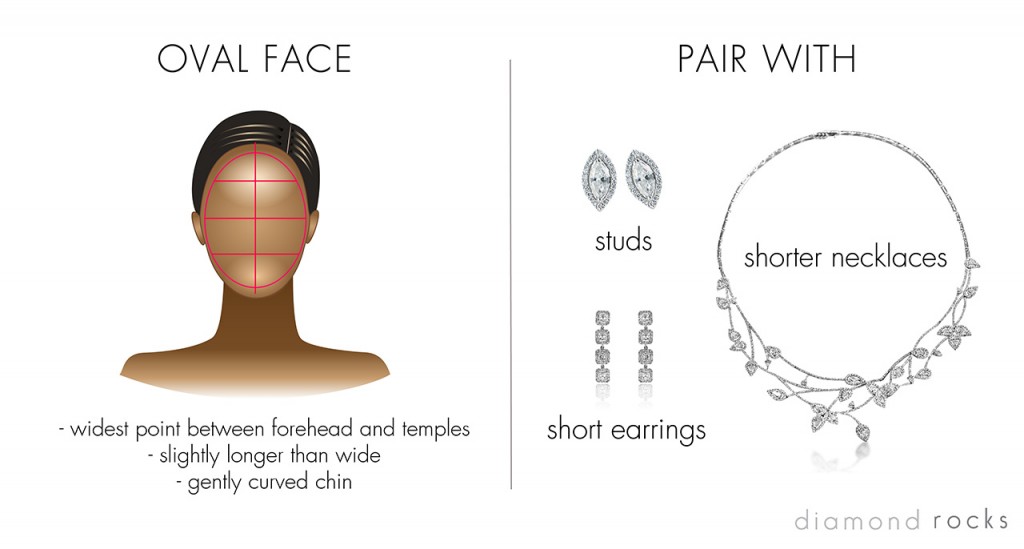 Jewellery advice Since oval faces are already fairly long, the most flattering jewellery styles are ones that avoid elongating the face any further. Opt for shorter necklaces over long ones, and choose studs or short earrings that fall just above the chin to create the illusion of width around the jawline. These 1.50Ct 3 Stone Round Rubover Set Drop Earrings in White Gold would work wonderfully. Famous oval faces Jennifer Aniston, Jessica Alba, Janelle Monae  
LONG
A long face is very similar to an oval face, just slightly longer. Use jewellery to draw attention away from the length and add width.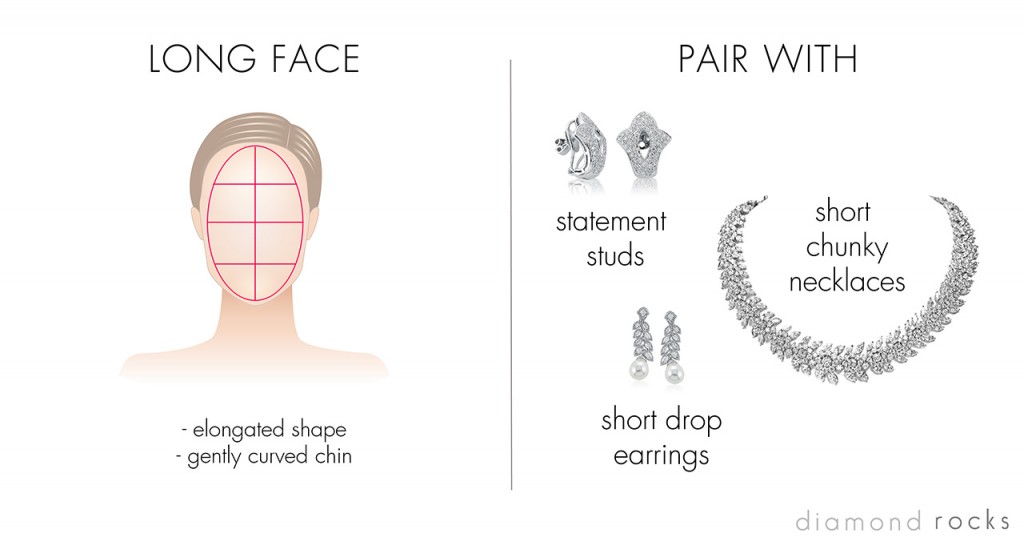 Jewellery advice Choose short, chunky necklaces such as this 50.00Cts Brilliant Fancy Yellow & White Diamond Grainset Necklace In 18K White Gold that sit high on the neck. Go for statement studs or short drop earrings to give the illusion of a wider face. Famous long faces Sarah Jessica Parker, Blake Lively  
ROUND
Round faces are roughly as wide as they are long. The lines of a round face are curved and soft, with a rounded jawline. Choose jewellery that distracts attention away from the roundness and accentuates features, such as your eyes and nose.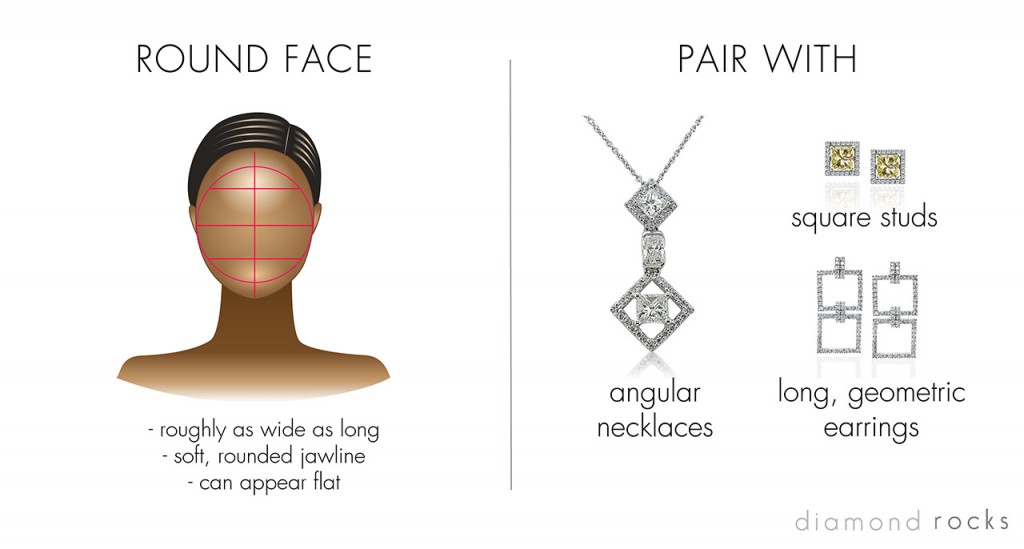 Jewellery advice Look for angular jewellery that contrasts with the round lines of your face, such as long earrings and necklaces with pointed or geometric pendants. Anything with length will help to create the illusion of a longer face shape. Get the best of both worlds with these Ruby Square 0.49Ct Brilliant Diamond Drop Earrings In 18K White Gold that are both long and angular in shape. Famous round faces Cameron Diaz and Emma Stone  
HEART
A heart-shaped face is widest at the forehead and cheeks and tapers down to a sharper jawline and chin. Use jewellery to narrow the forehead and give the impression of a wider jawline.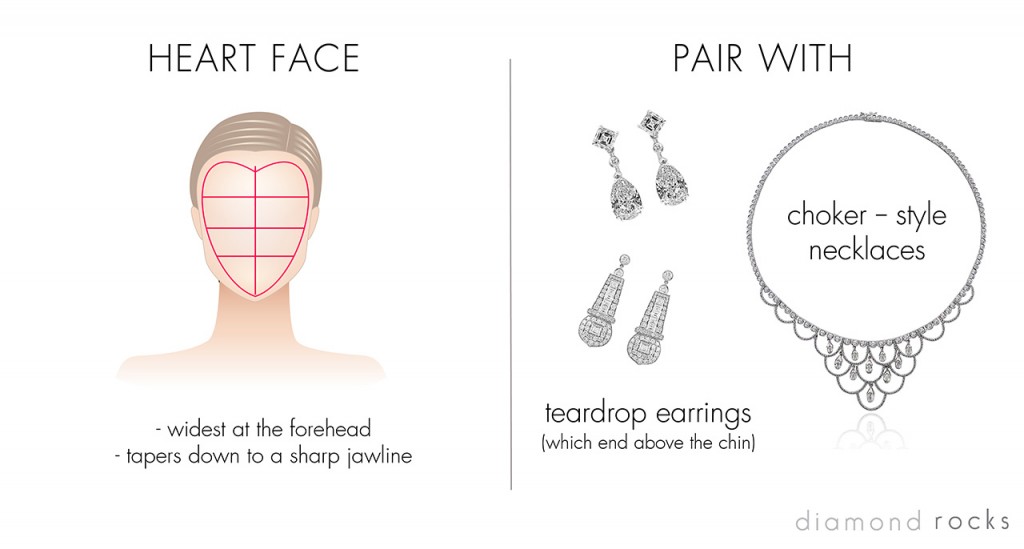 Jewellery advice Short, choker-style necklaces and teardrop earrings that end at, or just above, the chin will create a sense of fullness around the jawline. Try these Emerald Pear 2.62Cts Pear & Brilliant Diamond Drop Earrings In 18K White & Yellow Gold; the bold emerald colour will further help to create width around the chin and jaw. Famous heart-shaped faces Reese Witherspoon and Scarlett Johansson  
SQUARE
A square face is a similar width the who­le way down, so the forehead, cheeks and jawline are roughly all the same width. Square faces are also the same width and height, and the straight lines of the face create an angular jaw. Use jewellery to soften angles and lines.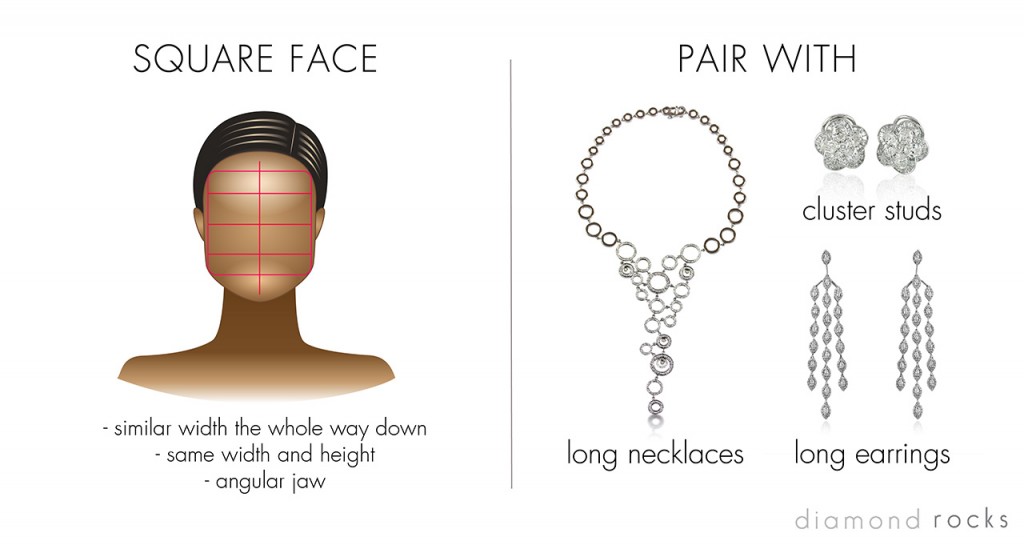 Jewellery advice To balance a strong jaw, add length with long necklaces and earrings that draw the eye up and down. This long 50.46Cts Brilliant Diamond Cluster Necklace In 18K White Gold is made up of circular pendants that will contrast perfectly with your angular face shape. Famous square faces Penelope Cruz and Sandra Bullock  
PEAR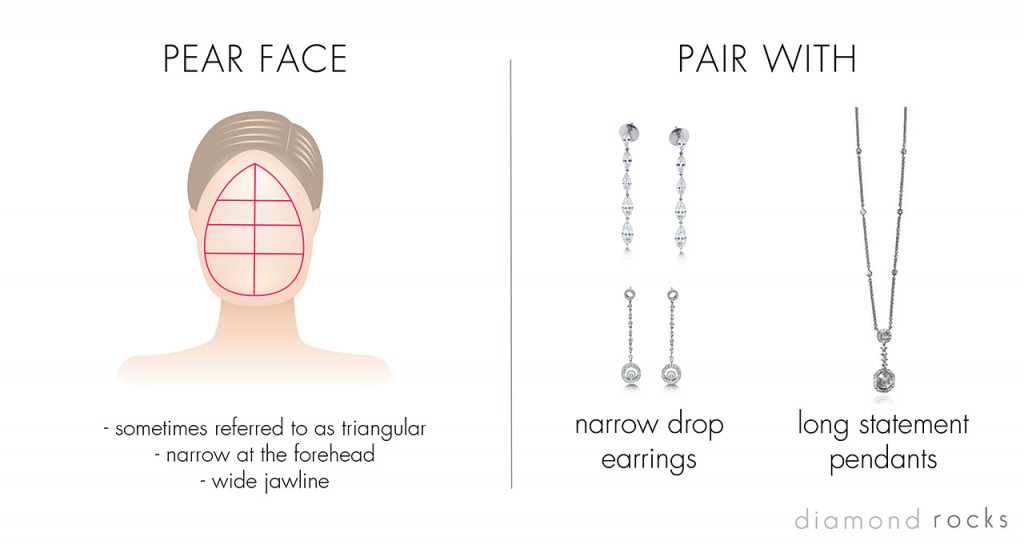 A pear-shaped face, sometimes referred to as a triangular face, has the opposite proportions to a heart-shaped face: it is narrower at the forehead, with a wider jawline. Use jewellery to soften the jawline and add width at the cheekbones.  Jewellery advice Narrow statement drop earrings, such as these beautiful 2.30Ct Round Brilliant Cut Long Drop Diamond Earrings In 18K White Gold, will draw attention outwards, adding width to your cheekbones and balancing out your proportions. Famous pear-shaped faces Minnie Driver and Kelly Osbourne
Whatever your face shape, Diamond Rocks offers a wide range of jewellery that will ensure that you look and feel balanced, confident and glamorous at all times.