Choosing the Right Precious Metal for an Eternity Ring
There are many critical choices to make when you are creating an eternity ring.
Eternity rings are said to be a symbol of everlasting love that a couple will share forever. Eternity rings are really popular gift choices to celebrate an anniversary, the birth of a child, or any other precious occasion that calls for an exceptional gift.
Eternity rings are said to be a symbol of the promised love and life that a family will share together making it a beautiful way to show your unconditional love for that special love in your life.
Eternity rings come in two different styles. First off is the full eternity ring, which is very popular and fancy to show off, especially when covered in diamonds. Diamonds are always the most sought after precious stone to cover an eternity ring in. However, you will also find that many experts recommend other precious stones such as emeralds, sapphires, rubies, and tanzanite.
If for some reason full eternity rings are not you choice of style you can choose a half eternity ring. The difference between the two rings is that half eternity rings have stones just halfway across the surface of the ring's band. They do not wrap all the way around like the full eternity ring. Half eternity rings are usually cheaper in price and sometimes easier to maintain because you can resize it if necessary.
Full eternity rings typically cannot be resized because the stones go all the way around the band and might possibly fall out if the band is heated.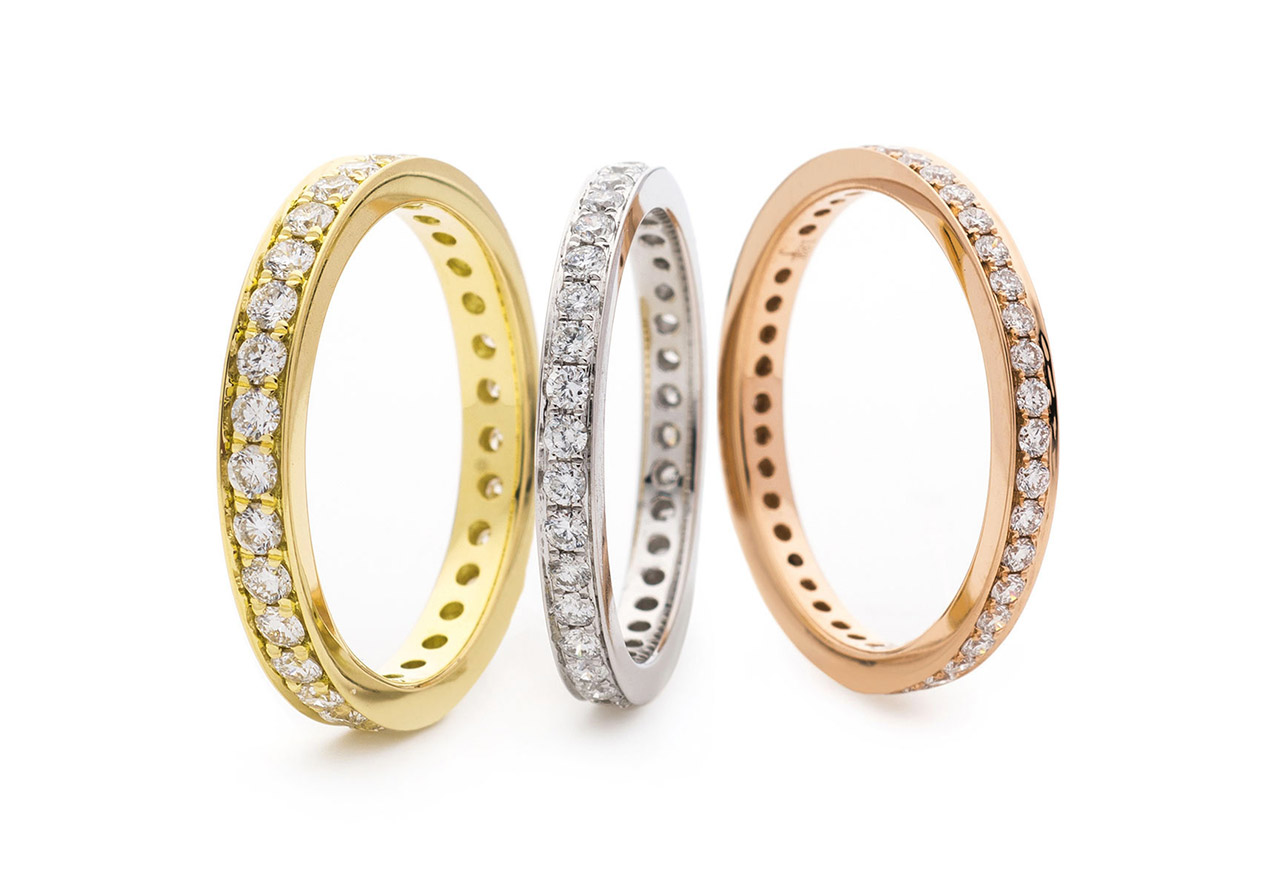 Another important decision to be made when choosing an eternity ring will be what precious metal you want your precious stones set in. There are always options here and some of the more commonly used ones as anyone would imagine is gold, both yellow and white, titanium, platinum, and last but not least silver.
No matter what stone you chose or what cut you chose, choosing the right metal first will go a long way in how much the eternity ring is going to cost you.
Yellow gold is malleable, durable, hypoallergenic, tarnish-resistant, and rare enough to be precious which is why it is always the most popular of choices.
White gold is also a very dependable and popular choice when it comes to eternity rings because it adds a special sense of style and intimacy to the ring.
Titanium is also a possibility for eternity rings because of its strength and durability. Titanium is a very popular choice for men's jewellery and is generally very affordable because it is very abundant.
Lastly, there is platinum which is used for many different ring styles. This quality metal would make an excellent choice for eternity rings because of its luxurious appeal and is 35 times rarer than gold.