Diamond Engagement Rings Guide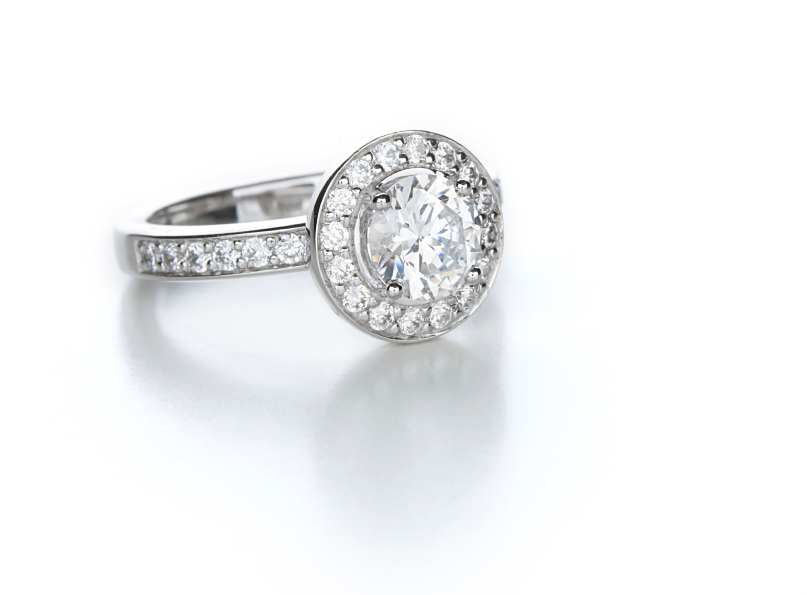 A History
The act of giving a ring as a symbol of engagement is an ancient practice used by many cultures, however diamonds didn't become involved until 1477, when the Archduke of Austria, Maximillian wanted to impress his fiancée, Mary of Burgundy.
The ring has long symbolized an abstract representation of eternity, which is why many use it to signify their union in marriage. The circle also symbolizes perfection, unity, peace, holiness, and endlessness.
Why are they used?
Diamonds show both luxury and investment. Buying a diamond ring can be a pricey affair and shows that the giver of the ring hasn't taken this idea lightly. Diamond rings signify to a person how much they are treasured and appreciated, as well as being a solid proof of commitment.
Diamonds, the hardest substance on earth, can also be used to represent a long lasting, enduring relationship – one that can take nicks and still shine beautifully, or "cut-through" anything to stand the test of time.
How to Find Out What Kind of Ring Your Partner Will Like
Every person proposing wants to ensure that their partner will love the ring they're proposed to with, but likewise everyone proposing also worries that they will have chosen the wrong one.
There are several ways you can find out what ring your partner will like. The first thing you should consider is their style; i.e. is it wise to buy an edgy setting if your partner is ultra-traditional?
The next idea for finding the perfect ring for your partner is looking at their career path; if they have a business persona consider an elegant, tasteful ring, whereas if they're more low-key, then consider a more modern design. With this you should also consider their lifestyle; if they're active every day then a large solitaire might not be a practical choice.
To get the correct size for the ring you could secretly borrow one of the rings she already owns for a jeweller to get the correct size.
Short Introduction
Buyers often feel that shopping for an engagement ring is a dreaded experience. However with the right amount of knowledge about what to look for in a ring, as well as the exhilaration of marrying the girl of your dreams, selecting the perfect ring can become an enjoyable experience.
This can be achieved in 7 easy steps:
Step 1 - Fixing a Budget
Setting a budget when you are buying a diamond engagement ring is very important. Without one, you may find yourself overwhelmed by the multitude of options available. You want to feel comfortable that you can afford the diamond engagement ring on your income. You want the diamond engagement ring to be an extension of your love, whilst not endangering your financial future at the same time.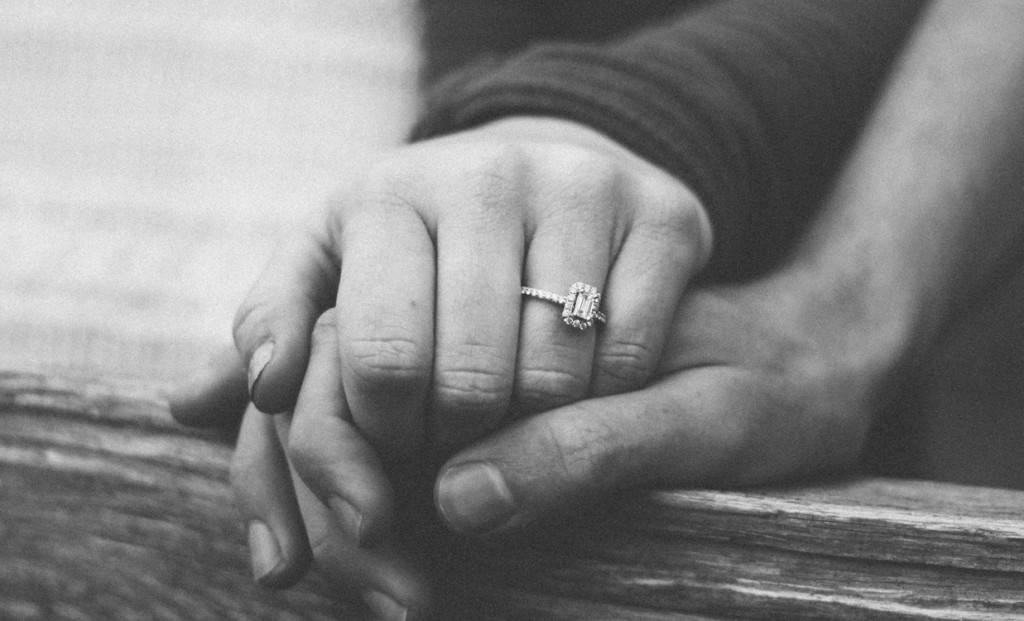 Step 2 – Using a Design Service
Your engagement ring is an important decision that everyone wants to be unique. As they sometimes become heirlooms, this is indeed one of the most important pieces of jewellery you could ever buy.
While some may have a design in mind, others might be at a complete loss. Browsing online can give you a general idea of what type of ring you wish to purchase, however a design service can ask the important questions that will ultimately help narrow down the choices to help clarify the options that appeal to your sense of style. The Design service will help navigate every point in designing the ring so that you are satisfied with the outcome.
Step 3 – Grading
As well as remembering the 4'Cs of diamonds, you also have to judge the grade of these characteristics as well. Grading plays a big role in determining the clarity of a diamond. Clarity refers to whether the diamonds have internal "blemishes" or flaws. Many pieces have some sort of flaw, and can be recognized with the naked eye even by an unskilled observer. Grades range from pure (without any flaws at all) to various levels of "inclusions". The smaller the "inclusions" the cleaner the diamond.
Step 4 – Choosing the right band
The band is the circular part of a ring that sits around the finger. Traditionally this is made from gold, silver or platinum, although it can be made from some other combination of metals. When selecting an engagement ring it's key to have an understanding of what would be best for your partner.
Being knowledgeable about the different types of ring bands can save you from being taken advantage of when buying a ring, for example knowing the difference between "gold" and "white gold." Here's some key information you should know: 
Gold is yellow-orange in its natural state and is usually alloyed with another metal to increase its durability.
White gold is gold alloyed with other metals to give an off white finish. It must be plated with another metal for the bright silvery finish, and when the plating wears off, some jewelers will re-plate the ring from time to time for free.
Platinum is a hard, strong and naturally silvery, but will dull slightly from a mirror finish over time with wear.
Step 5 - Choosing the right setting and Gemstone
The setting refers to the piece that is attached to the band and holds the gemstone in place. The setting can be either "pronged" or "invisible." There are some things that you should consider when choosing the setting and gemstone for your future wife:
Gemstone – sometimes referred to as a "rock." Many believe that the bigger the stone, the better, although it's more important to go with your girlfriend's personality and preferences rather than assuming this. The 4 C's – These are the carat, colour, clarity and cut of the gemstone.
Step 6 – Choosing the right size
Choosing the ring size of the band is important in choosing the right engagement ring. One way of figuring out their ring size is by secretly borrowing one of the rings they wear a lot to have a jeweler figure out the size – as long as they don't have time to miss it! You can also take an estimation of their ring size, however this is generally less reliable. Should you guess incorrectly there is always the option of having the ring resized to make it larger or smaller. If you are unsure, the bigger size is generally the better option, due to the fact it's easier to size a ring down that it is to size it up. Sizing a ring up can make the band look too thin, as well as being more expensive.
Step 7 – Choosing the right cut of diamond
There are many ways to cut a diamond, and the type of cut impacts the way the diamond sparkles. Round (or brilliant) cuts produce the most sparkle, whereas radiant and princess cuts are good at hiding flaws. Other cuts include square, emerald, pear, marquise, cushion, asscher, and heart-shaped. Oval shapes look best with large stones, and looks larger than the round cut. A high quality cut is more important that the weight or an extremely high clarity of colour grade.
If the sides are ground at the wrong angles a lot of light will not shine back the correct way, which will give way to a very faint yellowish or brown tint.
It is also important to base your selection of a diamond on objective data. This is particularly important if you are buying a diamond engagement ring online.
Choosing a Non-traditional Stone You may be surprised to find out that there are options besides diamonds for engagement rings. Although diamonds remain to be a popular choice for engagement rings, and are generally loved by all, some may not be fond of diamonds or may prefer a unique non-traditional stone for their engagement ring.
There are many reasons for couples not to get the traditional engagement rings, such as non-traditional stones being more affordable, or a sense of sentiment towards a ring that has been passed down through the generations.
There is also the option of birthstones for those that are looking for alternatives to the conventional diamonds. The true beauty of choosing a non-traditional engagement ring is that later on, if you decide to, you can always purchase a stunning diamond ring, great for an anniversary gift.
There are also many unusual non-traditional engagements rings that add colour and beauty and which will help add a personal touch to any engagement, such as ruby, emerald, sapphire, tanzanite, opal and topaz engagement rings.
Emerald Engagement rings
The first thing to consider when buying emerald engagement rings is that they come in several hues, allowing for a range of stones that fit most skin tones. It is still imperative to remember the 4 C's when considering emeralds; for example the cut of the emerald is just as important as with diamonds as they still reflect light and sparkle brilliantly.
Special care is required to ensure longevity of the ring, as even rattling around with other jewellery can damage them. Keeping them away from grease and soap is also important as emeralds can collect these impurities to the point where they require re-oiling by a qualified jeweller.
Getting a great deal
You're probably wondering how you might find a great deal on an engagement ring. After all, it isn't all about the ring, you want it to represent everything you hope to have together in the future and it should reflect that commitment. Here are some things to remember when looking for a great deal with engagement rings:
Cut over Carat – Although the majority of people want to know about how "big" the diamond it, the value is actually derived from the cut. The cut of a diamond refers to how the diamond was cut from the original piece.
Consider buying a set – Although you are looking for an engagement ring, you'll eventually need to buy rings for the actual ceremony. Purchasing the rings separately may leave you with the difficulty of matching the rings with the engagement band, creating some unnecessary stress. Wedding sets are often prices as much as 50% below the price of buying each individual band.
Online Shops – Sometimes shopping online can offer some great bargains. By browsing online, you are able to view the absolute best selection of engagement rings and wedding sets. A standard jewelers might not carry the variety of jewellery you are interested in, whilst online shopping may offer bargains as well.
One of the more popular trends in recent years is for couples to choose a unique engagement ring without buying the traditional diamond solitaire engagement ring. Although there is nothing wrong with the traditional solitaire engagement ring, some couples may find other options that much better suit their tastes and preferences. T
here are many things to consider when designing a custom engagement ring, such as settings, colours, stone arrangement, and band material, all of which should make choosing a unique engagement ring an exciting process.
Considerations when buying a diamond engagement ring
There are many things you need to consider when buying a diamond engagement ring. You want to make sure that you find the perfect way to symbolize your upcoming marriage by acquiring a ring that speaks to their heart.
Buying a diamond engagement ring can be one of the most extravagant purchases a man can ever make, so you'll want to make sure that your decision is the best when buying diamonds.
There are many ways you can buy a diamond engagement ring, such as walking into a jewellery store, going online or going to a dedicated diamond selling district like Hatton Garden or even Amsterdam. However buying on impulse is not a good idea, because you may not be fully informed and will be unable to return it later. Window-shopping can give you an idea of what type of engagement ring you want to buy.
When to Buy the Diamond Engagement Ring
Knowing when to buy an engagement ring is based on how far the relationship has progressed, and when an individual believes it is the right time to do so. Many people have a good idea of when they plan on proposing to the person they want to spend the rest of their life with.
It's normally a very special occasion for when you ask that all-important question and hope for a positive response. Finding that perfect piece of jewellery is not going to be simple; but becoming well-educated on quality engagement rings can help you to meet your partner's expectations, as well as leaving you feeling confident that you have received the best deal possible.
To summarise, there are several important steps you want to take to ensure that all the key questions have been answered when buying an engagement ring. Some of the main factors include:
Setting a budget
Choosing a reliable jeweller
Deciding on how you will pay for the engagement ring
Deciding whether you will be making this decision alone, or with the soon-to-be-bride or soon-to-be-groom
The 4C's of Diamond Quality
The financial implications of purchasing a diamond engagement ring.