Diamond Tennis Bracelets: A Guide
Whether you're a massive Grand Slam tennis season fan, or you're simply looking for a subtle flash of diamonds, you can never go far wrong with a gorgeous tennis bracelet.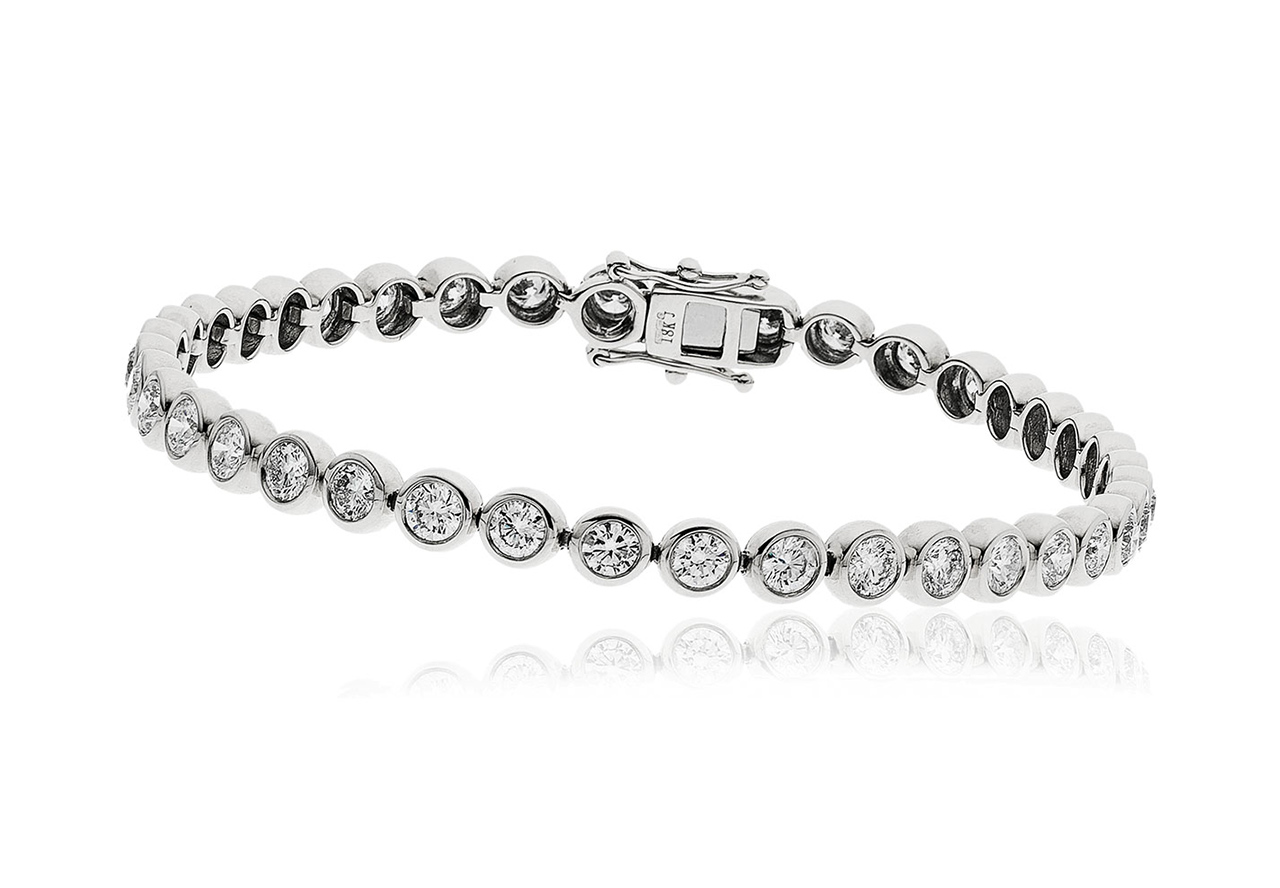 The beauty of these bracelets is that you can dress up or down – anything from tea dresses (strictly no hats) in the Royal Box at Wimbledon to jeans and a crisp white shirt for Sunday lunch – and they'll always add a touch of glamour. Plus, they come in a variety of shapes, sizes and precious metals and they look great on men and women. Depending on your style and budget, there is the perfect diamond tennis bracelet out there for everyone.






Claw Set 3.00ct Round Diamond Tennis Bracelet
A classic diamond tennis bracelet, set in 18ct gold this bracelet has an array of seventy-two glistening round brilliant cut diamonds held in a claw setting. -
Why are they called tennis bracelets?
But why the association with tennis? It wasn't always so. Traditionally, these elegant, simple strings of diamonds were called eternity bracelets – note their similarity to the classic eternity ring. They first rose in popularity in the Roaring '20s and were also known as 'line' or 'thin-lined' bracelets. Young women – particularly the flapper girls - wore these bracelets, often alongside ostentatious earrings as a counterbalance to their slim shift dresses and boyish bob haircuts. Often worn by the wrist-full, these diamond bracelets emphasised luxury and opulence entirely in keeping with the excess of this era. After all, why sparkle in one when you could glitter in several? For the next 60-odd years, nothing much changed. Then in 1987, the 18-time Grand Slam tennis champion Chris Evert made jewellery history. She was known for being one of the most stylish players on the circuit and regularly wore this iconic summer jewellery while on court, including her signature eternity bracelet.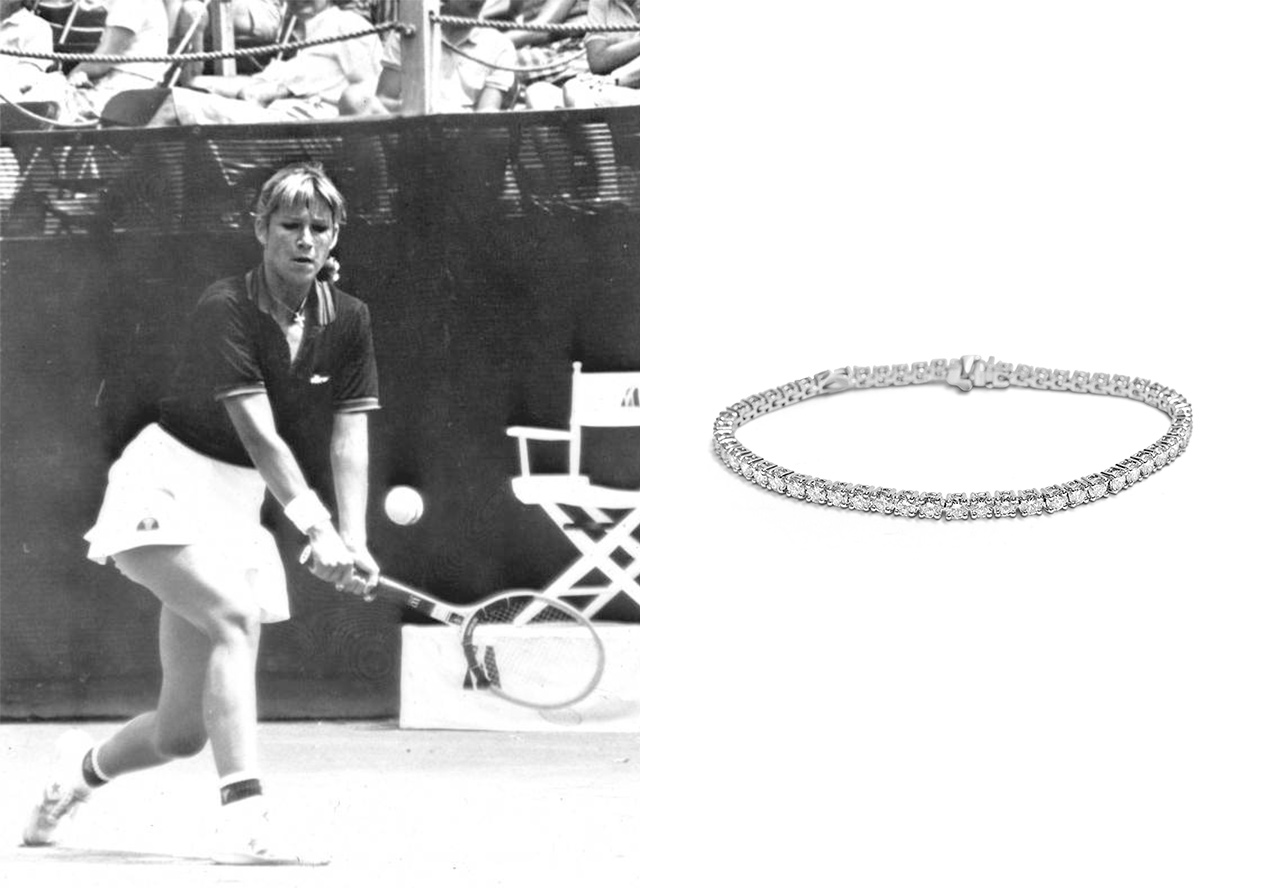 Chris Evert, former world no. 1 professional tennis player from Florida, with the now iconic tennis bracelet.
During one of her matches at the 1987 US open, Evert went to hit the ball and, as she did so, the force sent her bracelet flying. She stopped the match until the bracelet was found. And the rest, as they say, is history; fans around the world flocked to shops to get their own 'tennis' bracelet. The trend for wearing jewels on court has continued and even today, Serena Williams is rarely seen on the court without at least one diamond accessory in tow.
Other diamond tennis bracelet celebrity fans But it's not just the tennis stars who adore these timeless bracelets – everyone from Uma Thurman and Kate Winslet to Cardi B and Jennifer Lopez are fans. Kylie Jenner and Travis Scott also bought custom tennis bracelets with their baby Stormi's name decked out in diamonds. And in May 2018 Meghan Markle, Duchess of Sussex attended her first public engagement after marrying Prince Harry wearing a gorgeous rose pink silk crepe pencil dress by Goat. But it was the stunning tennis bracelet on her wrist that got everyone talking – it's thought Harry bought it for her as a wedding gift and could be worth as much as £18,000.
What to look for in a diamond tennis bracelet Typically, the diamonds in a tennis bracelet will all be the same size, cut, colour and clarity and are side-by-side, to create a thin, but strong, flexible yet comfortable circle. They are usually a little loose, although not so much that it might fall off your wrist – unless you're a Grand Slam tennis champion, then all bets are off. A good rule of thumb is being able to slip your finger between the tennis bracelet and your wrist.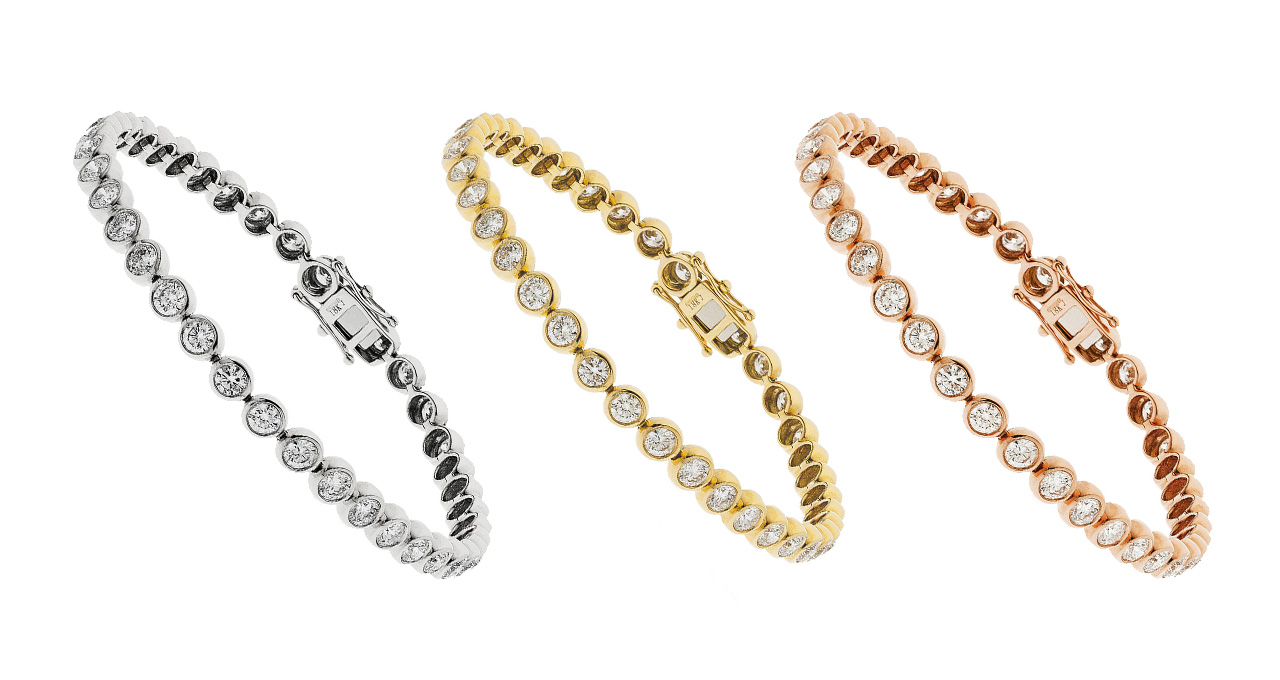 How to wear a tennis bracelet The beauty of these bracelets is in their versatility, so they might be the only piece of jewellery you wear. If you do want to accessorise, aim to keep your other pieces light. Of course, if you want to wear five at a time like the flapper girls of the 1920s, we're not going to stop you! They can also accentuate a watch. For men looking to make a bit of a statement, we'd recommend something in white gold, platinum or titanium and they look fabulous when matched with a watch or a pair of diamond cufflinks and smart jacket.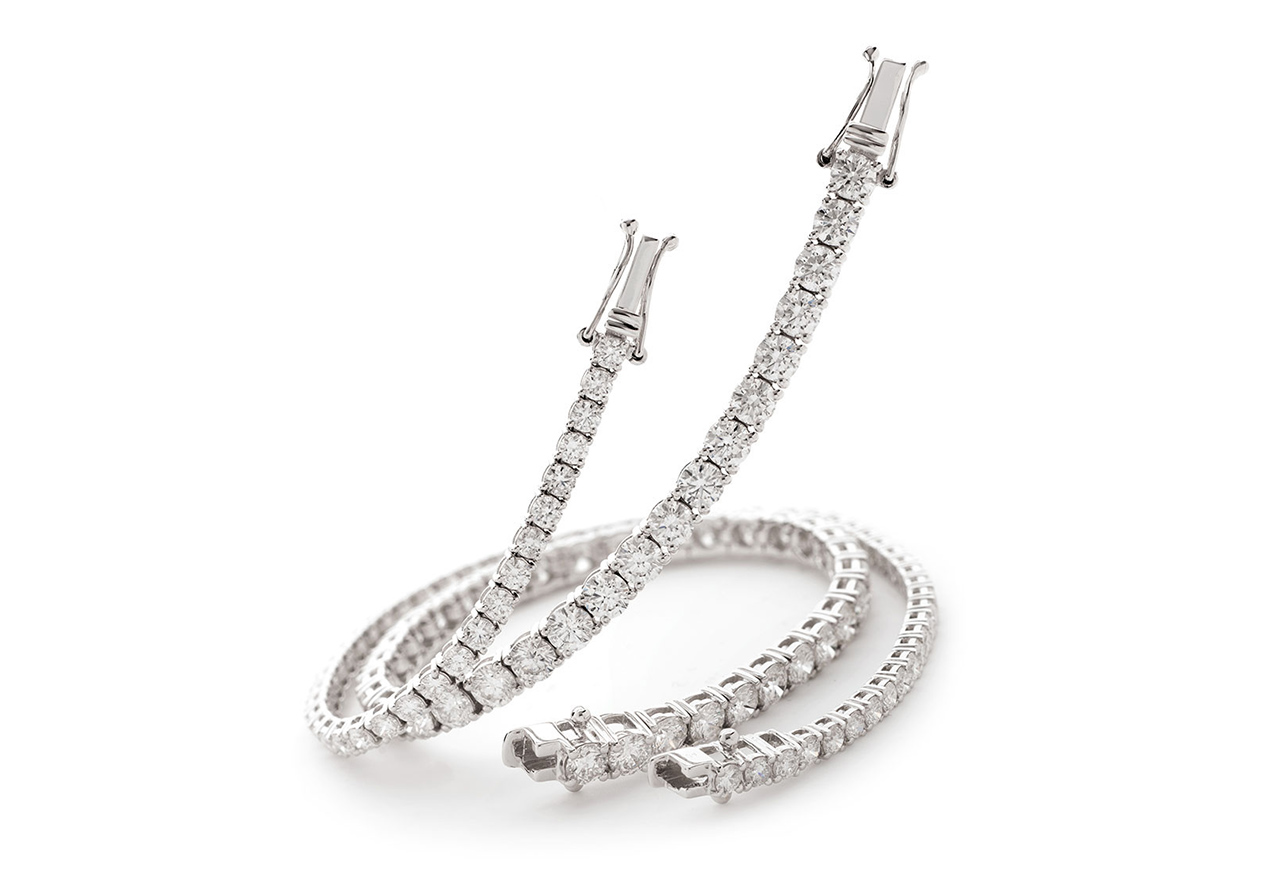 With white, yellow and rose gold options, we've got something for everyone, so why not take a look at our full range of diamond tennis bracelets?