Diamonds and platinum: the perfect pairing for your engagement ring
Pure, eternal and rare, platinum engagement rings show off a diamond's sparkle and fire at its very best. When looking for the perfect engagement ring, you will want to spend some time thinking about your choice of band, as well as stone. And for a ring that is symbolic of commitment and longevity, there is no better pairing than one made from two of the strongest and most radiant materials: platinum and diamond. If you have your heart set on a white metal ring, the main metal choices are either silver, white gold or platinum.
So why is platinum better? Platinum is naturally and truly white, whereas white gold is likely to turn yellow over time. Sterling silver is easily tarnished and too soft for a piece of jewellery that you aim to wear for the rest of your life. Platinum is stronger, more durable and more likely to last a lifetime. All in all, platinum is the most precious metal that will hold it's beauty through every single one of life's journeys.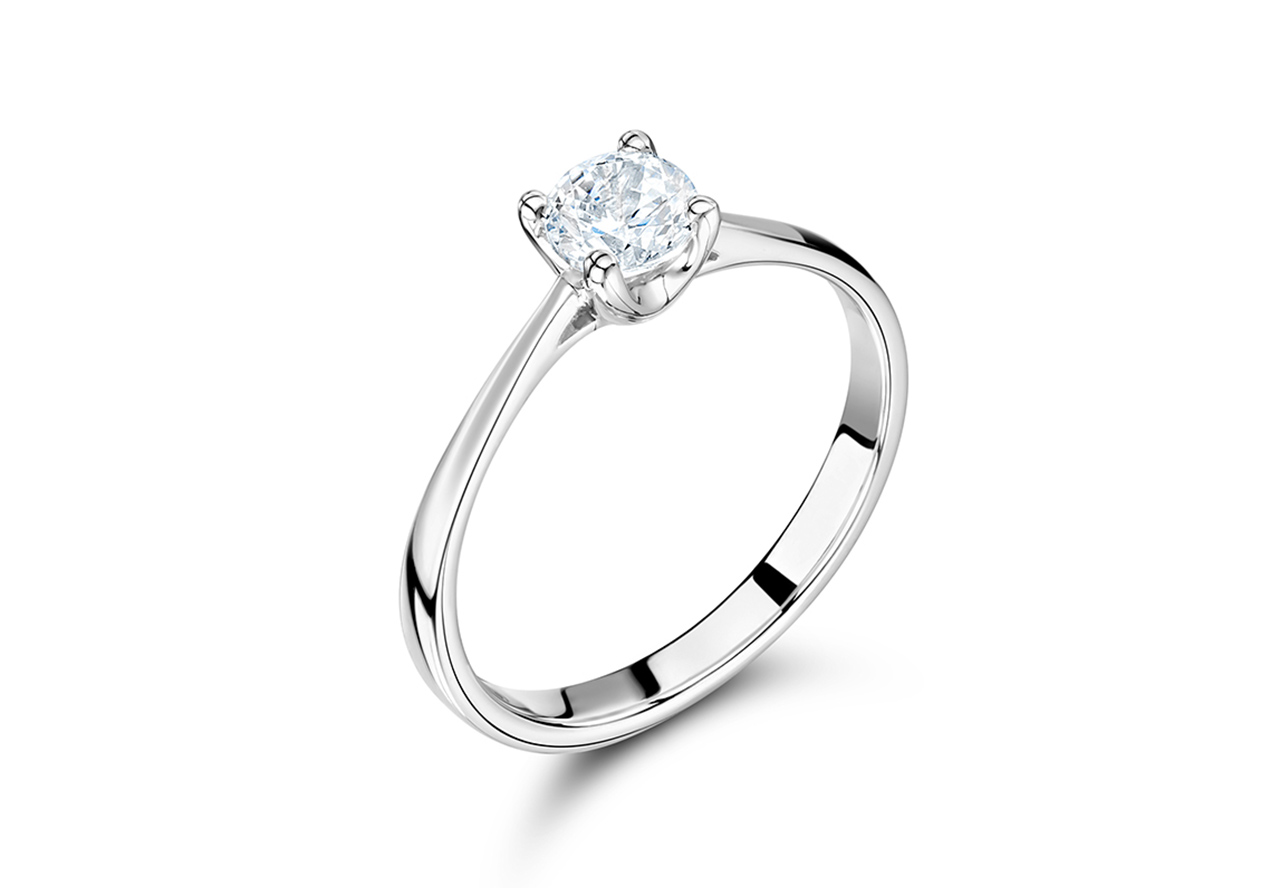 Why choose a platinum band?
Let's start with the most practical reason – platinum is one of the most durable and dense metals on Earth, which is why it's widely used in industry - most notably to make catalytic converters for cars. It's this strength and durability that make it the perfect material for everyday wear. But it's also why platinum is often more expensive than other metals. Platinum is less malleable than other metals, such as white gold, which makes it more difficult to work with.
However, it's this quality that makes it so good for setting with diamonds and other gems, since it holds the stones in place more firmly than any other precious metal. White gold is another incredibly popular choice for engagement rings, but it does come with its own drawbacks; white gold is actually yellow gold that has been blended with other metals, like palladium and silver. It's then given a rhodium plating to form an alloy which is bright white in colour. White gold rings, when worn often, can turn yellow over time and require the rhodium surface to be replated.
Unlike white gold, which is finished with a rhodium plating to give it a pure white shine, platinum has a natural white tone, meaning that as well as being bright, radiant and  hypoallergenic, it won't lose its plating when it gets scratched – only inevitable with a ring that is worn every day. Instead, the metal is displaced, rather than lost, creating what is known as a patina finish.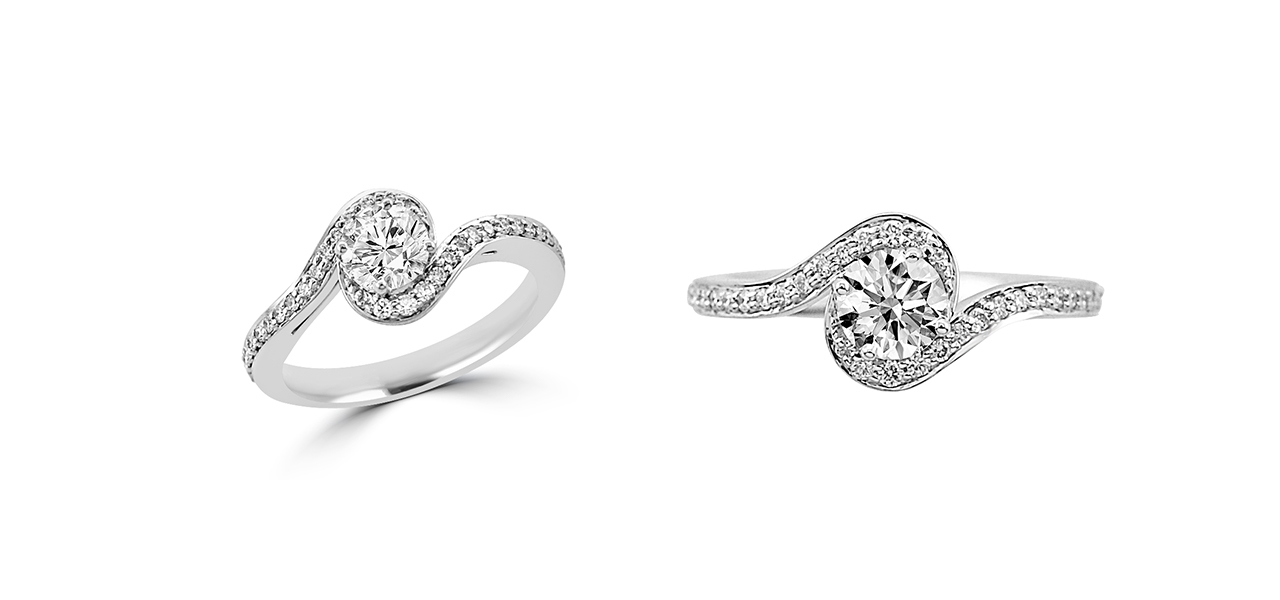 A round brilliant diamond solitaire ring in platinum from Diamond Rocks Platinum Jewellery Collection While platinum's shine can be easily restored with the help of a jeweller, many love this patina since it gives each ring a unique quality. That's why there are so many antique platinum pieces in circulation and why they are always in high demand.
Having said that, if you prefer your platinum jewellery to look extra bright and white, at Diamond Rocks we can add rhodium plating to it, giving it that extra lustre.
Platinum is much rarer than both gold and silver, and while there is often a higher price tag associated with platinum bands, they are certainly worth the investment. Because platinum is more dense than gold, platinum rings are naturally heavier than white and yellow gold. Some people like the heavier feel of the ring on their finger, whereas others may prefer something lighter, in which case white gold will be a more suitable option.
Why choose a diamond?
Diamonds are a classic, traditional choice for an engagement ring. Much like platinum, they're known for their durability. They also retain their sparkle for a lifetime, making them ideal for a ring that will be worn every day, but it also beautifully represents the permanence of a couple's relationship. The other great thing about diamonds is that, like platinum, they are neutral in colour – white diamonds go with just about anything. They are, as the saying goes, forever.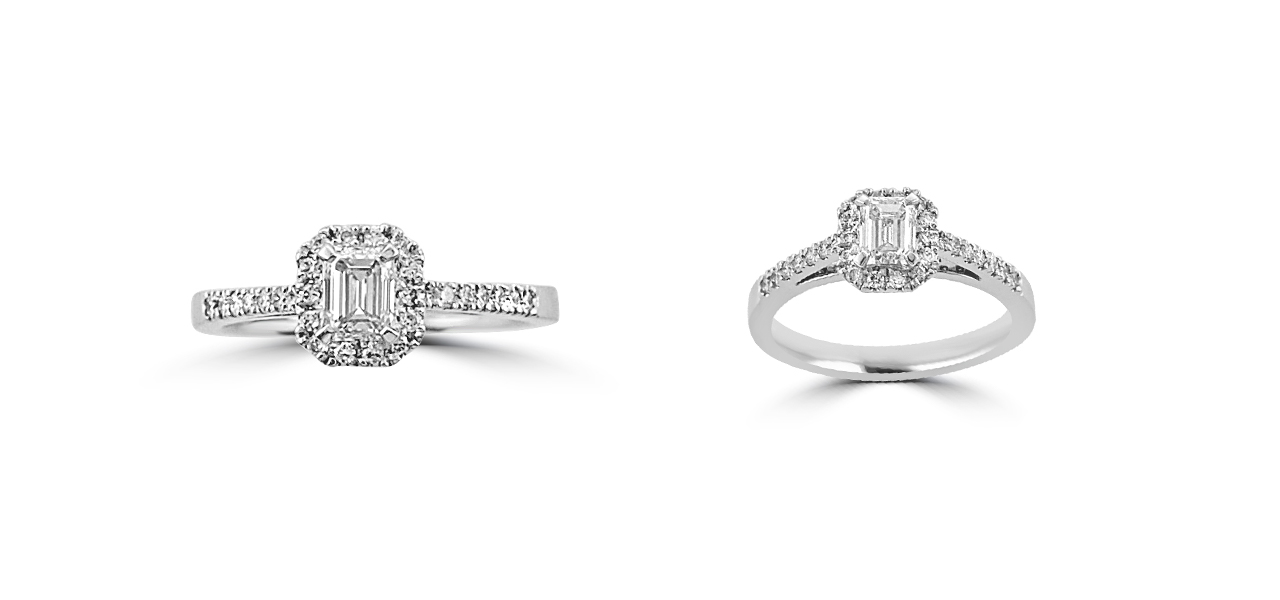 Emerald cut round brilliant diamond micro set single halo ring in platinum from the Diamond Rocks Platinum Collection
The perfect combination
Platinum and diamonds are both materials that are strong, durable, naturally radiant and luxurious all at the same time. Together they are the perfect pairing for your engagement ring, with the bright-white colour of platinum enhancing the brightness of diamonds, making them sparkle even more. The combination of platinum and diamond means a ring made of the two can last not only a lifetime, but for generations, perfect for symbolising the strength and commitment of your relationship.
Famous platinum diamond rings
Queen Elizabeth II's engagement ring, given to her by Prince Philip in 1947, is a platinum band mounted with a 3-carat solitaire diamond with five smaller diamonds on each side. Prince Harry stands out as one of the only male royals to wear a wedding band. His choice? Platinum. And, she's not the only Queen to prefer platinum, Beyoncé's Lorraine Schwartz engagement ring features an 18-carat emerald cut diamond, set in the white lustrous metal.
Marilyn Monroe was given a 35-baguette diamond eternity ring as a wedding gift from Yankees player Joe DiMaggio. So valuable was it, that when the diamond eternity band was sold at Christie's in New York in 1999, it showed up short one baguette but still went for $772,500.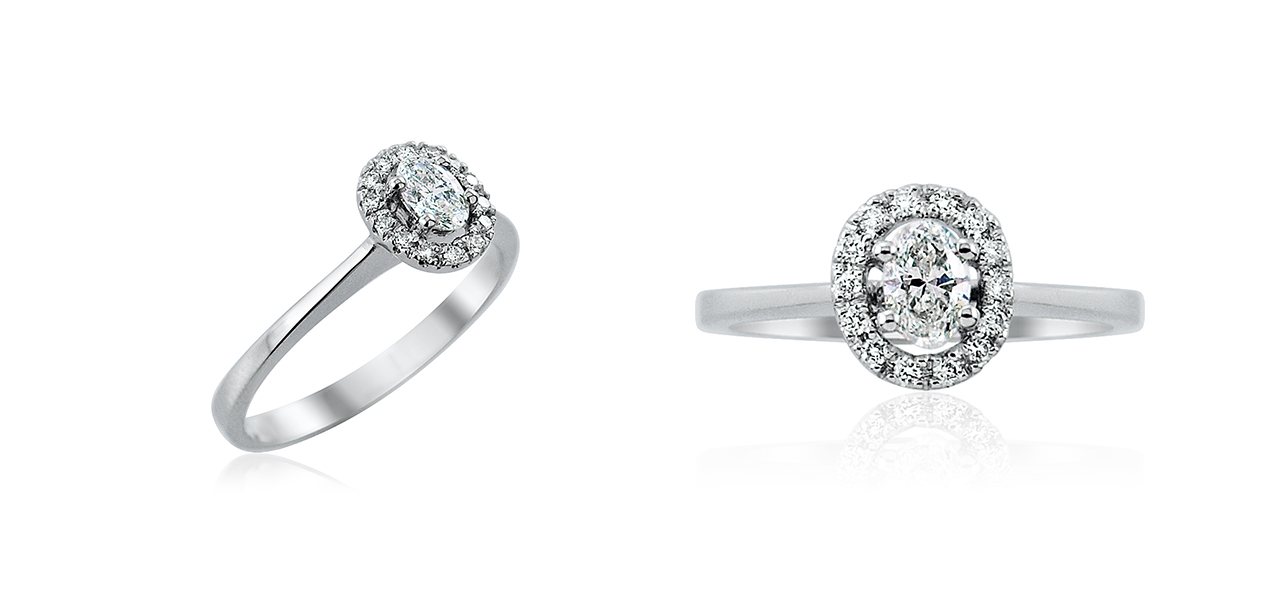 Oval & brilliant diamond microset cluster ring in platinum from the Diamond Rocks Platinum Collection
How to care for platinum and diamond jewellery
A platinum diamond ring may be durable, but that doesn't mean you shouldn't show it a little TLC to help it maintain its enviable lustre. We'd always recommend removing your ring when using chemical cleaning products or doing any physical work – as lovely as that patina is, you don't want to bash the band about unnecessarily.
After applying body lotions or make up, give your ring a wipe to remove any oily residue, and if necessary clean it using jewellery cleaner or by soaking it in a warm and mild solution of soap and water. A baby's toothbrush is a great way to give it a deeper clean without abrasion. Finally, gently dry the ring with a soft cloth. When storing a platinum diamond ring, ensure it is kept alone in a pouch or a fabric-lined box to prevent unwanted scratching.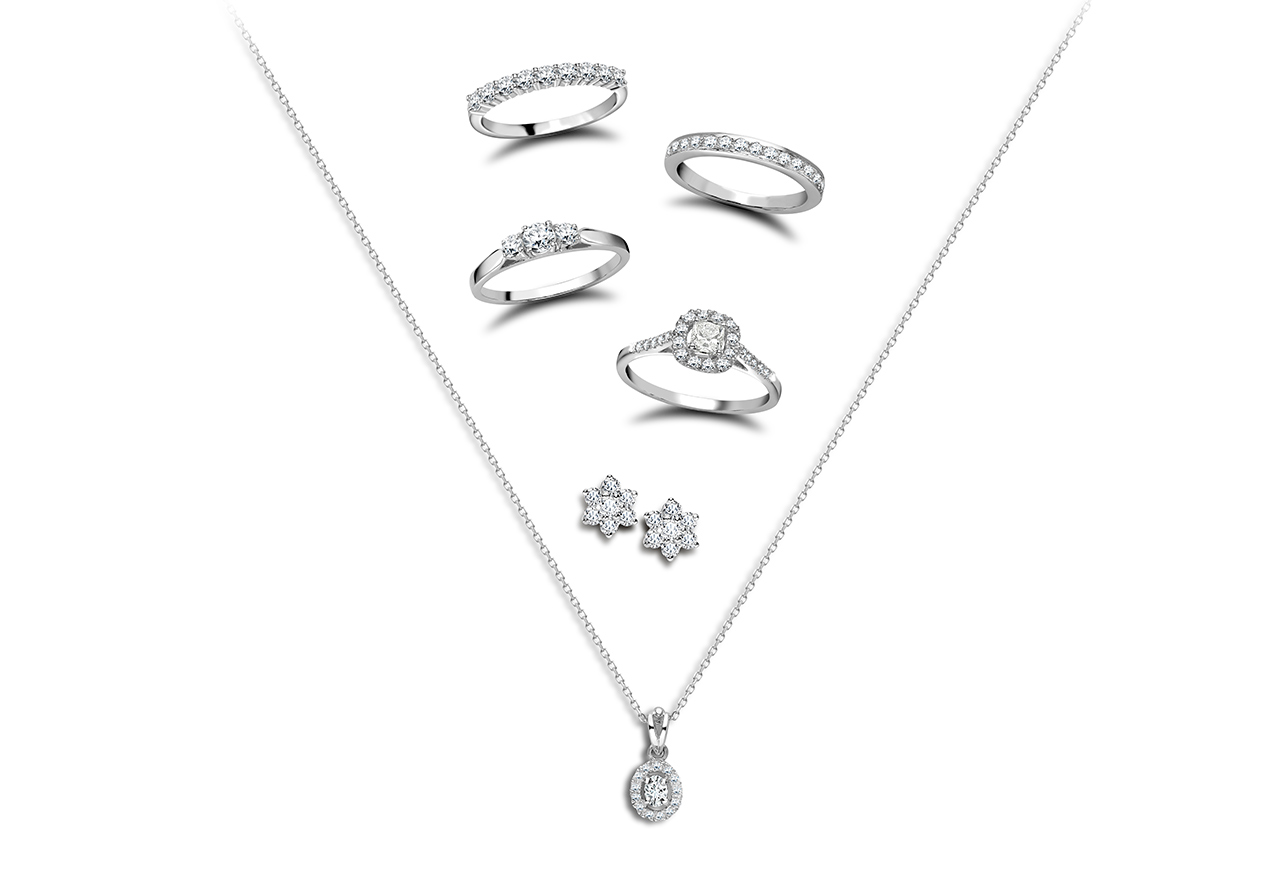 At Diamond Rocks, our diamond and platinum jewellery collections have been designed as affordable, ready-to-wear pieces including earrings and necklaces. We have a range of fixed-price collections, so whatever your budget, there is a diamond and platinum engagement ring to suit you.