Eternity Ring Buying Guide
When you are looking to buy an eternity ring, you will want to make sure you are well educated on what different options you have available. They are a beautiful way to display your loving affection for your beloved because they are the perfect gift for just about any special occasion or holiday.
Eternity rings have been around for over 4,000 years and are a symbol of eternal love and unity. They can be dated back as many as 4,000 years in the past when Egyptians used them simply as a token of eternal love and life. These were simply a circle of metal that was designed to mimic the image of a snake devouring its own tail, which was a common symbol used to represent eternity.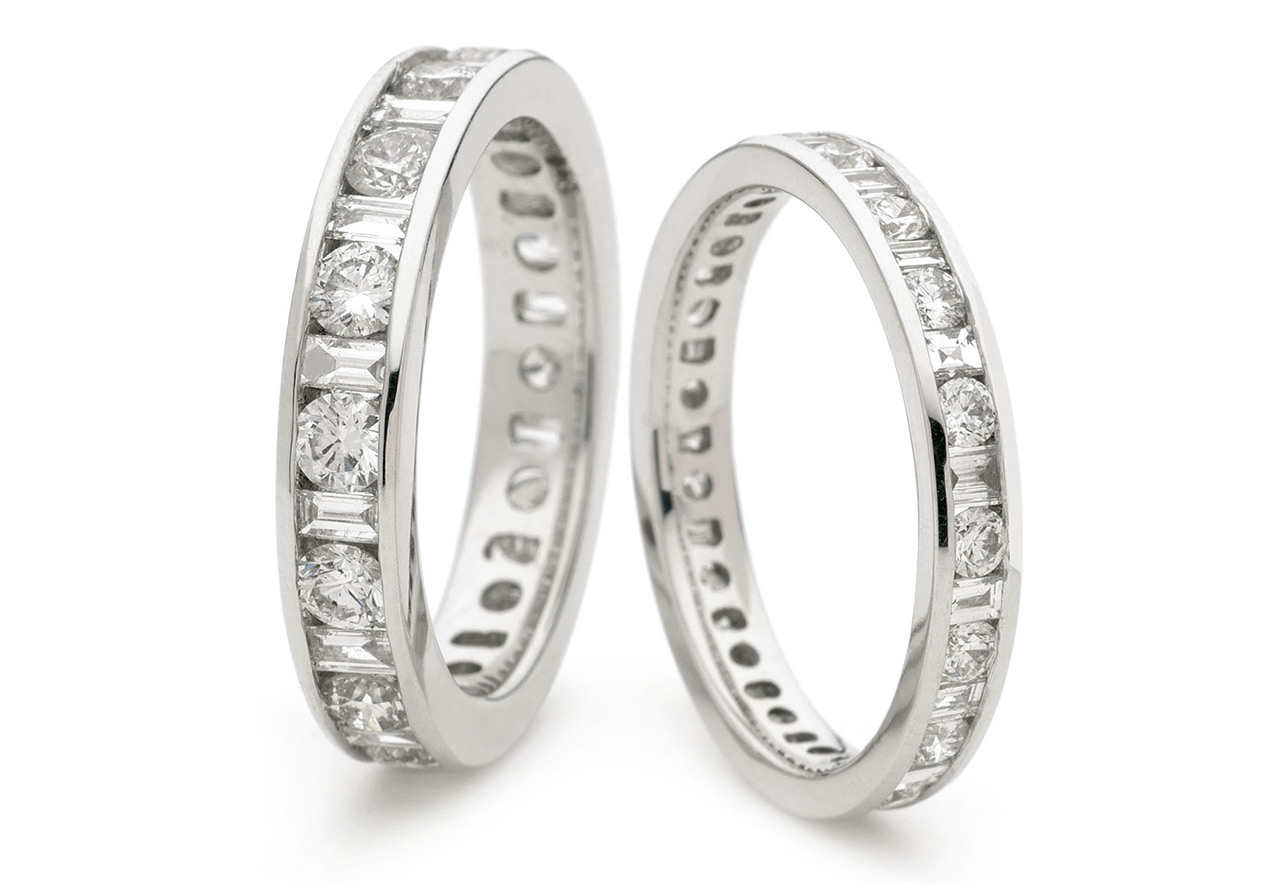 When should you buy an eternity ring?
In more modern times an eternity ring is given to a wife by her husband to celebrate a certain milestone in a marriage. The eternity ring helps signify the time a couple has spent together along with the eternal future the couple plans on sharing together. Eternity rings can also have the meaning of the eternal circle of life so you will find that a new tradition has begun where a husband will give an eternity ring when their first child is born.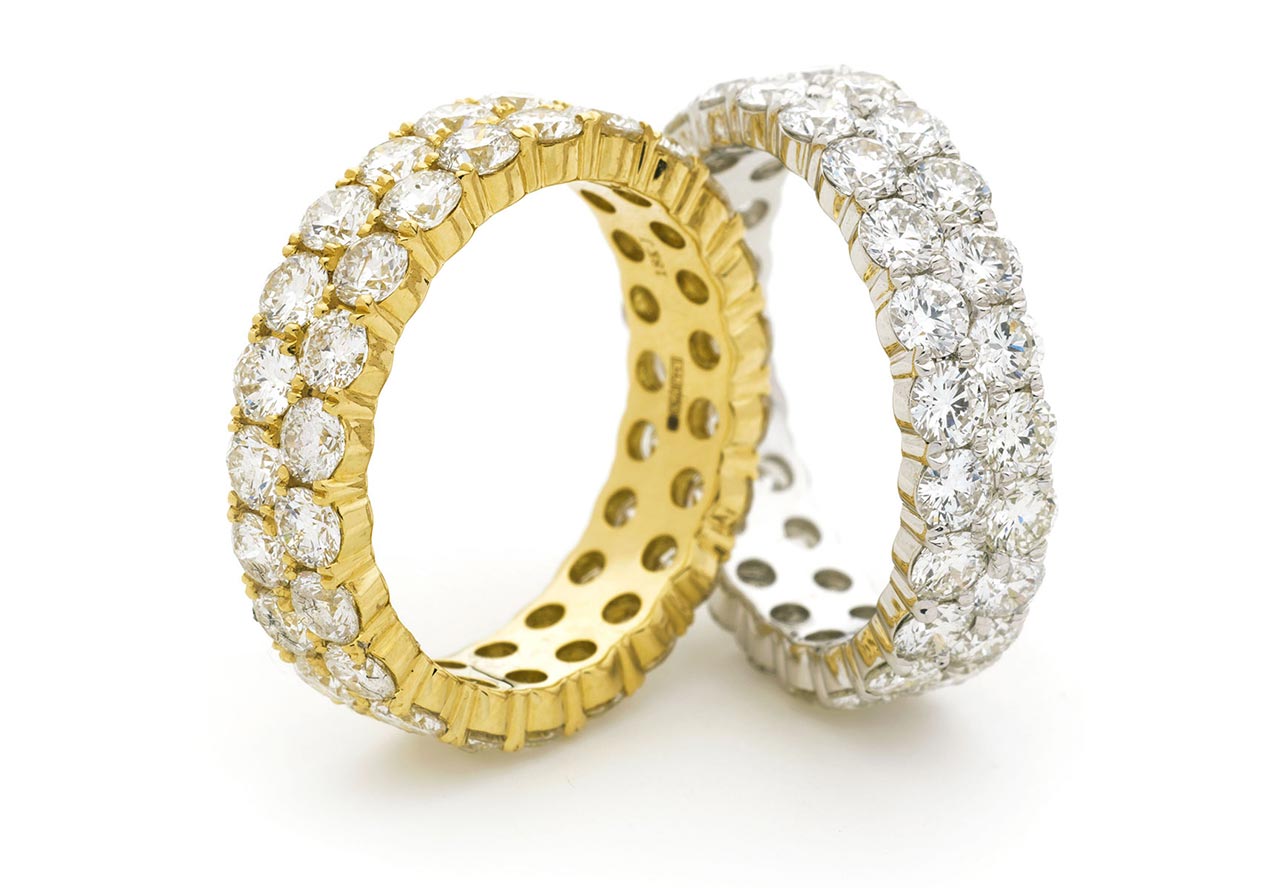 Couples may wonder when the right time to give an eternity ring as a gift will be. There is no exact timeline you should follow, however, most eternity rings have diamonds that go full circle around the band so a milestone like a 10 year anniversary may be appropriate.
If you don't feel like waiting that long, some specialist diamond jewellery shops say that the 1st year anniversary or the 5th year anniversary would be appropriate to give an eternity ring. This is totally up to the person who is buying the anniversary gift and the beauty of the eternity ring is that is represents eternal love and life, so any anniversary year would be perfect. This gives couples the chance to make it extra special to fit their symbolic meaning behind the eternity ring, giving the ring a chance of becoming an instant heirloom piece.
Designing your ring
The first thing you want to do when you are going to buy an eternity ring is to create a design that is to your personal liking. Because eternity rings have stones going full circle around the band, you must know the exact size you want the ring to be because once the stones are set you will not be able to have the ring resized. That is why most jewellers do not carry a large selection of eternity rings readily available for purchase. In fact, many require that the customer come in and have the ring personally created for them.
Now that you have a design in mind, you must choose what type of metal you want your eternity ring to be. Modern eternity rings can be found in either yellow gold, white gold, or platinum. No one metal is better than the other, so again this is a personal preference for the buyer.
Full or half?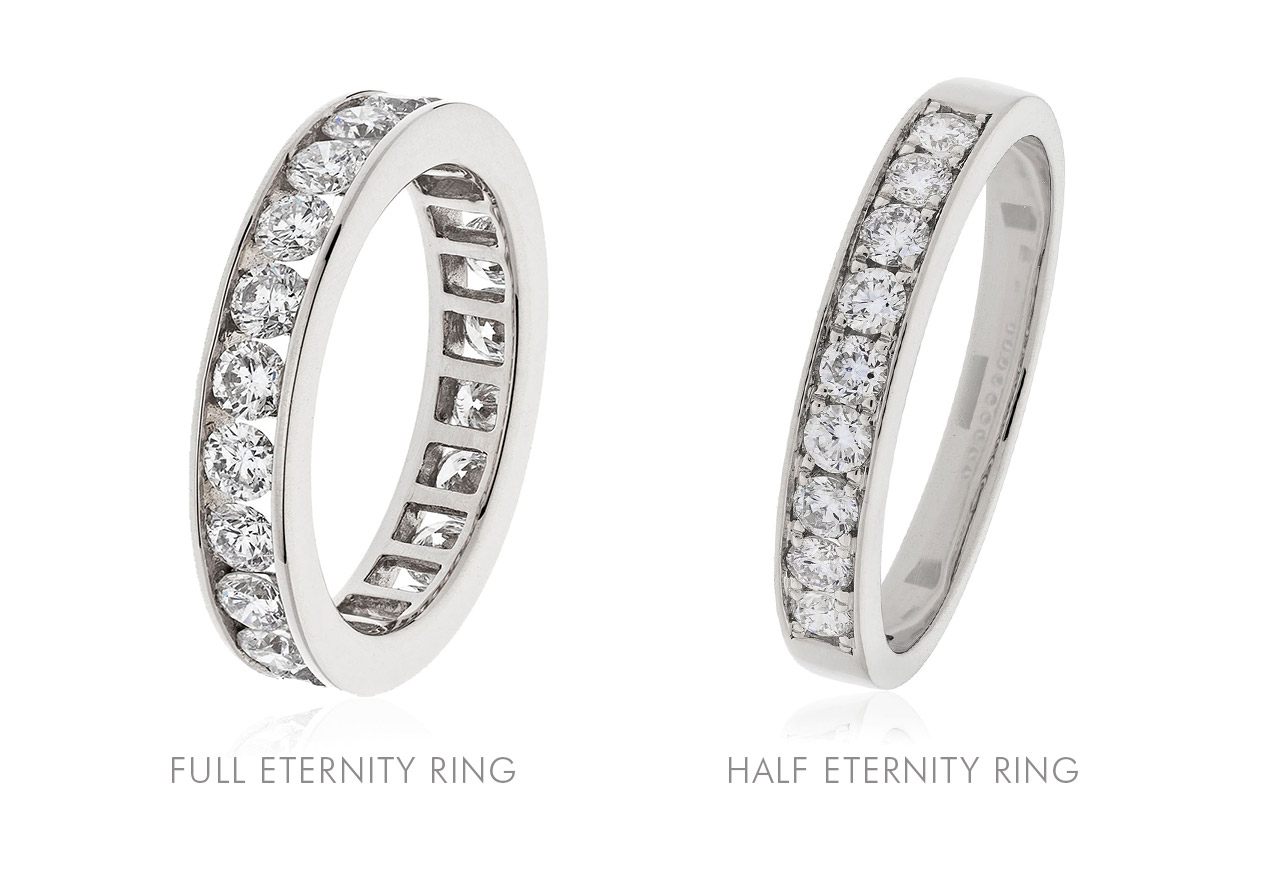 As well as being able to select the precious metal you want your eternity ring to be made from you must also decide whether you want a full eternity ring or a half eternity ring.
A full eternity ring will have your choice of stones that go all the way around the band without a starting point or an ending point therefore giving the ring its name- eternity ring.
You can also choose to have your eternity ring in a half, which only has the stones going across the face of the band. Half eternity rings are usually easier to create and size, consequently making them more affordable.
The right precious metal
Another important decision to be made when choosing an eternity ring will be what precious metal you want your precious stones set in. There are always options here and some of the more commonly used ones as anyone would imagine is gold, both yellow and white, titanium, platinum, and last but not least silver.
No matter what stone you chose or what cut you chose, choosing the right metal first will go a long way in how much the eternity ring is going to cost you. Yellow gold is malleable, durable, hypoallergenic, tarnish-resistant, and rare enough to be precious which is why it is always the most popular of choices.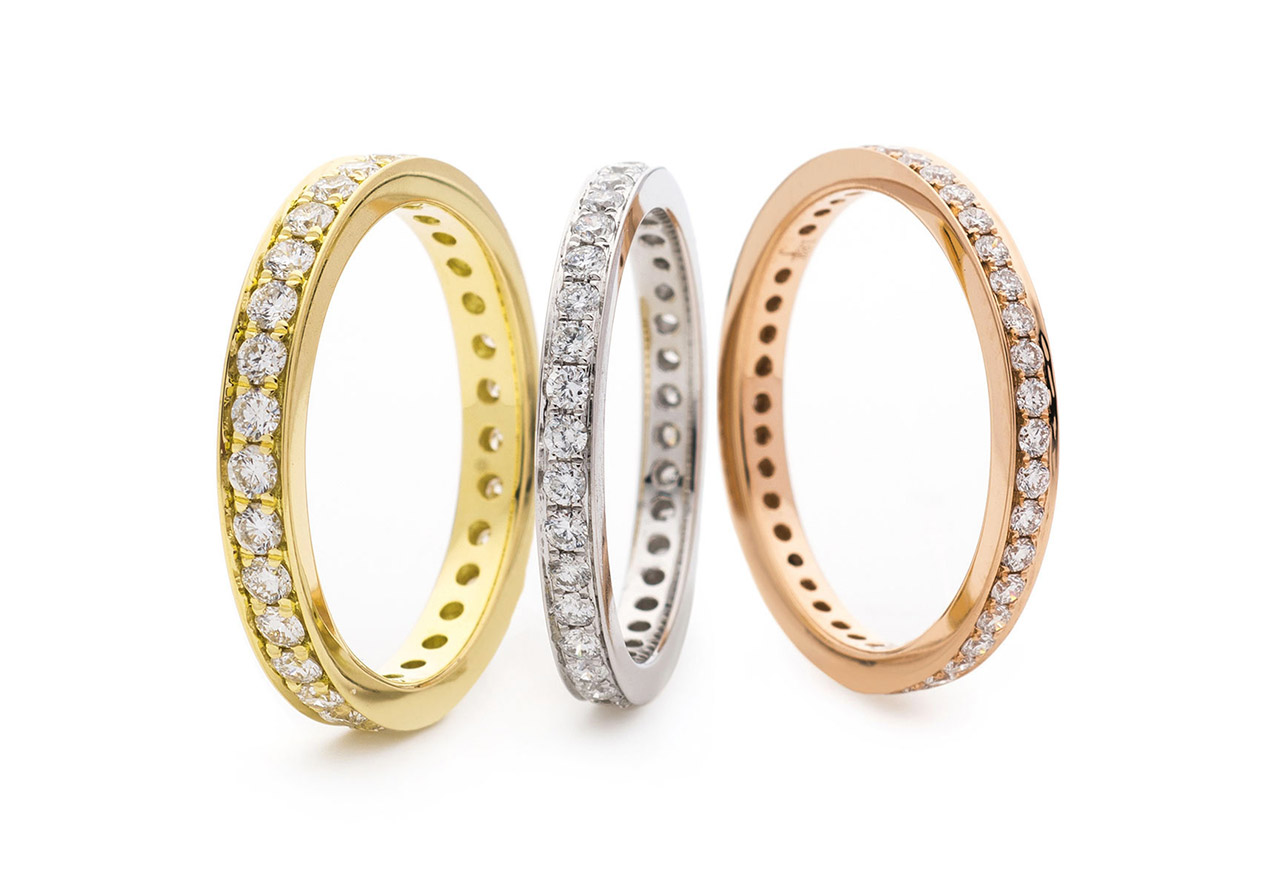 White gold is also a very dependable and popular choice when it comes to eternity rings because it adds a special sense of style and intimacy to the ring.
Titanium is also a possibility for eternity rings because of its strength and durability. Titanium is a very popular choice for men's jewellery and is generally very affordable because it is very abundant.
Lastly, there is platinum which is used for many different ring styles. This quality metal would make an excellent choice for eternity rings because of its luxurious appeal and is 35 times rarer than gold.
Stones for an eternity
The last thing you will want to do to finish creating your eternity ring is choose what type of stones you want you ring to have. The most popular choices are diamonds because they represent love and eternity just like the eternity ring. Other stones that you may choose include emeralds, rubies, sapphires, or any other precious stone or birthstone. Getting the right shape like a round cut or square cut will be just as important in creating a beautiful eternity ring.