How Do I Choose an Eternity Ring
Eternity rings have been around for centuries and represent the lifelong love and life a couple will share. According to many historians, the first known eternity ring belonged to the Ancient Egyptians, dating back to 2000BC.
Before we dive deep into the history of these meaningful rings, what exactly are they? Eternity rings are a beautiful method for couples to express their individuality, relationship, and love for one another. Eternity rings are typically given on special occasions such as anniversaries or weddings. They can also be given as a gift to mark a child's birth, a home purchase, or any other significant milestone in a couple's relationship.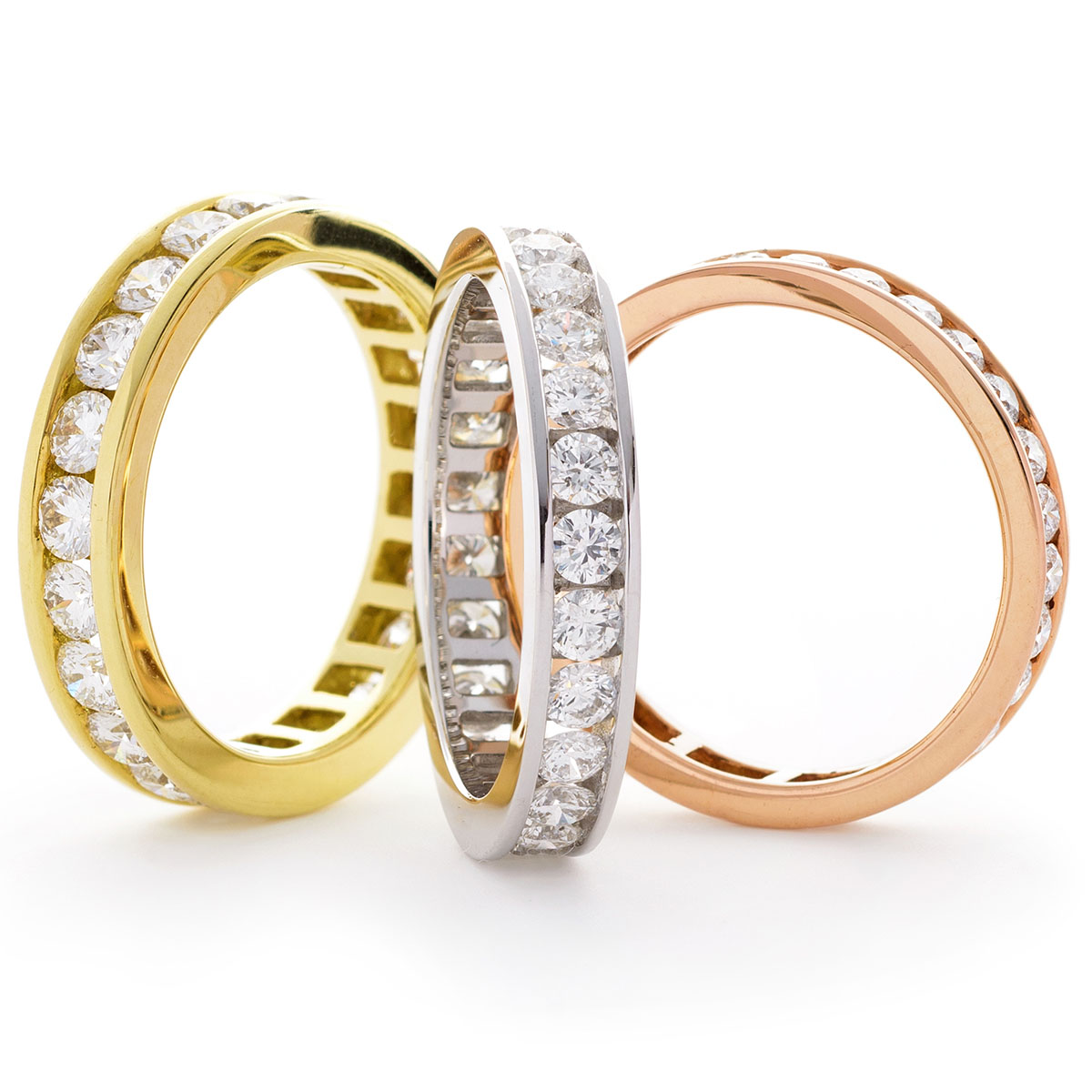 The History of the Eternity Ring
The first recorded instance of the eternity ring is from ancient Egypt, where they were known as "sa am duat" rings. They were typically made with a band of gold and had gems inlaid in the shape of the Eye of Horus. This symbol was thought to protect the wearer from evil and was a popular motif in Egyptian jewellery.
The tradition of gifting eternity rings continued in Rome, where they were known as "feed" rings and were made with a band of iron. These rings were designed with two hands clasped together, symbolising the strength of the wearer's bond. The iron eternity ring represented the strength of a couple's love and was thought to ward off evil spirits.
Eternity rings seemingly fell out of fashion during the Middle Ages but regained popularity during the Renaissance. During this time, they were made with precious metals and gems. The eternity ring became particularly popular during the Victorian era. Queen Victoria is said to have popularised the eternity ring when she gave one to Prince Albert as a symbol of their never-ending love. The tradition of giving eternity rings continued, becoming a popular gift for weddings, anniversaries and other special occasions.
How to choose the right eternity ring for your loved one?
Eternity rings are a beautiful way to symbolise your eternal love for someone special. Giving an eternity ring to a loved one is easy, but selecting the right one might be a little stressful because there are so many aspects to consider. Here are a few things to remember when choosing an eternity ring.
Full or Half
First and foremost, the recipient's style must be kept in mind. A simple band with a few tiny gems may be the best option if they prefer a more understated look. A ring with a larger gemstone or a more ornate setting may be selected if you want to make more of a statement. There are also eternity rings available in both full and half styles.
A full eternity ring has diamonds that span the band's entire perimeter, including the underside, providing it with a beautiful appearance and a luxurious air of exclusivity. A half eternity ring has less than a full circle of stones, typically just on the band's surface. Because there is no single focal point or significant change in band width between both types of eternity rings, you'll notice how distinct each one is.
When seeking an eternity ring, you may notice that half eternity rings are more readily available. Full eternity rings have diamonds or gemstones circling the band all the way around.  Most full eternity rings are tailored and tend to be more costly. If you want to go with a complete eternity ring, you must first determine the precise size of the ring you require.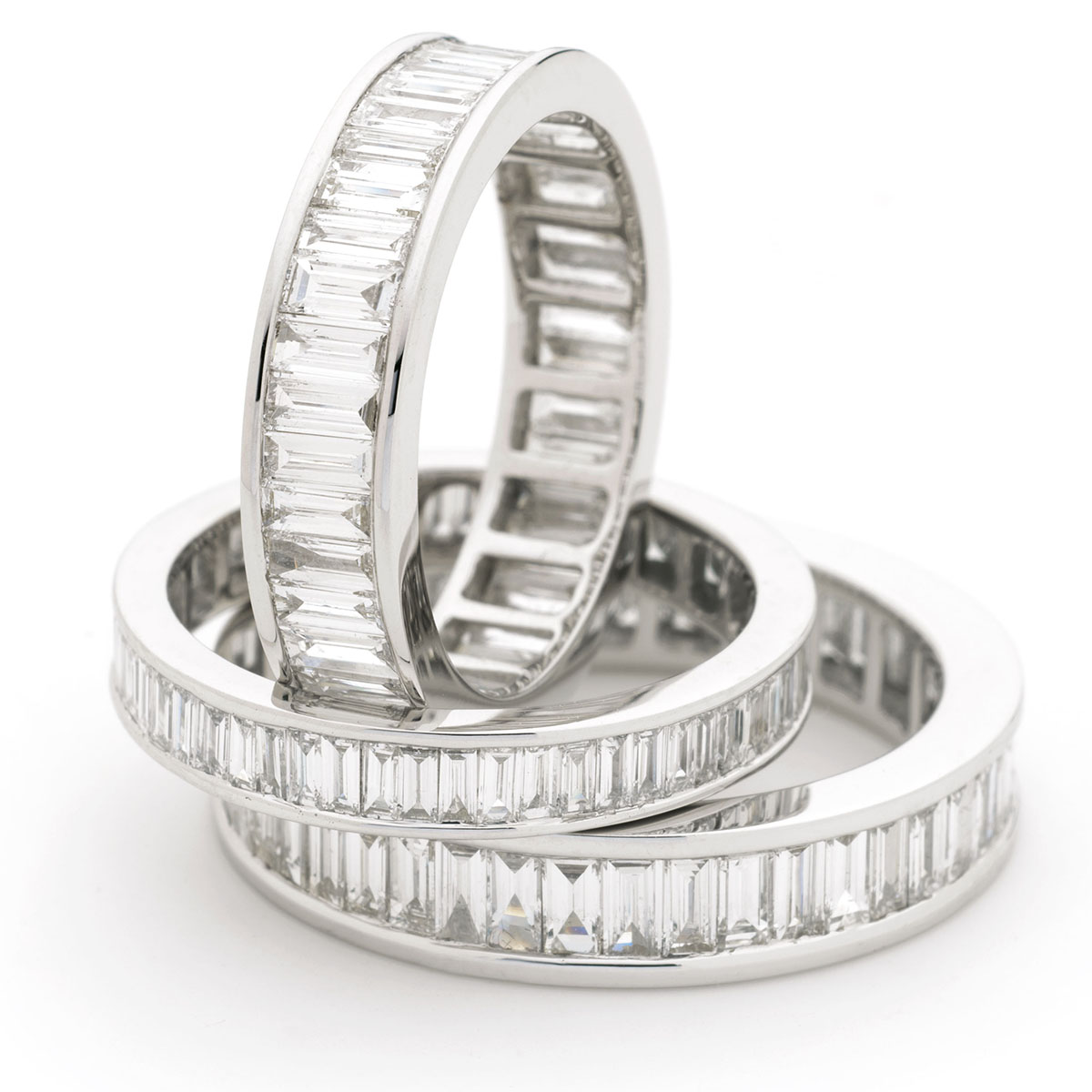 Diamonds or Gemstones?
Another factor to consider when selecting a ring is whether you want a diamond or coloured gemstone. Diamonds are the most popular choice for an eternity ring because they are the hardest known substance, meaning they're highly durable with added sparkle. Coloured gemstones are popular because they can be personalised to match the wearer's birthstone. Precious gemstones such as sapphires, rubies, emeralds, and aquamarines are used to create unique designs that are both elegant and eye-catching.
Metal
Eternity rings are made with a variety of different metals. 18ct White Gold and Platinum is the most prevalent metal, but 18ct Yellow Gold is popular. The type of metal you choose should be based on the metal of the engagement ring and wedding bands. All three rings are recommended to be made from the same metal to create a clean and cohesive look.
If you are unsure of the metal preference of the recipient, gold is always a safe choice. Gold is a classic metal that has been used in jewellery for centuries. It is also a metal that is easy to care for and maintain.
Shape
There are a few different shapes that are popular for eternity rings. The most popular is the round brilliant cut – a classic choice that will never go out of style. Other popular options include the princess cut, emerald cut and baguette cut. The shape of the diamond should be based on the recipient's personal preference, but a round-cut diamond is a safe choice.
Cost
The cost of an eternity ring will vary depending on the diamond's style, metal, shape, and quality. Setting a budget before shopping early on is crucial, allowing you to stay within your means.
Where can I purchase an Eternity Ring?
Diamond Rocks is based in London's historical Hatton Garden, the capital of the jewellery industry in the UK. Our goal is to provide our customers with quality jewellery online at the best prices with top-class customer service. We have an extensive range of beautiful diamond and gemstone eternity rings available in various shapes and metals. You will be sure to find the perfect gift for any special occasion, whether it is to be worn alongside your wedding band or individually.
If you'd like to learn more about our eternity rings, wish to explore our styles or wish to speak with a member of our team, please call us on 0800 977 4855 or use our Live Chat feature at the bottom of this page.