Luxe for less: 10 of the best affordable engagement rings
If you're planning to pop the question, it can be hard to know where to start when looking for a ring. You might be looking for an interim option that looks charming but doesn't break the bank because you know your future fiancée will probably want to choose one for herself, or, you could just be looking to save a few pennies for that awesome honeymoon.
The main event is the getting married, of course, and a lot has changed since the 1930s, when De Beers famously suggested that a man should spend the equivalent of one month's income on an engagement ring, which they later helpfully amended to two months'. Either way, an engagement ring remains an enduring symbol of love, so we've compiled a list of some of our best, more unusual rings for under £500 to help you get it right.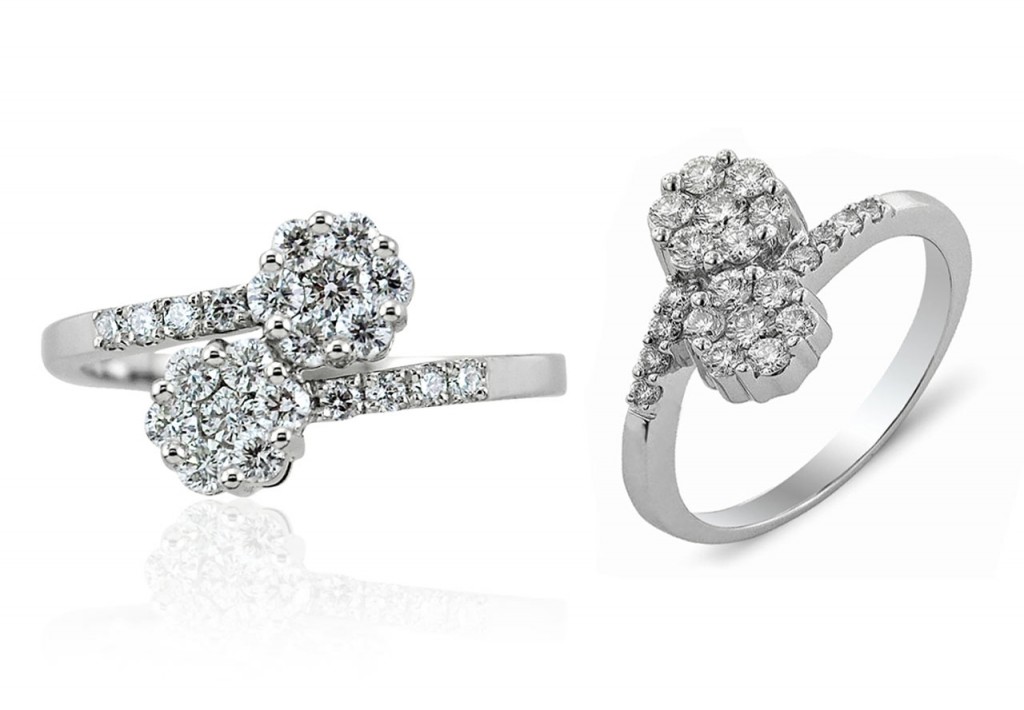 1. Dainty Double Floral Diamond Crossover Cluster Ring, £375
Covered in round, brilliant-cut diamonds, this cross-over-style floral cluster ring is crafted in beautiful 18K white gold and is an exciting alternative to the traditional diamond solitaire ring. The floral setting is delicate and subtle. Perfect for someone wanting to make a statement without flashing the cash.

2. Triple Floral Sapphire Cluster Ring with Round Brilliant Diamond Detail, £480
Gemstones make for stunning, original engagement rings and are particularly good for brides who aren't keen on all the fussy tradition or just like to stand out from the crowd. September's rich, vibrant birthstone is a nice touch if your bride's birthday, or your anniversary, or wedding falls within the same month.

3. Round Brilliant Diamond Graduated Claw Set ring in White Gold, £465
This slightly less common formation contains four brilliant diamonds flanking a larger, focal stone and is guaranteed to capture any onlooker's attention. The outer stones provide added sparkle and brilliance to accentuate the centre stone, all on a dainty, tapering, 18K white gold band.

4. Elegant Diamond Grain Set Eternity Ring in Platinum, £495
If you're looking to evoke eternal commitment right from the get-go, then a full eternity-style engagement ring could be for you. This is becoming increasingly popular for brides who want something a little different. This grain set has tiny, clam-like ellipses, which gently hold the round brilliant diamonds in place set in hardy platinum.

5. Chic Half Eternity Ring in White Gold, £480
There's a delicate, yet timeless aura to this understated engagement ring. A simple, classic look with half-eternity finish, with enough added sparkle to captivate anyone's attention. These beautiful princess-cut diamonds are set within a graceful 18K white gold band.

6. Sparkly Diamond Shoulder Micro Set Ring in 18K White Gold, £465
Amongst these beautiful baby micro-set diamonds, sits the brilliant focal piece, capturing a lot of light to emit generous sparkle. With a narrow, tapering band and diamond shoulders, the effect exaggerates the size of the focal stone and would look great on any bride. Narrow wedding bands can elongate the fingers in a very flattering fashion.

7. Seven-Stone Diamond Flower Ring in White 18K Gold, £465
Cluster diamond rings are an alternative engagement ring which ask the question, 'why have one diamond when you can have seven?' Designed so that each diamond lights up the next, each stone is held in a classic claw set into a charming flower shape. Great for boho brides, nature lovers, or brides with a floral name.

8. Exquisite Pear-Shaped Cluster Ring in 18K Yellow Gold, £495
This combination of the marquise and round brilliant-cut pear-shaped diamonds is immensely popular and makes a beautiful, unconventional focal piece for engagement rings. This ring displays a cluster of sparkling brilliant diamonds to offset the pear centrepiece.

9. Dainty Oval Diamond Rub-over Solitaire Ring in 18K Rose Gold, £350
An oval diamond is rarely seen on engagement rings, and adds to the daintiness of this ring. The rose gold band is a pretty, versatile alternative to yellow or white gold and looks great on people with warm skin tones. Rub-over settings are good because they are incredibly secure and don't come with the risk of snagging on clothes like a claw setting does.

10. Elegant Diamond Trilogy Ring in 18K White Gold, £465
This simple trilogy ring in a beautifully crafted setting is designed to show off the diamonds for maximum dazzle. Trilogy rings are a more traditional option, with each diamond often used to symbolise broader themes of friendship, love and fidelity. For others, they represent past, present and future with a loved one; the ultimate in romantic sentiment.
If you're thinking of popping the question, we would love to help you with your decision. There's always a wide selection of colour, cut and clarity grades available at Diamond Rocks, or if you would like something more personalised, you can design your own with the help from our jewellers.