Our Favourite Jewellery Trends for Autumn
The summer season may almost be over but that does not mean you have to lose your sparkle. Distract yourself from the prospect of darker nights and cooler temperatures with our top trend tips for this autumn season.
Wide-set eternity rings
Eternity rings never go out of fashion, but, right now, they are making a statement, too. Yes, we still love a delicate stacking ring, but this autumn we dare you to go bold. After all, the festive party season will be here before we know it and who doesn't love a bit (or a lot) of bling at Christmas? In the meantime, these chunky rings perfectly complement any office outfit or dress up your weekend wardrobe. You really can't go wrong with the classic combo of diamonds and platinum and if you throw in a vintage vibe, you'll really hit the sweet spot. Check out our vintage-inspired dew drop rose-cut with side old-cut grainset vintage ring, comprising 2.00 carats of sparkling diamonds set in a wide platinum band. This stunning three-quarter eternity ring takes all the glamour of Hollywood's golden age and brings it bang up to date.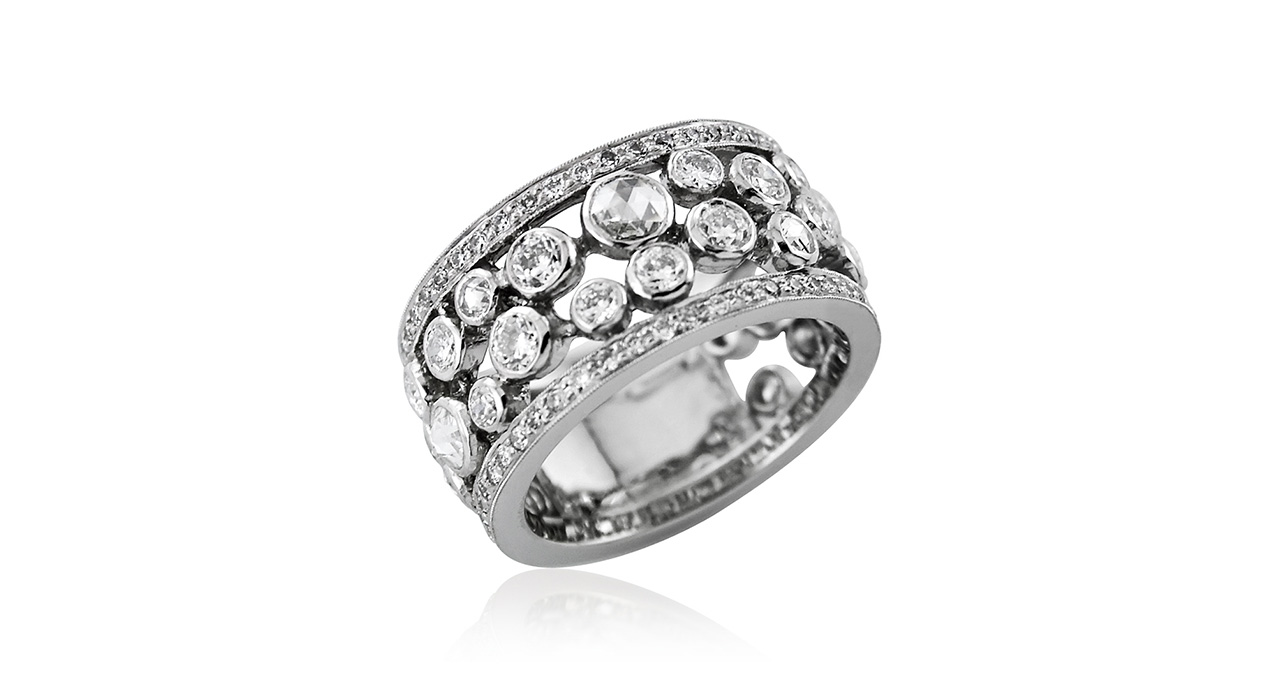 Or, why not combine the look with another ever-popular jewellery trend and have your ring set in white, yellow or rose gold? This ring perfectly showcases four rows of brilliant-cut diamonds (totalling one carat) in this elegant wideset half eternity ring and, at almost 10mm in width, this ring is sure to stand out from the crowd. 






Diamond Wideset Dress Ring
A dazzling round brilliant cut wide set diamond ring. This stunning ring has a centre of glistening round brilliant cut diamonds scattered halfway. -
Go bold with colour
As winter approaches, what better way to brighten up a cold, dark day than with a splash of colour? And, this season, more is most definitely more. Add a touch of daring to your look with an array of multi-coloured gems  ̶  even clashing tones work well together. From fancy coloured diamonds in every hue from warm yellow to hot chocolate, to shocking pink sapphires (yes, they don't just come in blue), these colourful gems will make a cheerful alternative to icy white diamonds when the temperature begins to drop. With its rainbow of stones, this sapphire fancy and diamond claw-set domed cocktail ring, set in shimmering 18ct white gold, will certainly get you noticed.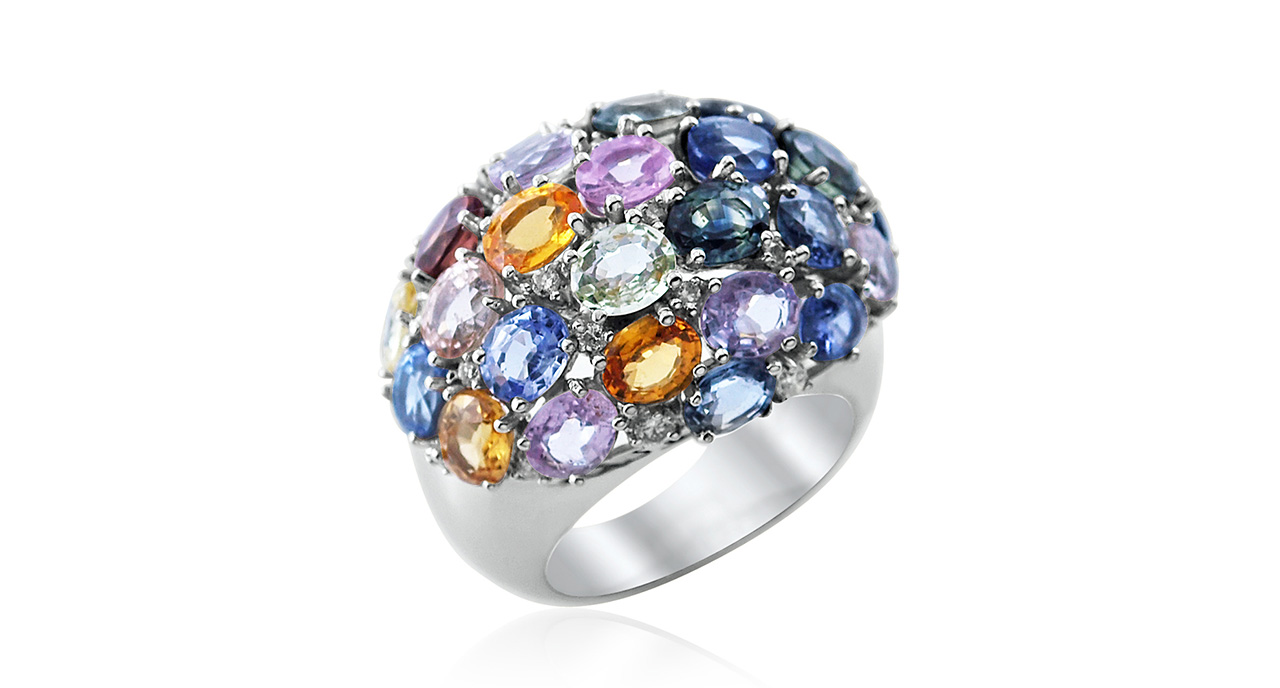 If a plentiful palette isn't for you, stick to a pop of one colour and you'll still liven up your winter look. Choose from the classic trilogy of vibrant rubies, sapphires or emeralds to really pack a punch. This sapphire round brilliant diamond bracelet dazzles with almost seven carats of electric blue sapphires, each with its own diamond halo and set in 18k white gold. Prepare to shine!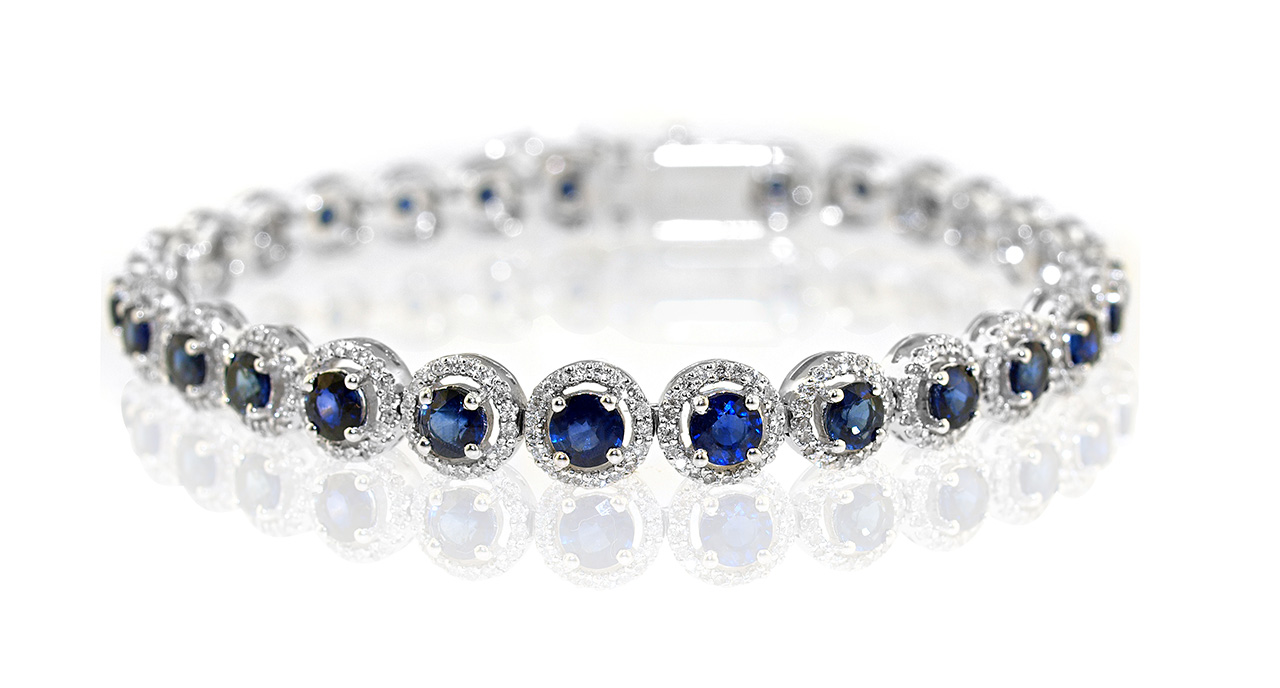 Pear-shaped diamonds
Pear-shaped diamonds are all the rage right now, with everyone from Ariana Grande to Paris Hilton, Margot Robbie to Cardi B spotted wearing them in their engagement rings. Less mainstream than the classic cushion and round cuts, the pear-shaped silhouette elongates the finger, creating an especially flattering look. And, it sits perfectly with the growing trend for vintage-inspired jewellery (after all, it's been around for 500 years). We love a sparkly pear and not only on a ring. This dainty shape looks equally stunning in earrings, bracelets and necklaces. And, with their nod to the natural world, pears also work perfectly in flower-inspired jewellery. Reminiscent of petals gently swaying in the breeze, these pear shape drop cluster earrings feature 0.7 carats of twinkly diamonds set in beautiful 18k white gold. Designed to catch the light in all directions, they're guaranteed to turn heads at any special occasion. Wear with a simple little black dress for maximum effect.
Or, go your own way
When it comes to choosing an engagement ring, everything, from the cut and stone to the style and metal, must be spot on  ̶  after all, it's going to be worn every day for many years to come. So, if you really want to make a statement, then why not go bespoke? Choosing to design your own ring is all the rage right now – with all the best celebrity engagements rings featuring the customised look. When pop star Justin Bieber popped the question to his model girlfriend, Hayley Baldwin, last year, he spared no expense in having a six-carat oval diamond ring custom made for his bride to be. And who can forget Prince Harry's tribute to Meghan Markle, both for her stunning three-stone diamond engagement ring and the eternity ring he designed (complete with hidden birth stones) to celebrate the couple's first wedding anniversary and the birth of their son, Archie? But you don't need to be an A-list celebrity with a stratospheric budget to get in on this trend – in fact around six out of every 10 bespoke ring appointments that we receive come from couples looking to design something that's as special as their relationship. So, with Christmas a popular time for proposals, why not get ahead and find out more about how to design a bespoke ring from scratch?
If you'd like help choosing a piece of jewellery this autumn, find out more about us or just give us a call to make an appointment. Alternatively, you can start designing your own ring, right now with our step-by-step design your own ring section.