Oval Engagement Rings - The New Hot Trend
Engagement season is upon us and that means finding the perfect ring for the proposal. One hot option is to follow the growing trend for oval stones. The latest figures show that December, and especially Christmas week, is the most popular month for popping the question. So, as the festive period approaches, there is no better time to choose the ultimate engagement ring in your quest to win her heart and her hand. But, where to start?
  Above: Why not check out our bespoke engagement rings from our Design Your Own Ring tool.
Diamond Rocks always keeps track of the latest trends and we've seen a boost in a particular style of stone: the oval, according to the sales team at Diamond Rocks: "There's definitely been an increase in people wanting oval diamonds and oval gemstone jewellery". "We've all noticed it in the office!"
A popular choice has been the Zenia Ring.  This ring is a stunning four claw ring with parallel channel set diamond shoulders.  Click on the image below to view the ring in our Design Your Own Ring tool and select a certified diamond.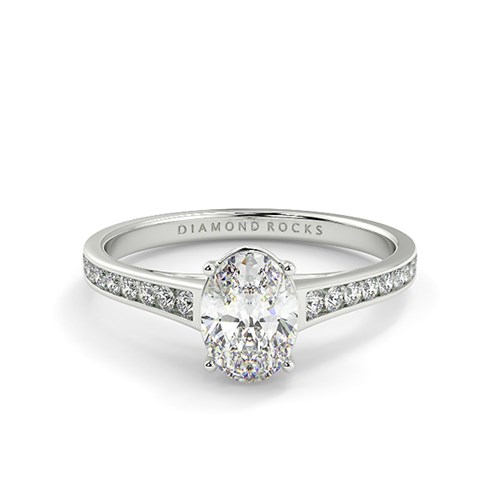 It has also been the rock of choice for a number of recent celebrity matches. Back in July, Canadian popstar Justin Bieber chose a stunning six-carat oval diamond ring (estimated to be worth around half a million dollars) for his proposal to model Hailey Baldwin. Other high-profile figures opting for oval include actresses Blake Lively and Julianne Hough. And, of course, who can forget Kate Middleton's exquisite oval-cut sapphire and diamond engagement ring, once famously owned by her husband's mother, the late Diana, Princess of Wales?






Sapphire Oval & Double Halo Diamond Ring
A stunning blue sapphire oval centre ring surrounded by an elegant double halo of round brilliant cut micro set diamonds, set in a platinum and diamond mount. -
So, what makes ovals so special? With their distinctive elliptical shape, somewhere between the round and pear cuts, ovals lend themselves to an array of different designs. They generally comprise 58 facets in a brilliant pattern, with a typical ratio between 1.33 and 1.66. While the shape dates back 500 years, it came to prominence in the 1960s, thanks to renowned Russian diamond cutter Lazare Kaplan, who was hailed for his ability in cleaving, a term used for the highly-skilled art of separating a diamond rough into several smaller flawless stones.
In addition, watch out for the 'bow tie' effect, a dark, bow-shaped pattern that appears across the table of the diamond when the reflection of the viewer's head and shoulders blocks the light from entering the diamond. Effectively, it prevents the diamond's facets gathering light (the source of its sparkle), giving it a dull appearance. If a diamond is cut well, however, the bow tie effect will be minimal. When purchasing a stone, request a modest-minimal bow tie effect.
Thanks to its elongated, symmetrical shape and greater surface area, an oval diamond gives the illusion of seeming larger than brilliant-cut stones of a similar weight, and can make the wearer's finger appear longer and more slender. It has the added bonus of almost mimicking the round brilliant cut in its ability to sparkle. The delicate design symbolises tradition and romance, while its shape, reminiscent of an egg, is often also associated with fertility. Not surprisingly, the oval diamond is a popular choice for engagement rings, and the main characteristics to look out for are clarity and colour. Its modified brilliant cut makes the oval diamond perfect for hiding any inclusions. Choose a clarity grade of  SI1 or SI2 and that is generally guaranteed. As for colour, some stones can have a yellow tint, so if you want a brilliant white gem, a G colour grade or above is recommended. We've got lots more information on choosing a diamond in our diamond knowledge section. 
Now that the ring is sorted, all you have to do is pop the question! If you need more inspiration, our guides to weddings and engagements will give you plenty of information, ideas and support.