How the Royal Engagement Rings Stack Up
With just days to go until Prince Harry marries his American sweetheart Meghan Markle, speculation around the latest royal wedding is now at fever pitch, and if their choice of a bespoke engagement ring is anything to go by, we can expect to see one or two new trends appearing in the coming months as brides and grooms up and down the country keep an eagle-eye on the happy couple's choices.
At Diamond Rocks, we've seen a tangible shift in the way that our clients go about getting engaged, with more than 40% now jointly designing their own ring. Some of that growth is undoubtedly thanks to the royal couple's influences, but it's also because of the ease with which we can help you to create a design these days. We use technology called CAD/CAM, which allows us to finesse your ideas before committing to a final design. For many, those ideas start by looking through magazines and taking inspiration from others and royal wedding jewellery has always held a particular fascination.
Meghan and Harry's engagement ring, for example, will go down in history for both its personalised design and the combination of stones – from Botswana, a place they both love, and from Harry's late mother's collection.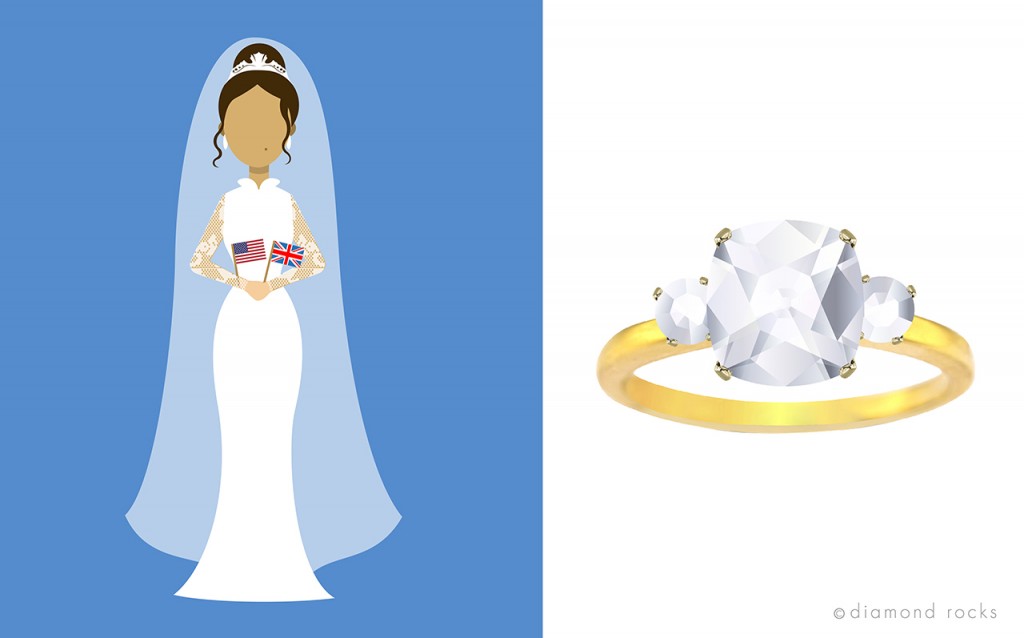 Get the Look:  Sparkle like Markle with this three-stone diamond ring in yellow and white gold from Diamond Rocks. But what other royal couples? We opened the archives to find out more about the stories behind some of biggest and best known royal engagement rings, and the discoveries might surprise you.
The value stakes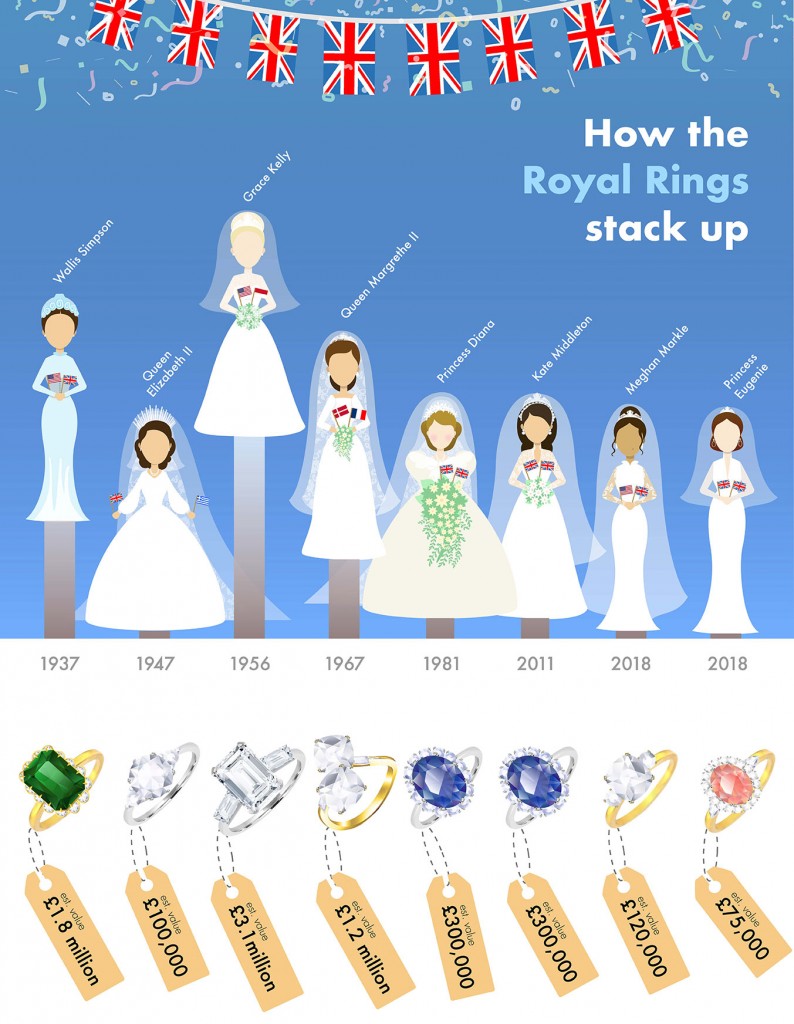 The cost of a royal wedding these days may be a little more than the average £27,000 the rest of us spend, but when it comes to the value of their rings, modern royal women aren't quite as splashy as you would think. Meghan's beautiful trilogy ring is widely thought to be worth around £120,000, while Kate Middleton's is worth approximately £300,000 – thanks largely, we suspect, to its provenance, having belonged to the late Diana, Princess of Wales.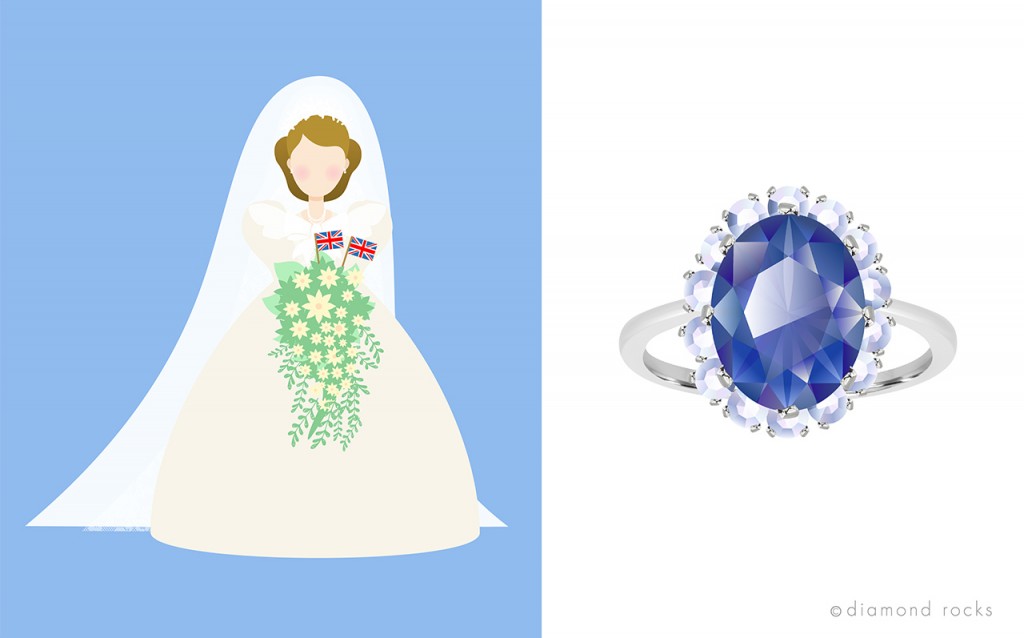 Get the Look: Try this this similar-looking sapphire sparkler from Diamond Rocks. By contrast, Princess Eugenie – due to marry later this year – sports a stunning padparadscha sapphire that is thought to be worth just £7,000 - 10,000.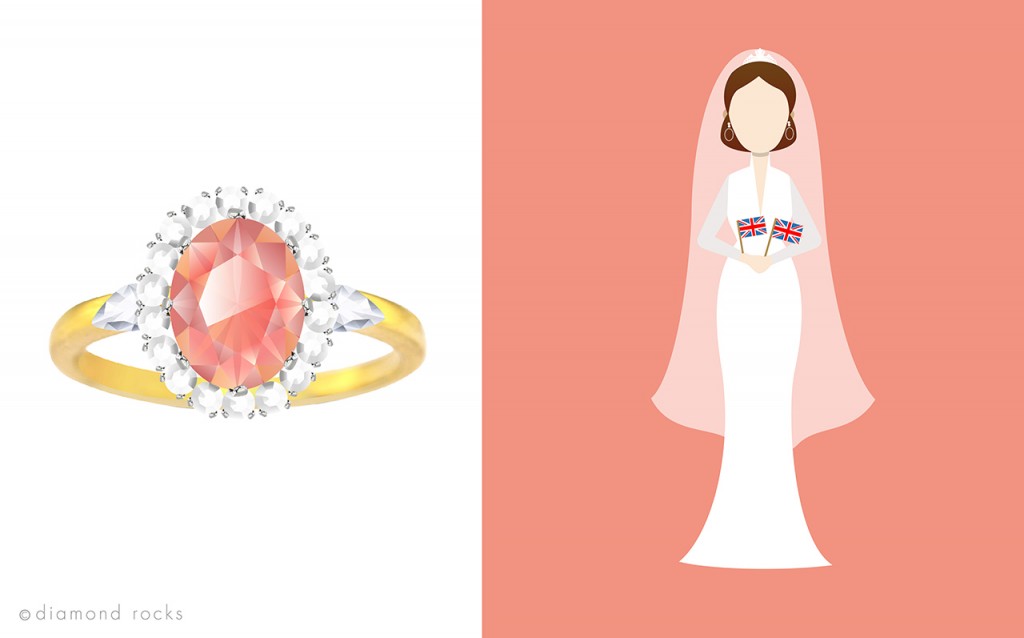 Even the UK's current monarch, Queen Elizabeth II's diamond ring is estimated at a modest £100,000. Indeed, marrying in 1947, just two years after the end of the Second World War, meant that Elizabeth had to use ration coupons to pay for her wedding dress materials, with the government allowing her 200 extra coupons to purchase the fabrics and trims.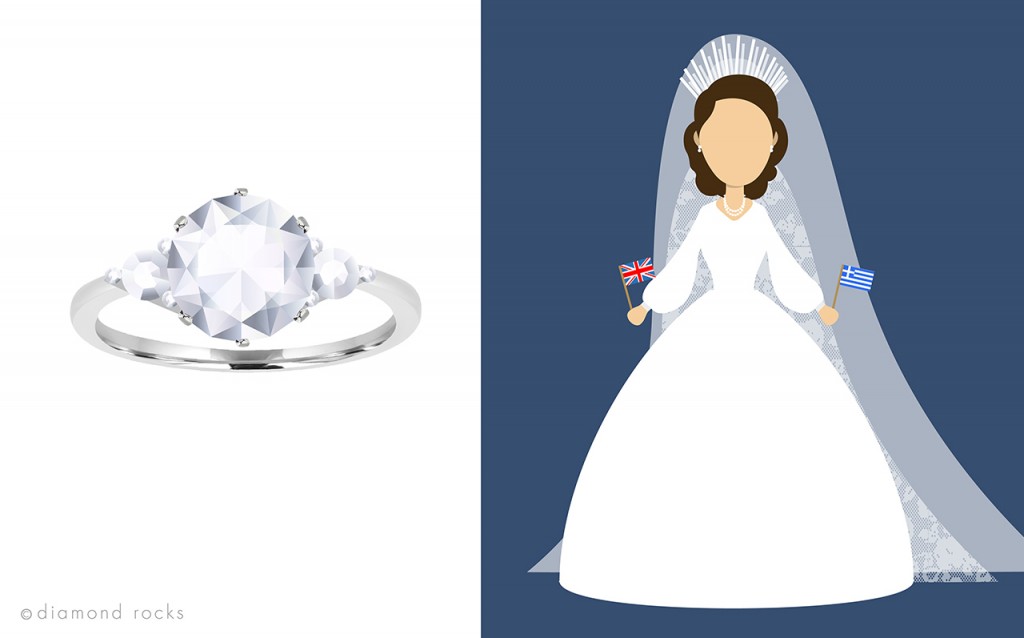 Get the look: If you like the Queen's three-stone diamond ring, maybe you'll like this 6 carat oval diamond version from Diamond Rocks. Of course, 'modest' is relative when looking at royal expenditure, but when you consider these values against two old school royals – both of them American by birth – the value stakes are raised considerably. Despite the controversy surrounding her status as a divorcée, Britain's Edward VIII fell so hard for Wallis Simpson that he gave up the crown and sealed their love with a 19.77 carat Cartier emerald ring, worth an estimated £1.8 million.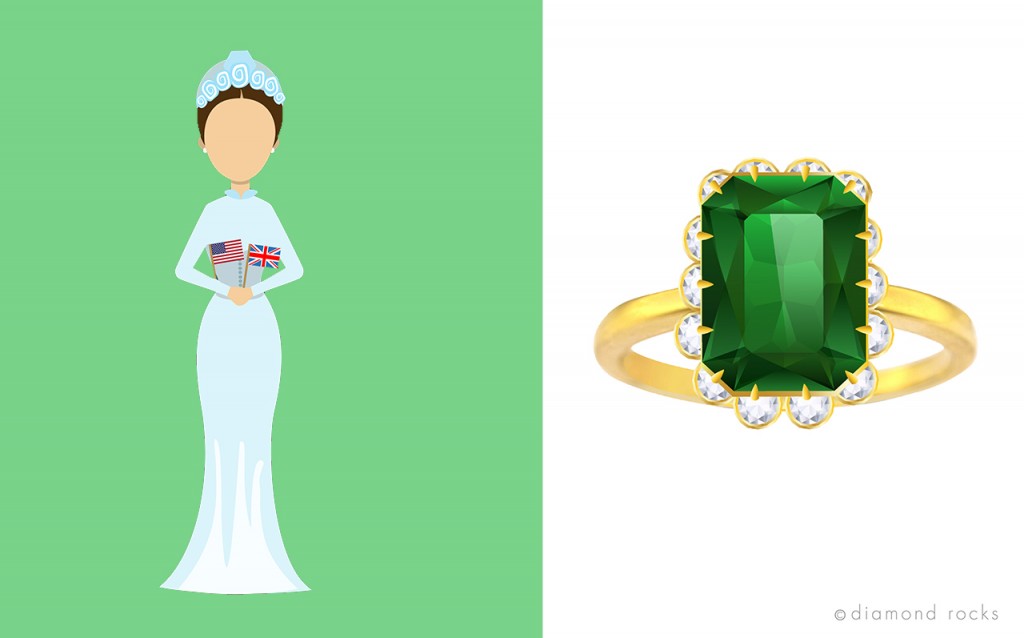 Get the look: You can get your hands on a similar emerald ring from Diamond Rocks for a fraction of Wallis' price. But even this pales into comparison against Hollywood star Grace Kelly's royal rock – a 10.5 carat emerald cut diamond that is thought to be worth a stunning £3.1 million today. And if that wasn't extravagant enough, it was actually the second ring that her husband-to-be, Prince Rainer III of Monaco, bought. He originally popped the question with a Cartier eternity band, before spotting the Hollywood bling other actresses were wearing and promptly upgraded his offer.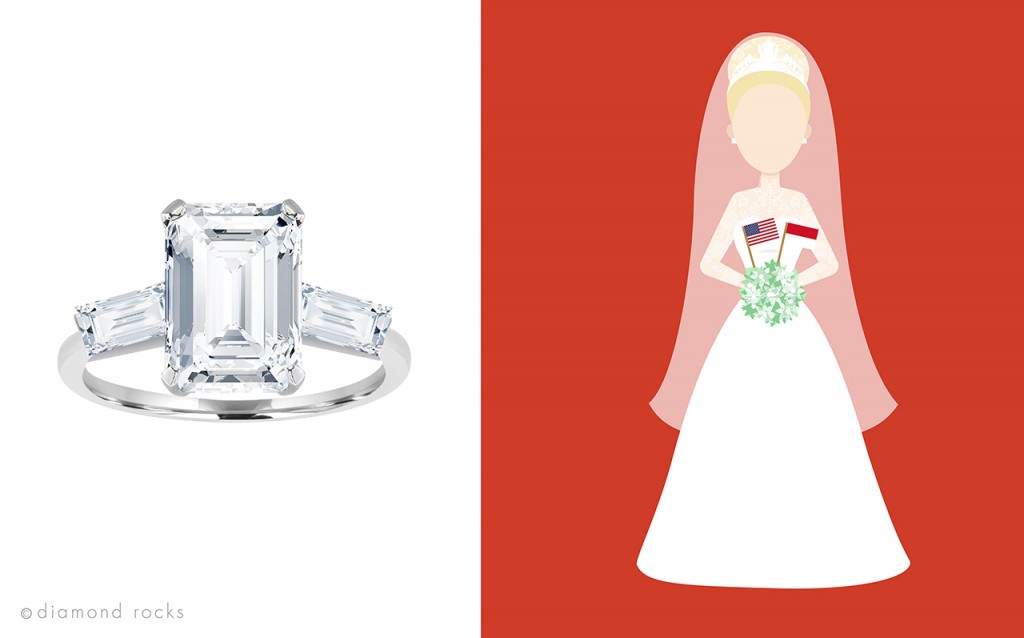 Get the Look: Emanate Grace Kelly's royal style with this emerald cut diamond ring from Diamond Rocks. Grace wasn't the only European royal to be presented with a whopper. In Queen Margrethe of Denmark's case it was in fact a double whammy – a 'toi et moi' diamond ring thought to be worth around £1.2 million. Meaning 'you and me' in French, the toi et moi ring goes back centuries and symbolises two souls becoming one. The most famous was presented to Joséphine de Beauharnais in 1796 by Napoleon Bonaparte, then a revolutionary soldier in the French army. Queen Margrethe just happens to be a descendant of Empress Joséphine.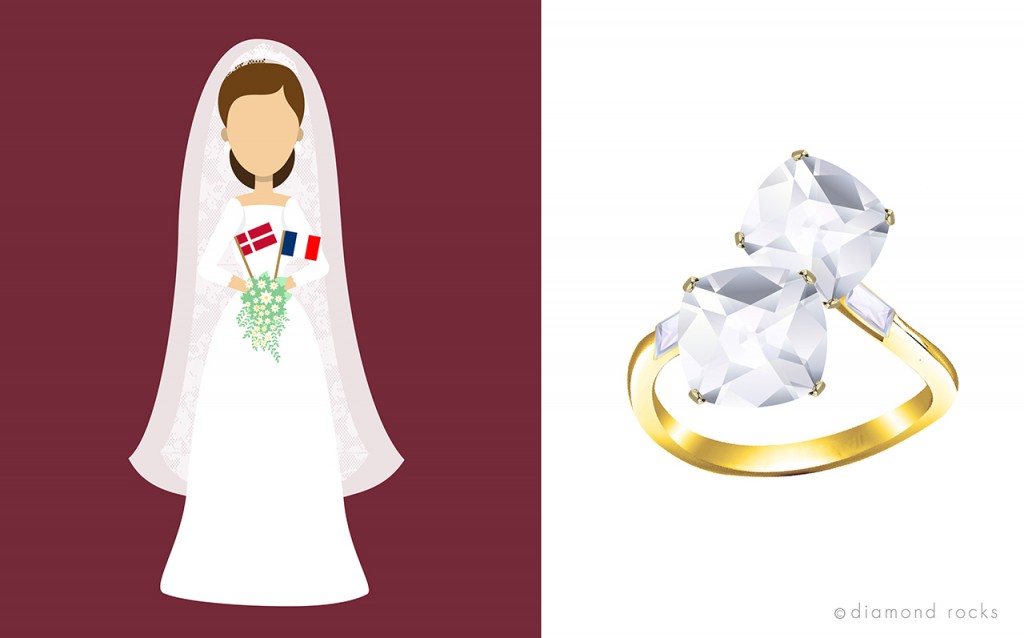 While Harry and Meghan may have set a trend for bespoke engagement ring design, they aren't, in fact, the first to add personal touches. Queen Elizabeth's three carat diamond solitaire, for example, incorporated several diamonds from a tiara that belonged to the Duke of Edinburgh's mother, who had previously received it as a wedding present some 50 years before. Meanwhile, Edward VIII had Wallis Simpson's ring engraved with the words 'We are ours now 27x36', having proposed on 27 October 1936, before his abdication.
Only Diana, Princess of Wales lost out in the romance stakes with a ring that was chosen from the royal jeweller's catalogue with no personal touches added. Her blue Ceylon sapphire surrounded by 14 solitaire diamonds gained more sentimental significance, though, when passed to Kate Middleton by Prince William in tribute to his late mother.
Indeed, the story about how William came to own the ring is testament to the love between him and his brother Harry, and their shared adoration of their mother. Following Diana's death, William and Harry were allowed to choose a piece of her jewellery as a keepsake. While William selected a Cartier watch, it was, in fact, Harry who selected the sapphire. However, as William was the first to propose, Harry gave him the ring to give to Kate. Now that's what we call a right royal romance.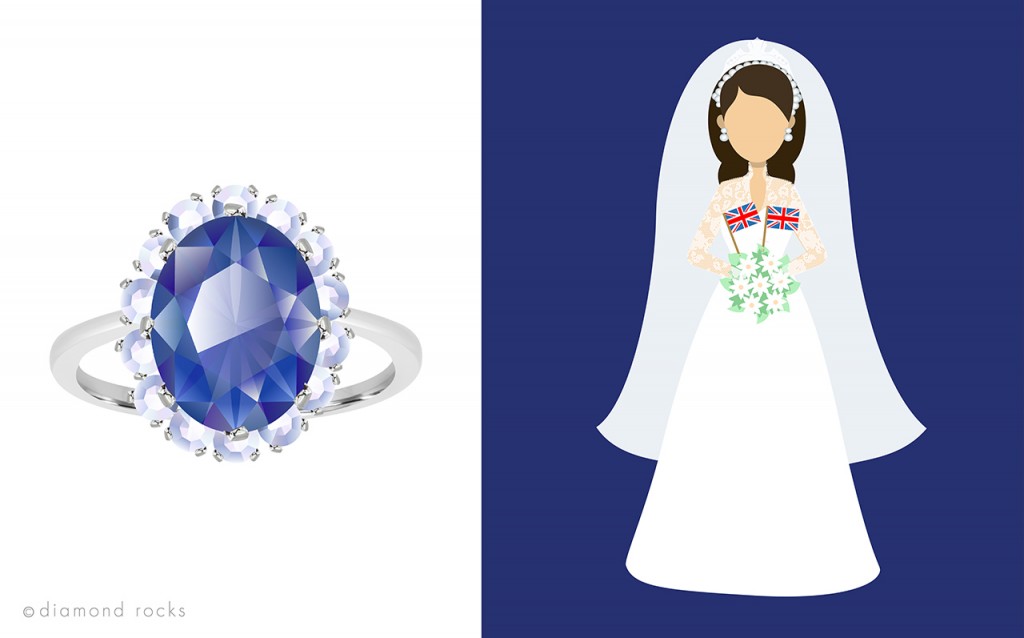 If you're inspired by any of these rin
gs, there are ways in which you can recreate the royal look without the royal budget:
Make it personal: advances in technology make it easy to design your own ring, and a good jeweller can create your dream engagement ring from something as simple as a sketch or idea from you.
Buck the trend: if you're a trendsetting couple, look at the latest choices in black diamond, fancy coloured or gemstone engagement rings. This can add a really personal touch – for instance, selecting your partner's birthstone – as well as helping to keep the cost down.
Reinvent the original: if you aspire to a certain royal engagement ring look, your jeweller may often be able to source something similar that will still have all heads turning. Meghan's trilogy sparkle, for example, could be emulated in 18K yellow and white gold and would come in at a fraction of the royal price.