The Hottest Engagement Ring Trends for 2018
In honour of the month of love, Diamond Rocks looks at the top nine engagement ring trends for 2018 – these are the styles and tastes set to drive sales over the next 12 months, and there are some surprising last minute entries…
OVAL DIAMONDS:
Oval diamonds have always been a favourite for many brides to be – and they look set to become an even hotter trend in 2018. One of the bonuses of an oval stone over some more traditional shapes is that it tends to make the diamond appear bigger than other diamonds of the same size in more traditional shapes, due to its elongated shape. This style of ring has also recently proved to be popular with an array of celebrities including Serena Williams and Blake Lively, to name a few. If you like oval settings, take a look at this stunning 0.75Ct Oval Diamond Microset Double Cluster Ring in Platinum.
BESPOKE:
 In recent years many couples have begun to opt for designing their own engagement ring. What better way to personalise possibly the most beautiful moment of your life, than to have designed the ring entirely by yourself. With this process you can customise everything, from metal type, to stone setting, to  the exact number of carats you want the stone to be – as well as many more. For more information you can visit our "Design your own engagement ring" page.
THREE-STONE SETTING:
Now, this particular trend has been made into almost a craze by one couple in particular – Prince Harry and Meghan Markle. The prince gifted the American actress a three-stone setting ring with a yellow gold band, and although nobody knows for sure, the central cushion cut diamond from Botswana – Prince Harry's second home – and is estimated to be around 2.5 carats.   This design gives the opportunity to fit one larger diamond in the middle, surrounded by two smaller stones – and we're sure many would agree, three diamonds are better than one! A beautiful and safe bet for any bride this year. This gorgeous 4.03ct fancy colour oval & heart diamond three stone ring in 18k white gold could be just right to get the 'Markle' effect. 
EAST-WEST SETTING:
 If you're unfamiliar with this setting, as the name suggests, it simply means that rather than the stone being vertical on the ring, it is placed horizontally. In a time where people are striving for difference rather than conformity – this style has seen an increase in popularity and it's certainly a great style choice which is in on-trend right now. Like this east-west 0.14ct marquise diamond solitaire rub over ring in platinum.
COLOURFUL GEMSTONES:
When people think about a traditional engagement ring they often see a round brilliant diamond cut diamond on a white gold or platinum band. However, times are changing – and people are not always after 'traditional'. Coloured gemstones such as rubies, sapphires or emeralds (as well as many more) are becoming more and more popular as an engagement ring choice. Not only are they generally cheaper than diamonds, but also more individual. So if your partner likes to stand out from the crowd, try one of these alternative stones. This sapphire pear & 2.26ct marquise diamond clawset cluster ring in 18k white gold is a beautiful example.
ROSE GOLD:
Rose gold rings have been increasing in popularity steadily for a number of years. Made by mixing gold and copper, their pink hue has proved to be a favourite of many new brides in recent years due to its vintage and romantic appearance. It provides something ever so slightly different, whilst also denoting a very classic feel – making it a very safe option for various different personalities and tastes. For all the information you need about rose gold engagement rings see our whole article on the topic here.
REAL DIAMONDS:
This trend is not quite as obvious as it may first seem – the production of synthetic diamonds is on the up, and many in the diamond industry feared it would affect sales. However, the majority of people currently still prefer to pay a much higher price for the naturally formed real deal. Although synthetic diamonds are nearly 16% cheaper than natural ones (according to Statista), for something as special as an engagement, couples appear to prefer something naturally created – and we understand why. Some diamonds take billions of years to form and it's this idea of eternity which many lovers wish to be a symbol of their relationship. This 1.33ct emerald cut, curre cut & brilliant diamond cluster ring in 18k white gold could be a beautiful option for any spouse.
YELLOW DIAMONDS:
Yellow diamonds are becoming more and more popular – and it's no wonder when you look at the sheer beauty of them. As with any coloured diamonds, they are rarer than ones without colour, and it's this rarity which many couples think makes the perfect gift as an engagement ring. Many celebrities been known to sport yellow diamond engagement rings – from Nicki Minaj to Kelly Clarkson and many more. Like this gorgeous 1.43ct fancy pear with tapper & brilliant diamond cluster ring in 18k white & yellow gold.
STACKED & NESTLED ENGAGEMENT RINGS: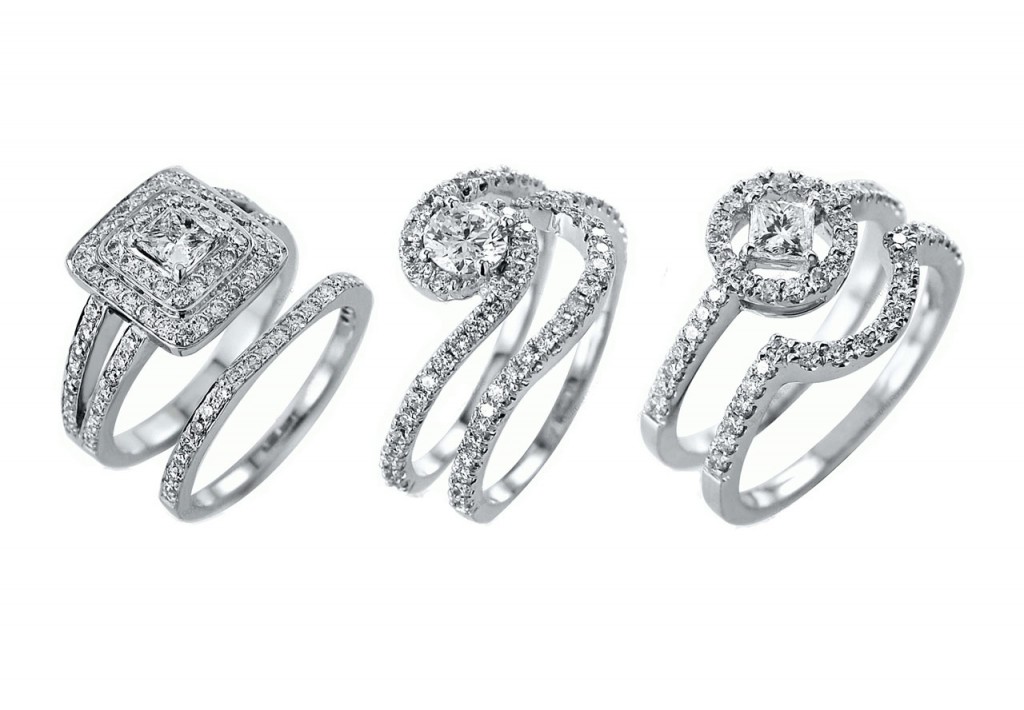 For some, less definitely isn't more, and we understand that. If your partner likes things which are generally more overstated – a stacked engagement ring could be the perfect option. This is where you combine a few different bands, it takes a little more thought and curation, as you have to vary the shapes and styles whilst keeping it beautifully cohesive with the same metal. Nonetheless it can look gorgeous if done well, and using double-banded engagement rings like this can certainly help. So, there we have it – nine top engagement ring trends for 2018 which are sure to increase in popularity. As always, a trend doesn't necessarily mean it's the right choice for your bride to be – explore all of your options and try to get a feel for what they would like. Easier said than done, but will be all worth it when you get that all important yes and all that's left is the wait for the wedding bells!