What is the difference between Champagne, Brown and Chocolate Diamonds?
From the golden glow of Champagne to decadently dark chocolate, brown diamonds come in a whole spectrum of warm, rich hues that make an elegant addition to any piece of jewellery. Here is our lowdown on these stunning sepia stones.

Champagne, chocolate and brown diamonds by Rob Lavinsky, iRocks  
What are brown diamonds?
Brown diamonds are one of the most common varieties of the stone. They are formed in the same way as white diamonds, but owe their colour to a combination of intense pressure and heat while still buried deep within the earth. This creates distortions in the crystal lattice that produce a texture called 'graining' and alters the way that light is absorbed by the stone. As a consequence, the human eye sees it as 'brown'. The presence of nitrogen in its compound structure can also give a diamond a brown hue.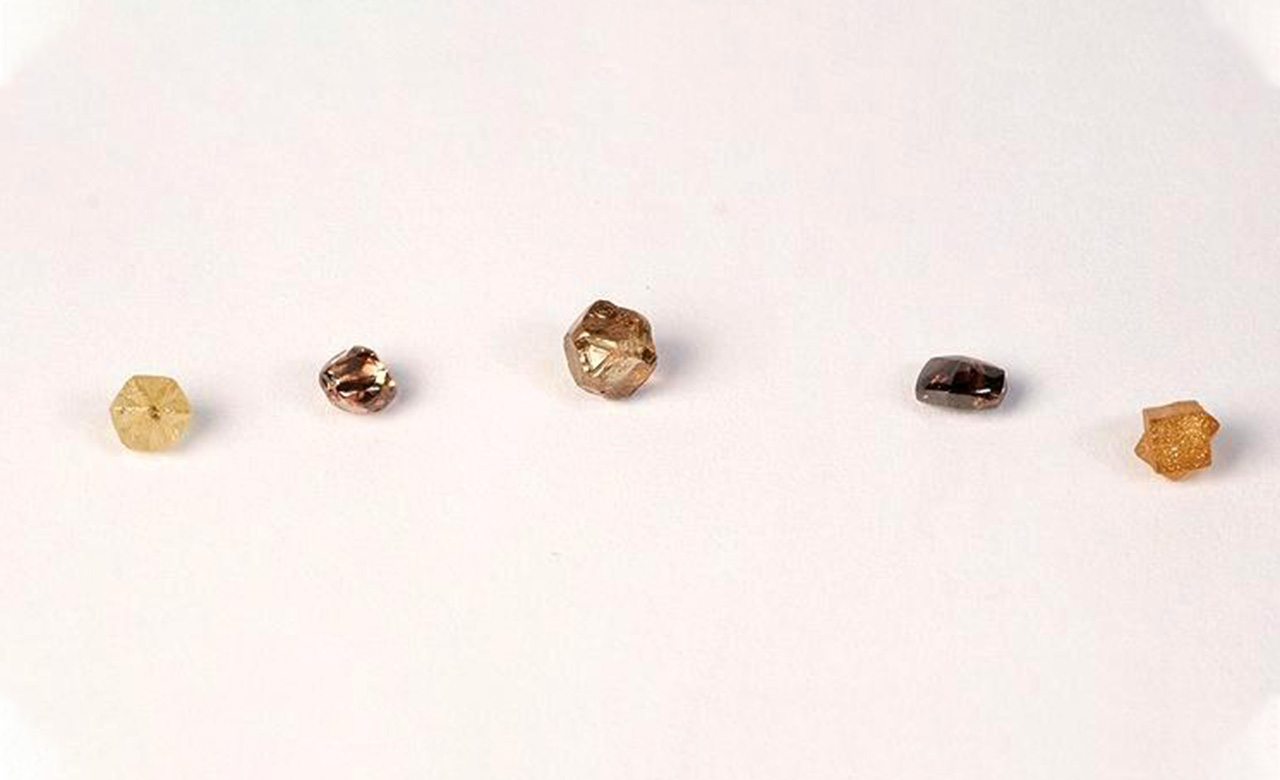 Five piece set of crystallized yellow and brown diamonds from Zaire, Democratic Republic of Congo by Rob Lavinsky, iRocks Found most commonly in Australia (specifically, the Argyle mine), Angola, Borneo, Brazil and the Democratic Republic of Congo, brown diamonds are much harder than their colourless cousins and, therefore, far more difficult to cut. Where a white diamond might take six hours to cut, a similar-sized brown stone would take 60. In the past, this has played a contributing factor in their limited used in jewellery, but, thanks to modern cutting technology, they are now more widely available.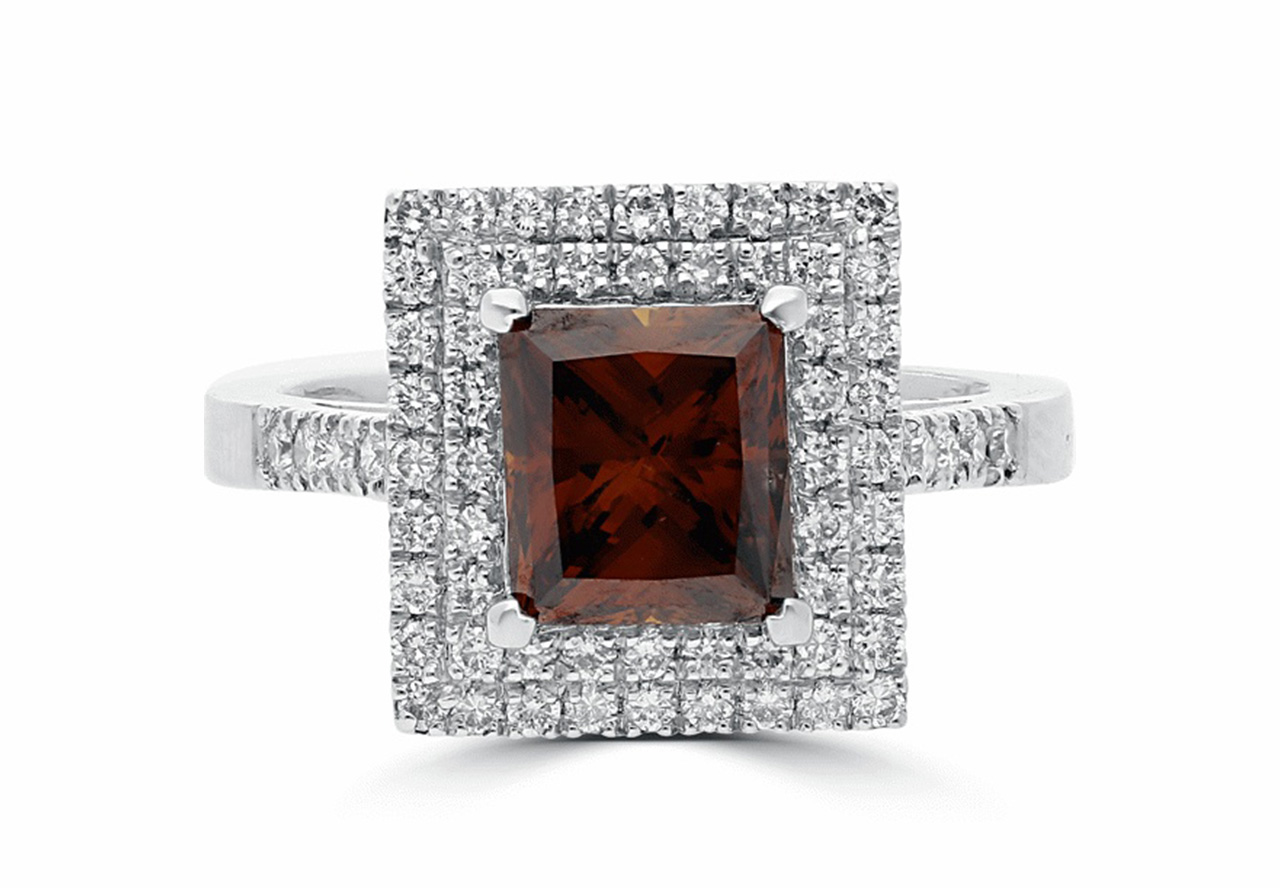 Diamond Rocks 2.64Ct Fancy Dark Orangy Brown Princess & White Brilliant Cut Diamond Double Cluster Ring in 18K White Gold
Different 'flavours' of brown diamonds
But not all brown diamonds look the same. In fact, they come in a wealth of rich tones, as deliciously sounding as they are a delight to the eyes: from pale 'champagne', through to rich, dark 'Chocolate®' by way of, amongst others, 'cappuccino', 'caramel', 'cognac' and 'cinnamon', and taking in a whole spectrum of warm hues, from yellow and amber to pink- or reddish-brown and cocoa. The term 'Chocolate Diamonds®' is, in fact, a trademarked name created by the Le Vian group to distinguish between the high-quality gems sourced from the Argyle mine and other, poorer-quality brown diamonds.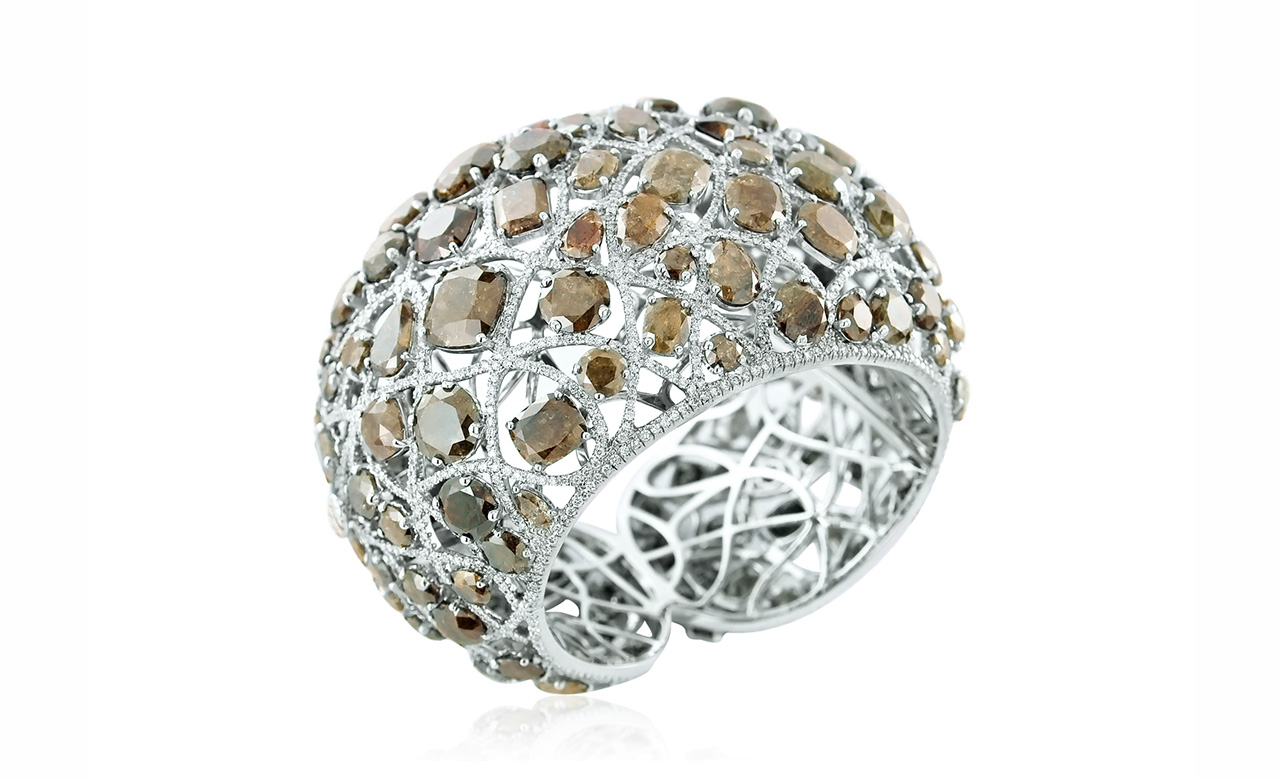 Diamond Rocks 112.00Cts Brilliant & Brown Diamond Barset Bangle In 18K White Gold
The correlation between colour grading and value
Each variation is classified on the Gemmological Institute of America's D to Z colour grading scale (from palest to darkest). Diamonds graded K to M with a distinct brown colour are termed 'faint brown'; those graded N to R, 'very light brown'; and those graded S to Z are categorised as 'light brown'.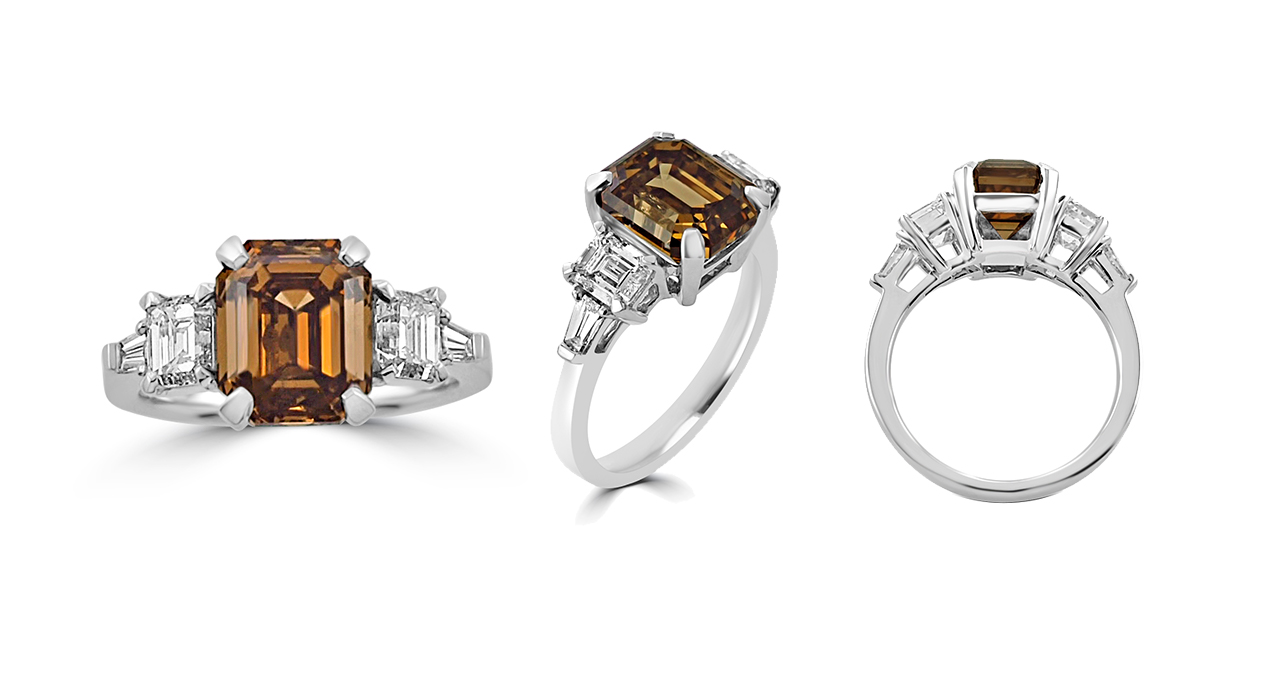 5.52Ct Fancy Deep Yellow Brown Emerald Cut Diamond With White Emerald Cut Diamond & Baguette Cut Diamonds Step Ring In Platinum
Although diamonds usually decrease in value as their colour becomes more obvious, the opposite is true for brown diamonds, which are also known as 'fancy' colour gems. Generally speaking, the stronger and purer the colour, the more expensive the stone. As with any diamond, clarity is key and should be taken into consideration when purchasing a brown diamond.
Why are brown diamonds growing in popularity?
For almost 100 years, brown diamonds were relegated to obscurity, considered 'ugly' compared to the brilliance of colourless white diamonds. Consequently, De Beers, the company that controlled the industry, had all the brown diamonds it mined and acquired crushed and confined to industrial uses. As a result, brown diamonds had very little value.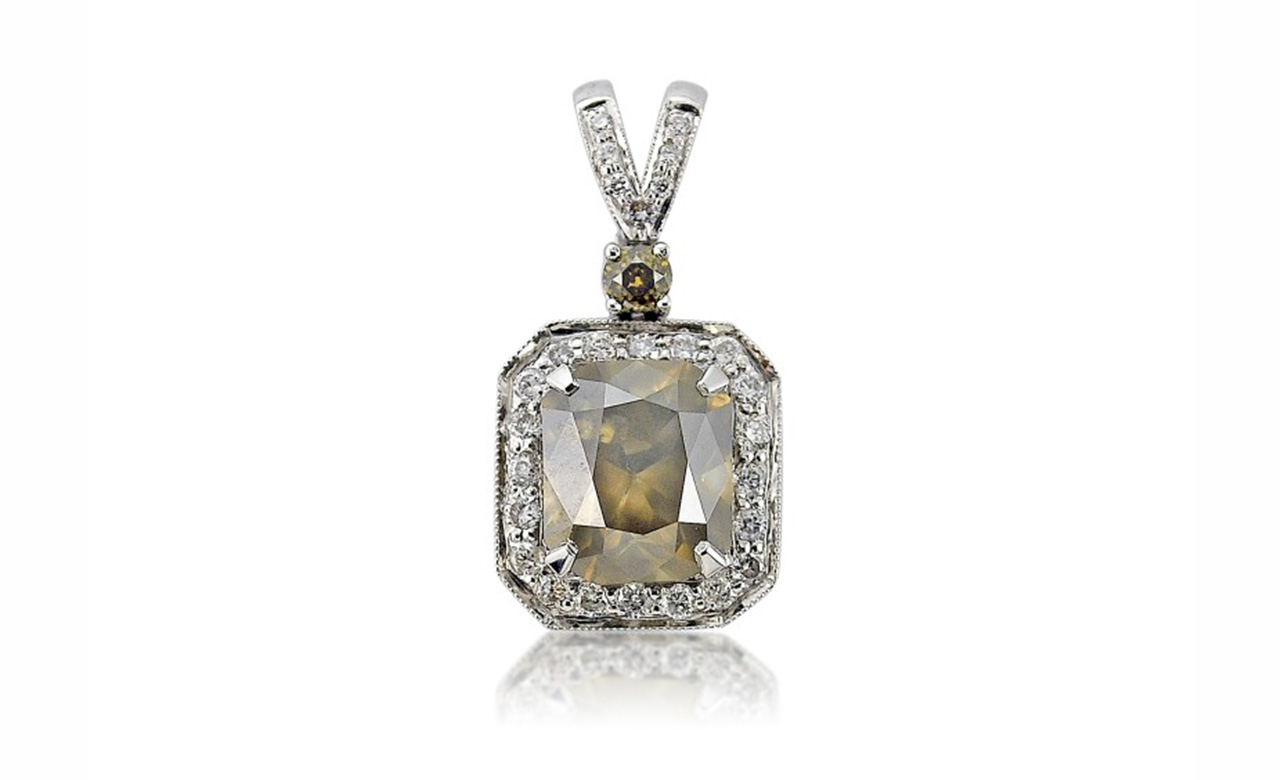 Diamond Rocks brilliant & brown emerald cut diamond pendant necklace in 18K white gold All that changed in the 1980s, when managers of the Argyle mine decided that rather than selling their brown diamonds to De Beers for a pittance, they would market them themselves. In a bold move, they shipped millions of their tiny brown diamonds (about 80% of the Argyle's rough diamonds were brown and under 0.1 carat in size) to India, where they were fashioned into low-cost jewellery. The enterprise was a huge success and soon attracted a new group of buyers to the diamond jewellery market. Today, with clever marketing by jewellers, these stunning gems have become more desirable and are gaining in popularity the world over. And, at half the cost of a similarly-weighted colourless stone, brown diamonds are eminently affordable, making them the perfect choice for the 'treat yourself' market. They have also become popular in men's rings, cufflinks, earrings and watches, thanks to their more masculine colour. In short, brown diamonds are rich, warm and beguilingly beautiful, with a distinctive sparkle that won't break the bank. Check out our infographic below to find out more  about champagne, chocolate and fancy-coloured diamonds: