Why You Should Buy Your Engagement Ring & Wedding Band from the Same Place
For many people, the wedding and engagement rings are very much a timeless duo — without one, you just don't have the other.
Whether you choose to wear an engagement ring and a wedding band together is entirely your call. You may want to stay true to tradition and wear both, or go your own way — making a choice that best suits your tastes and priorities.
In our opinion, by purchasing your engagement ring and wedding band from the same place, you can elevate your symbol of commitment to your significant other with a truly timeless combination. Perhaps, you'll opt for an eye-catching diamond engagement ring paired with a sleek yet elegant wedding band? Whatever your personal preferences, it's important to find wedding bands and engagement rings that are designed to fit perfectly together, so perhaps it's wise to choose one jeweller.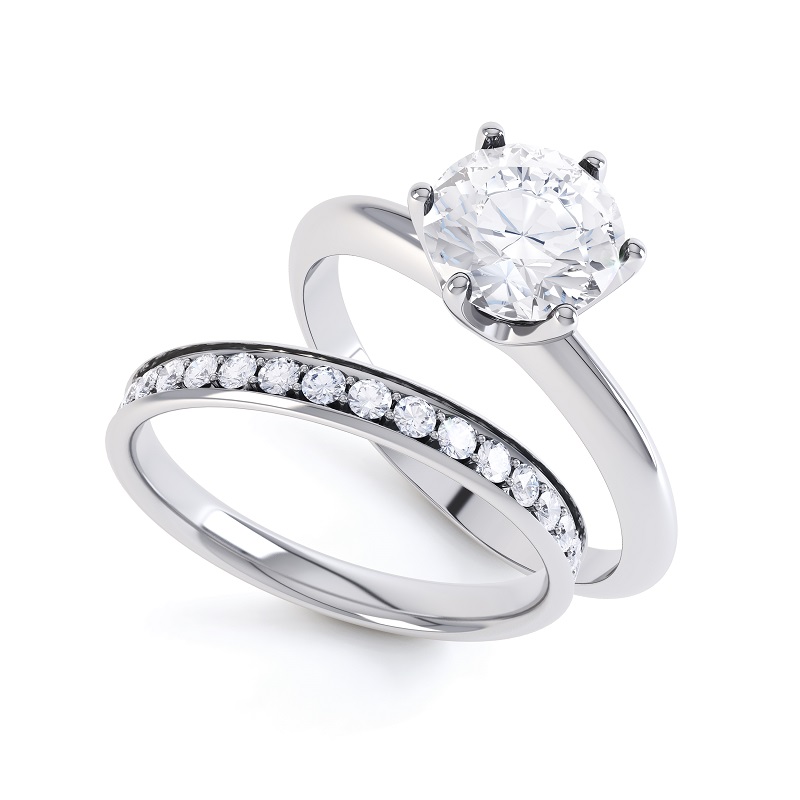 Maintain an elegant look without fear of scratches or damage
When pairing an engagement ring with a wedding ring, it's critical to put some thought into the hardness of the metals. For example, suppose you were to buy a gold wedding band from one jeweller to contrast your platinum engagement ring. In that case, the gold band will become heavily scuffed and scratched over time because platinum ranks higher on the Mohs Scale of Hardness than gold.
At Diamond Rocks, we take the time to understand our clients' needs, and our entire online storefront is designed to make it easy to choose the same metals for engagement rings and wedding bands, allowing you to gain a consistent, timeless look, knowing one ring will not damage the other over time.
Create a complementary look or combine two different styles
You have the freedom to choose the look that's right for you. You'll be wearing your wedding jewellery for the rest of your life, and today, there's no need for an "off the shelf" solution. Choosing your engagement ring and wedding band requires careful consideration, but you can be as traditional or daring as you like. Even though certain metals do not pair well together, that's not to say that you can't enjoy the look of mixed metal colours.
For example, white gold and rose gold are close to one another on the Mohs Scale of Hardness, so you could opt for a bliss blend of silvery-white brightness and warm pink hues.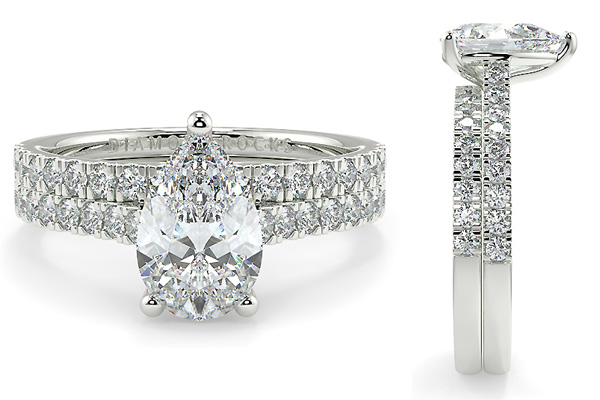 You can also choose the same metal and colour for a consistent style. Many jewellery stores, including ours, make it very easy to match an engagement ring to a wedding band, as well as a complementary band for him. If you'd like to learn more about our rings and how we can create a "bridal collection" that's right for you, feel free to open a live chat with a member of our team today or call us — we'd be glad to help.
Improving "that look"
An "enhancer ring" might be the perfect add-on to increase the "wow factor" of your engagement ring is often used as an alternative to a traditional wedding band, enabling you to add diamonds or precious gemstones, increasing the ring's size — all whilst 'enhancing' its appearance.
Enhancers are usually curved to fit around the centre stone of your engagement ring, giving them the appearance of being made together. With a two-sided enhancer, you highlight both sides of the engagement ring; however, the engagement ring is typically slipped into an opening in this enhancer, giving the impression of a single ring.
A better price
Depending on the jewellery store you buy from, it may also be possible to get a lower price. Plenty of jewellers provide packages such as "Bridal Ring Sets", "Bridal Collections", "His and Her Ring Sets" or "Trio Sets" — so it's always best to speak to them about any discounts that can be provided if you were to buy several rings from the same place. That said, it's important to remember that your engagement ring and wedding band reflect your continuing and never-ending commitment in love, and whilst each ring may complement or contrast one another, they should each be chosen on their individual merits.
Defining your style
We recognise just how significant it is to find a matching or complementary wedding band design to go with your engagement ring. Whether you opt for a vintage-inspired engagement ring and band, a traditional solitaire ring with a simple plain metal band or a knife-edge band paired with a sleek ring, it's crucial to have identical widths. For example, a large wedding band might be too bulky for a small engagement ring and vice versa. Consider how the rings are proportioned. If the engagement ring has engraving, you'll want the same theme, something similar, or none. A different engraving style might make the engagement ring a little out of place. If you have diamonds or gemstones in your wedding band, it's essential to make sure the colours bring out the very best in your engagement ring's stone (or stones).
If you're looking to learn more about us and how we can help you narrow down on the right engagement/wedding ring combination, please contact our friendly team today.
Diamond Rocks is based in London's historical Hatton Garden — the capital of the jewellery industry in the UK. We have an extensive range of high-quality, contemporary diamond jewellery, including gemstone, antique and engagement jewellery, as well as loose diamonds, with over 5,000 items in stock.  
Our goal is to make your remote shopping experience as smooth and straightforward as possible, helping you make an informed, confident decision. Book your consultation today.