What is an Eternity Ring? 10 Things You Never Knew
There are many reasons why an eternity ring may be given perhaps as an anniversary present or a celebratory gift to mark a special moment in a relationship such as the birth of a child. Eternity rings are normally comprised of a band of precious metal set with a continuous line of identically cut diamonds or gemstones to symbolise neverending love.
Nothing says 'I'm in this for the long haul' like presenting your loved-one with an eternity ring. These days, couples give each other eternity rings for all sorts of romantic reasons, but have you ever wondered who started the whole thing and why we wear them on our wedding ring finger? Well, wonder no more, with our list of 10 fascinating facts about these beautiful pieces.
1. The concept of an eternity ring can be traced back 4,000 years to the ancient Egyptians, who were said to offer them as a token of both eternal love and life. Early examples consisted of a circle of metal set with stones either on the top half of the ring or spanning the whole circumference. Some designs featured a serpent devouring its own tail, signifying infinity and the cycle of birth and death, referred to as the 'ouroboros'.
2. Eternity rings today still come in half or full-eternity options, featuring precious stones usually set in gold or platinum. That said, the creative possibilities are endless. While they can feature any gem of choice, the most popular stone, unsurprisingly, is the diamond. With their incredible strength and durability, diamonds have, for centuries, symbolised unwavering devotion, fidelity and friendship. And, of course, they are the most precious stone, so no surprises they top the list when it comes to romantic gestures. But diamonds are also said to represent the future, acting as a promise of an eternal life of closeness together. When set in an eternity ring, this message is magnified by encircling the finger in a never-ending band of meaning.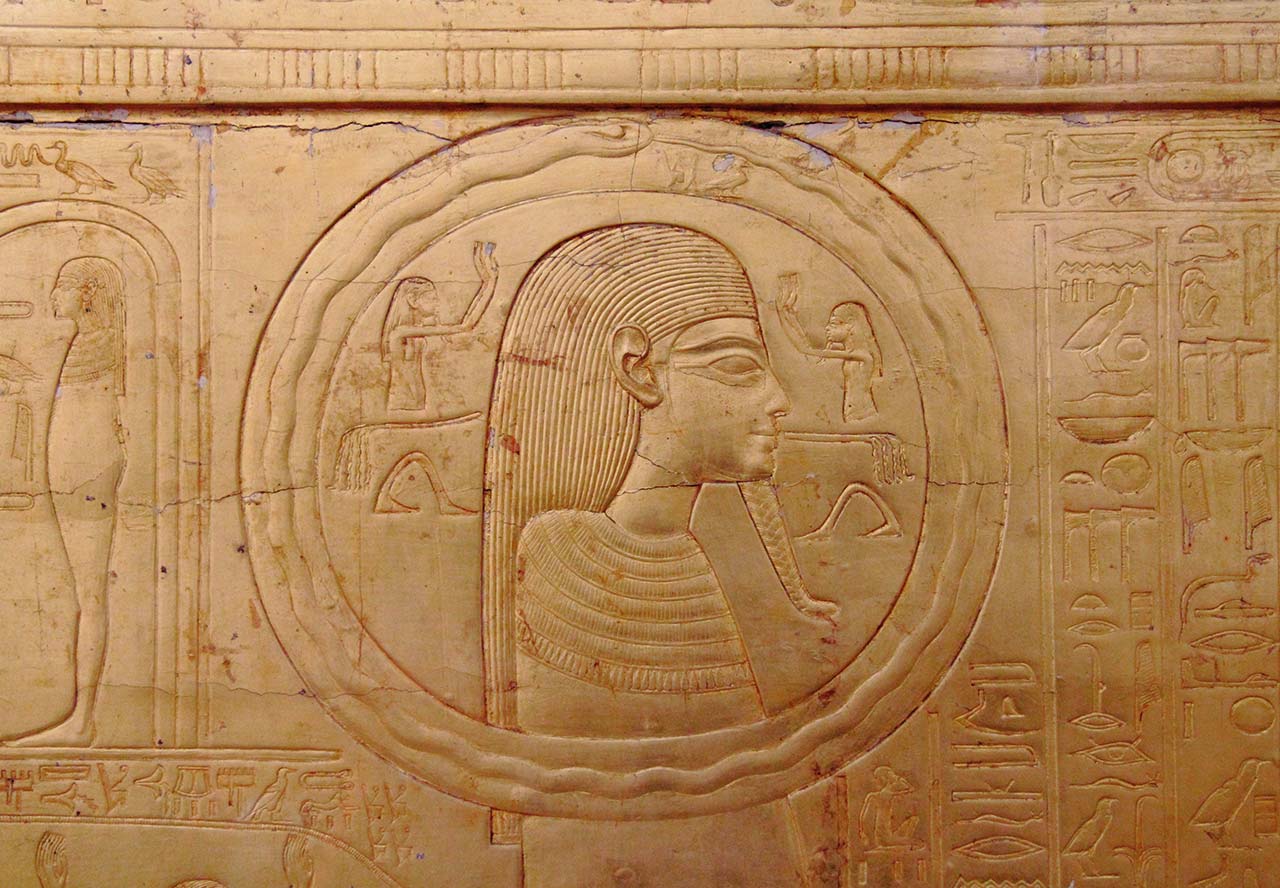 Material from the tomb treasure of King Tutankhamun, 18th dynasty, with the ouroboros framing the figure's face. Photo by Djehouty.
3. The popularity of the diamond eternity ring dates back to the 1960s and it's all thanks to a clever advertising campaign by diamond merchant DeBeers. According to an investigative journalist named Edward Jay Epstein, the company had a secret deal with the Soviet Union whereby it agreed to purchase 90-95% of the uncut diamonds produced by Russia in return for a single channel controlling the world's supply of these precious gems. These Soviet diamonds were small (often less than 0.25 carats) so, to avoid stockpiling, DeBeers came up with a cunning plan. They used the delicate stones to make eternity rings and promoted them as gifts for husbands to give their wives. One advertising slogan read: 'She married you for richer or poorer. Let her know how it's going.'  
4. Traditionally, diamonds are given to celebrate a couple's 60th wedding anniversary, but few of us wait that long now. Modern eternity rings are presented for a whole host of reasons: some of us give them as a gift after one year of marriage, some after 10 years. Others choose a different sort of milestone, such as the birth of a first child. In this instance, the baby's birthstone is often combined with diamonds to add to the ring's sentimental value. Eternity rings are also popular with those looking to upgrade their wedding bands, perhaps because they are in a better financial position than when they bought their original wedding ring.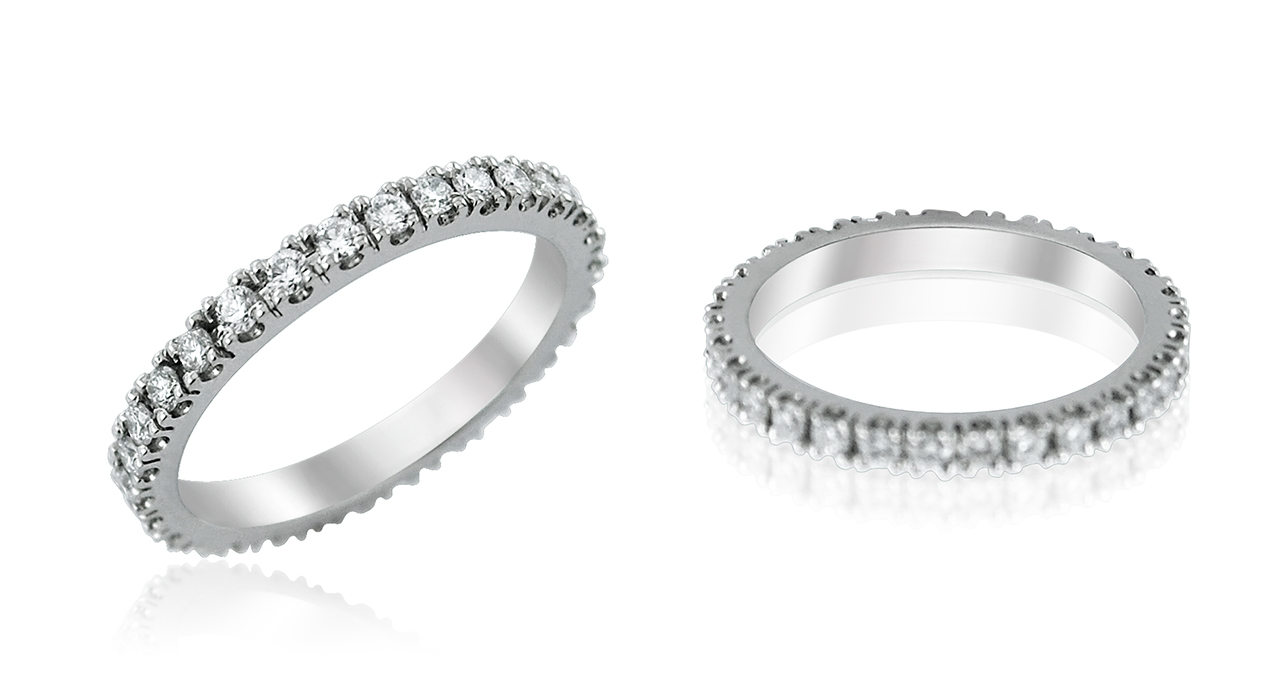 Full round brilliant diamond eternity ring in platinum from Diamond Rocks
5. Eternity rings come in a wide variety of styles across several band profiles. Many today are precision set, meaning a machine sets the diamonds to ensure a perfect finish is achieved every time. Setting options include claw (also known as prong), bezel, bar, grain and channel, but the most popular is the claw setting, which increases the number of angles from which light can reach the stone, resulting in greater brilliance. The most popular shape of diamond is the round, brilliant-cut stone.
6. Many people choose to wear their eternity ring alongside their wedding band and engagement ring, or even in place of their wedding ring. So why on the third finger of the left hand? Well, it is said that the ancient Egyptians believed that a blood vessel ran from the ring finger on the left hand directly to the heart. While there is no biological evidence to support this theory, the tradition continues today.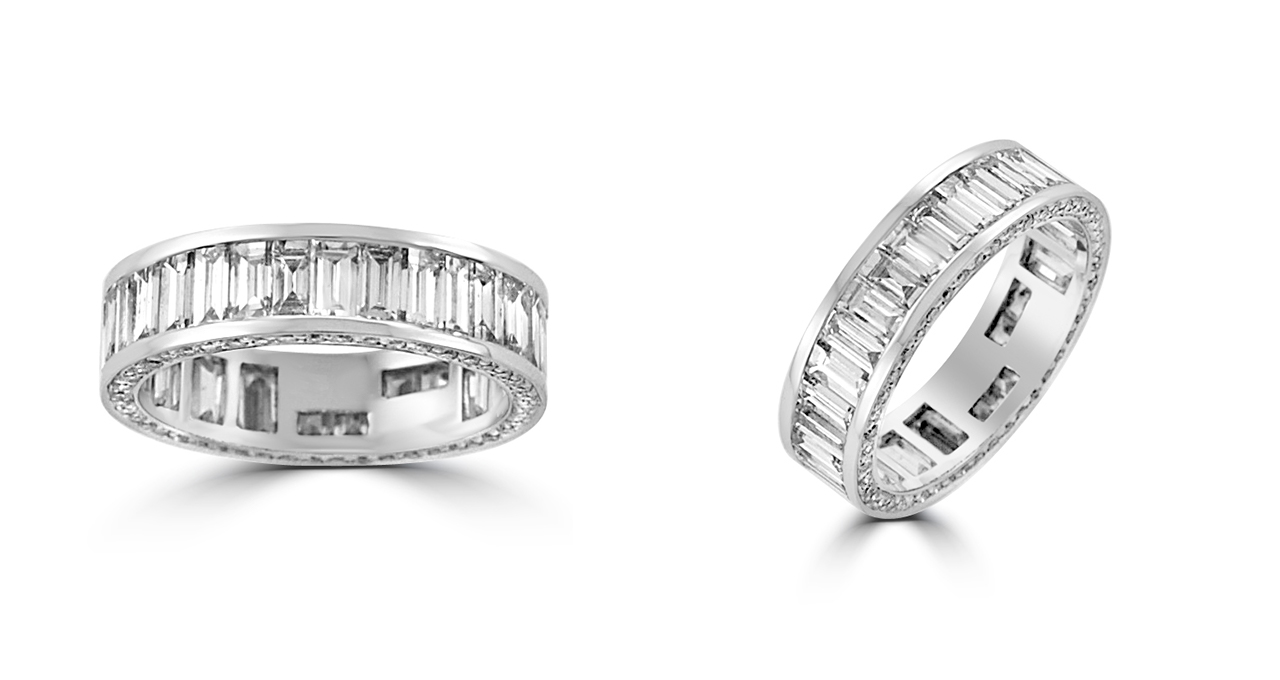 Full Baguette Diamond Eternity Ring in Platinum by Diamond Rocks
7. When it comes to modern-day celebrity engagement rings, bigger is better. Back in the fifties, however, understated elegance was the order of the day for Hollywood icon Audrey Hepburn. When American actor Mel Ferrer proposed to the star in 1954, he presented his bride-to-be with a slender platinum eternity band, channel set with baguette-cut diamonds. When the couple married a few months later, he then gave her two wedding bands, in gold and pink gold, both engraved with the date of the wedding.
8. Screen siren Marilyn Monroe went one step farther and chose to wear an eternity ring as her engagement ring and wedding ring combined when she married baseball legend Joe DiMaggio in the same year that Hepburn and Ferrer tied the knot. The ring, a platinum eternity band set with 36 baguette-cut diamonds, would eventually sell for a staggering $772,500 (15 times its estimate, despite having one stone missing) when it went to auction at Christie's in New York in 1999.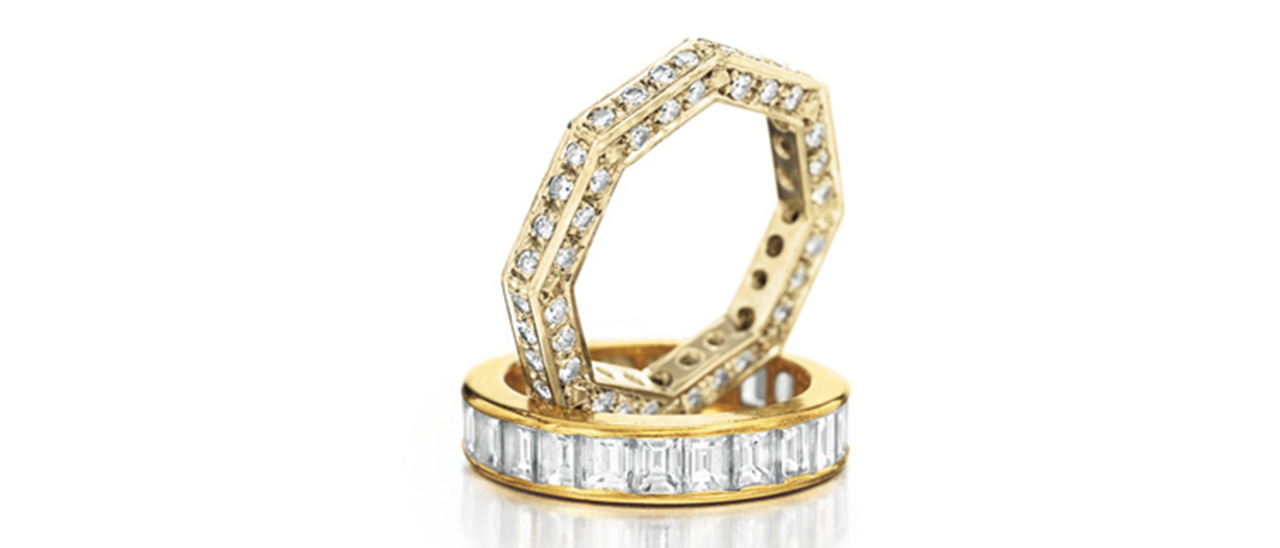 Elizabeth Taylor's eternity rings, sold at Christie's in 2011. Photo courtesy of Christie's.
9. Famed for her love of extravagant jewels, Hollywood heavyweight Elizabeth Taylor wasn't going to settle for a plain band as her wedding ring when she married fellow actor Richard Burton ̶  both times! In 1964, and for their second marriage in 1975, Burton gave Taylor a diamond eternity ring  ̶  the first, a baguette-cut diamond eternity band mounted in gold; the second, a circular-cut diamond octagonal-shaped band mounted in white gold. When the rings were sold together at Christie's as part of The Collection of Elizabeth Taylor in 2011, the pair fetched an impressive $1,022,500.
10. The eternity ring has even inspired a perfume. In 1987, the year after he married Kelly Rector, fashion designer Calvin Klein bought his new wife a gold and diamond eternity band at the landmark estate sale of The Jewels of the Duchess of Windsor. The ring, believed to be inscribed with the word 'Eternity', on the instruction of the former King Edward VIII, and the romantic symbolism attached to it, so inspired Klein that he named his next fragrance after it. Launched in 1988, Eternity by Calvin Klein would become one of the designer's most successful perfumes of the era.
Now, you're not just set to wow her with a beautiful ring that's truly symbolises your love, but can impress her with fun facts about it, too! Check out our stunning selection of half and full eternity rings, where you'll find a wealth of different designs and gem options.